As we all know, Christmas is a time of giving; if martial arts have taught us anything, it's caring and generosity. We saved your time and have solved your annual problem of what to buy for loved ones, training partners, and comrades. On this list, you'll find something for each of your boxing-obsessed friends or family members at great prices.
Hayabusa Marvel Hero Elite Boxing Gloves
We will open our list with an expensive gift for people with large wallets and generous hearts. Hayabusa's high-quality sparring gloves are designed in the style of Marvel heroes for your super-sparring partners. You can order them for $249.95 in 14 different models in 12 and 16-oz sizes.
The quality materials hand-assembled of these gloves guarantee that this gift will last, your loved ones' hands will be safe in them, and you will also do yourself a Christmas favor because your head will be protected during sparring thanks to Hayabusa's protective features.
Ring Side Deluxe Boxing Championship Belt
The Ringside "Deluxe" boxing championship belt is the real deal and is perfect for your colleagues who have spent the year fighting in the ring and trying to win a belt like this. You can order it for $122.91, and your friends can put it on their trophy shelf or wall.
Although they will be aware that they didn't earn it in a bloody fight, they will be happy about the fact that they have a supportive friend like you who can't wait for a real championship belt to be brought home and put next to this one.
Hamoery Men Punk Stainless Steel Boxing Gloves Chain
If you are searching for a cheaper variant you can buy in large quantities and share with several friends, then Hamoeri's boxing gloves chain is the right choice. You can order it for $15.99 in silver, gold, and black, made of stainless titanium steel to ensure the chain will last.
The gift is excellent for passionate boxers and will allow them to keep the boxing gloves on even when they are out of the gym. They will be very pleased and cherish this gift for the rest of their life.
MUHAMMAD ALI – Mens Sixfourchamp T-Shirt
Whenever we don't know what to give for Christmas, with T-shirts, we will never go wrong. For the modest price of $19.95, give your loved ones a t-shirt with the icon of the boxing scene, Muhammad Ali. Made from 100% cotton in black and white, they are available in all sizes and won't fade so easily. Order them in several pieces and distribute them in the gym and thus make your colleagues happy on the Christmas holidays.
GYRO FITNESS | Shadow Boxer Pro | Boxing Resistance Bands Set
Resistance bands from the company GYRO FITNESS have the potential to be a great gift for your boxing friends. You can order them for $54.95, in black and gold color, made of natural rubber, and the order includes an ankle-to-ankle resistance band with cuffs, a stability vest, and an upper body resistance band.
I can use it anytime and anywhere with a quick and easy setup. This practical product, which is adjustable for all sizes, will serve your colleagues as excellent boxing equipment for their cardio and hand speed.
Gym Duffel Bag
Because of their lack of storage, we all have friends who carry more gear in their hands than in bags. These people usually say, "I need to buy a bigger bag," every training session. Christmas is your chance to get ahead of them and surprise them for a modest $44.99.
This sports bag consists of mesh material and water-resistant lining, which gives it ventilation and odor-elimination capabilities. It also has plenty of pockets so everything from sports gear can fit in it, and its quality ensures it won't need to be replaced anytime soon.
Perantlb Battle Rope
Certainly, one of the best pieces of equipment you can get for boxing purposes is the battle rope. Imagine the face of your loved ones when they realize that this is what they got from you for a Christmas present.
Prices range from $47.99 to $119.99, depending on the thickness and length you order. Made of durable materials for long-lasting use. Provide them an excellent equipment for building the endurance of arms and the upper parts of the body. This rope will also boost their stamina and cardiovascular endurance.
UFC | BAS Body Action System
Big occasions like Christmas deserve big gifts. You can order gifts like the Body Action striking system for $549.99 in red and black colors. This system includes a head pad, torso pad, focus pads, and T bars, making this product the perfect tool for perfecting striking.
This equipment activates 30 times more muscles during training and is the closest thing to a sparring partner you can provide to your friends. You can also choose a system with an add-on for pads for leg kicks, which will cost you $679.99.
Good Luck Sock Men's
Socks are another type of gift that is indispensable every Christmas, and as with all clothing items, you can't go wrong with them. Colorful long socks are an integral part of home Christmas uniforms, and you know that passionate fighters will use socks to show everyone what they do in their free time.
For just $11.95, be the one to get them those socks in the Christmas spirit and boxer design suitable in all sizes for men and women.
Boxing Pullover Hoodie
Pullover hoodies will ensure that the one who received the gift welcomes the cold holiday mornings in warm, comfortable clothes. For $36.00, you can order it in all sizes and four colors, black, navy blue, dark heather gray, and royal blue color, featuring a picture of boxing gloves on the front.
Soft, comfortable, and perfectly fit made of cotton and polyester, it can be used as clothing outside of the gym and as a good tool for warming up in it. It is easy to wash in the machine and of high quality so that the color and image do not fall off.
LVOPZHU Boxing Blanket
In dimensions 60″ x 50″, made of flannel that is comfortable, cozy, and lightweight, this blanket will warm the bodies of your loved ones. It will also warm their hearts if they receive it as a gift. For $25.99, choose a blanket in a boxing design whose red, white, and black colors will match the colors of Christmas.
The blanket is printed with short, clear motivational quotes with boxing drawings along its entire surface. It is easily portable and suitable for indoor and outdoor resting, making this product a perfect gift for those who train mentally, even while sleeping.
3 Pairs of Mini Boxing Gloves for Car Mirror
With these mini boxing gloves, you can kill three birds with one stone because, for $11.99, you get three pendants that you can choose from in four colors and present them to three persons. In addition to the car mirror, it can be attached to a sports bag or car keys.
This gift is a modest but ideal choice to draw your acquaintances' attention to careful driving because they will know that someone cares about them every time they look in the car mirror.
Meister Glove Deodorizers for Boxing
You can give this product as a joke to that one friend who lacks hygiene in his sports equipment, and maybe give him the knowledge that he should finally use the washing machine. Jokes aside, you can order these Glove Deodorizers for a modest $12.99 in four scents.
Made of high-quality flannel with odor and sweat-absorbent capabilities, it will extend the life of their equipment by avoiding breakdown from moisture. With this innovative product, not only will the gloves not stink, they will even smell nice.
Hayabusa Boxing Hand Wraps
Speaking from personal experience, hand wraps are always a good choice to show a little sign of attention to your friends on the mat, especially if you give them as gifts at Christmas time. If you have decided to give them to someone as a gift, then make sure that they are the best hand wraps on the market, and those are the best, if not Hayabusa's.
Priced at $14.99, they are available in a wide range of colors and are made of 50% cotton and 50% nylon for the perfect amount of stretch with a length of 180″. Take my word for it your colleagues will be surprised by the gift and the quality of the product.
TITLE Boxing "Big Flex" Weighted Training Vest
We will reveal a secret to you, a training vest is training equipment that many would like to have, and if you give it to someone for the Christmas holidays, you deserve a gold medal for generosity. That's why we combed the market and found a quality product from a well-known manufacturer at an affordable price.
You can order TITLE Boxing's vest for $79.99 in an alluring black color with an aesthetically phenomenal design in an adjustable size for everyone. Designed with smooth inside front and back panels for more comfortable wear and weighing 22 lbs, whoever receives this gift will make their Christmas better.
This innovative push-up board is a modern tool and gift idea for all old-school body weight exercise fans. For a modest price of $16.99, you can order a multi-functional 12-in-1 system push-up machine for training multiple muscle groups. This is an exceptional way to cheer up and support that one friend who drops down to do push-ups whenever he gets the chance. The board is easily portable, so he can take it with him wherever he goes.
DMoose Neck Harness
A strong neck in boxing is something that many boxers strive for. With a large neck comes the ability to absorb shocks, which makes your head more supported, reducing the whiplash effect. For $22.99, you can buy the DMoose Neck Harness as a Christmas gift and help your training partners protect their heads from future blows.
You can choose between black, white, blue, and gray colors, suitable for everyone's taste. Show your colleagues that you care about their brain health and buy them the right gift accordingly.
Rings Hexagonal Speed Agility Training Set
PanAme Hexagonal rings are a practical and helpful addition to any home or commercial gym for improving speed and agility. As such, they are great to support your friends on the Christmas holidays and gift them this equipment to those obsessed with improving their footwork.
You can order it for $31.99 with six rings and $59.99 with 12 rings. This easily portable device can be used indoors and outdoors so that your buddies can enjoy the gym experience wherever they are. Their motor skills, improved coordination, balance, and overall general health will thank you.
TITLE Classic Personal Interval Timer
Personal interval trainer is an exceptional yet simple Christmas gift idea that will surely serve its purpose. You can order TITLE Boxing's timer with an old-school design for $79.99 in red color. Wrap it up, take it to your gym, and make it a gift everyone can benefit from.
You will no longer have to fix the rounds on your mobile phone because you will have this phenomenal device. The timer comes with adjustable rounds to 2, 3, and 4 minutes with a rest of 15, 30, 45, or 60 seconds.
Hayabusa Cobra Reflex Bag – Black
If you want your Christmas present to be remembered forever, the Hayabusas Cobra reflex punching ball will make it possible. You can order it for $299.00, made in dimensions 19.7″W x 70.9″H. Its composition is of PU leather ball, heavyweight base, and rapid recoil string.
Your loved ones will be able to improve their reactions, reflexes, speed, and agility at home. This device is also an excellent stress reliever and a quality addition to every boxer's home gym, and thanks to the high quality of materials and production, it will be present and last every next Christmas.
CLETO REYES Boxing Trunks
You probably know a character who fights five times a year and goes to fights in someone else's shorts every time. With people like that, at least you know what to give them. Order and gift them high-quality Cleto Reyes boxing trunks made of 100% polyester satin fabric at a modest price of $35.00 to $41.49.
It will be a nice way for them to remember you every time they step out to the ring and score victories in reliable and durable trunks made by the great Cleto Reyes.
INNOLIFE Boxing Slip Bag
The INNOLIFE Boxing Slip Bag is an accessory that can serve as a pocketable Christmas gift due to its size of 7.87″ x 6.18″ and weight of 0.2 pounds. You can order it for $21.98 and give it to your loved ones who keep eating jabs.
The Slip Bag will serve as your way of telling them it's high time they start moving their heads during sparring. The bag can be filled with steel balls, sand, rice, or plastic as desired, covered with leather, easy to install, and portable so they can train with it wherever they want.
Valleycomfy Boxing Curved Focus Punching Mitts
Last year I had the opportunity to receive focus punching mitts as a gift for Christmas from my dear training partners, and man, how happy it made me. In the sea of expensive and high-quality products, we tried our best to find inexpensive and super durable mitts that you can afford and make someone happy.
For $22.99 from Valleycomfy brand, you can order them in black, black-white, and black-red. Made of long-lasting padding, water-resistant, and covered with leather, they are resistant to high impacts and absorb sweat, so these mitts are a great gift that will live a long life.
Century Original WAVEMASTER | Heavy Punching Bag
Christmas this year could be the best yet for those who receive Century's WAVEMASTER punching bag as a gift. You can order it for $199.99 in red, black, white, and blue, suitable for everyone's taste. It is made in dimensions 19.5″ W x 68″ H with a vinyl cover and a highly absorbent foam interior whose main task is durability against impacts and wear and tear. A special feature of this bag is its adaptability to 7 height options from 47″ to 68″, which makes it a suitable gift for all ages.
Mike Tyson's Motivational Flag
If neither of your ten boxing friends is obsessed with Mike Tyson, you should examine their passion for boxing. On the other hand, for those who are, Mike Tyson's motivational flag has the potential to be the perfect Christmas gift.
You can order it for $24.15, in dark gray color with dimensions 36″L x 60″W that hangs on the wall. Featuring an Iron Mike picture with a "Be unstoppable" quote, you will make your gift the first thing your colleagues see when they wake up, and you can be sure it will motivate them every morning.
Egg Weights For Shadowboxing
More expensive than regular weights but with high quality and durability, Egg Weights are a gift that will last and remain dear to the heart of whoever you give it to. You can order the complete set for $84.99, which includes an irresistible small portable bag and two pairs of weights of 4.0 lbs and 2.0 lbs so that the owners of this innovative equipment can improve both power and speed.
Eggweights are specially designed according to the shape of the human hand and are made of metal and plastic with a no-slip feature.
Adjustable Steel Dumbbells
Adjustable steel dumbbells can serve as a well-deserved exceptional Christmas gift idea, especially for those who manage to go to the gym in addition to all their obligations and boxing training. You can order them from $115.52 to $254.12, depending on which package you choose, and the available colors are black and silver.
This Premium 2 in 1 set contains four 2-lb plates, twelve 2.5lbs plates, two 1-lb handles, two barbell connectors, and eight silicone rings. The set is adjustable and portable, so your colleagues can occasionally stay at home without losing their training progress in the gym.
DEFY Heavy Duty Sweat Suit
The Christmas holidays are an opportunity to show your friends who regularly struggle with losing weight that you have their back. Anyone who has lost weight for a fight knows that it is no easy task, and a great gift, in that case, would be a DEFY sauna sweatsuit.
You can order it for a modest $39.99, made of Nylon and PVC-coated fabric. The durability and performance of this sauna suit have been maximized. Elastic gatherings at the openings improve the sauna effect, and up to 80% more sweat is released.
Speed Arm Machine
This device is incredible. You can exercise your shoulders and get a fantastic workout using this straightforward equipment in quick bursts. Unquestionably fantastic if you want to travel with it, you can take your upper body workout wherever you go or when you have to skip your regular training sessions.
You can order it in black or gray color for $120 in 8 and 12 lbs, and gift it to your friends as a great addition to their home gym. Maybe you will decide to treat yourself with this invention as well.
Metal Hand Grip Set
Another potential Christmas gift from the pocket gifts section is the Metal Hand Grip complete set with six tension levels from 100 to 350 lbs. Great for your buddies who can't keep their hands still under any circumstances, available for $36.99, you can ensure they get that firm hand grip and tight forearms.
This product comes in an attractive box, which is perfect for gifting occasions, and it's up to you to wrap it in decorative paper and forward it as a gift.
EnterSports Ab Rollers Wheel Kit
You will hardly find a more affordable gift idea than the EnterSports training set. The price is $39.99, but you can find this product at Amazon's 43% discount at $22.78, available in black and white or black and red.
The training set contains an Abdominal roller with which your friends can have the abs they've always wanted while still being functional for boxing. The package includes two soft knee pads and push-up bars with two resistance bands.
This can be utilized in combination or individually for a complete torso workout. This choice of a complete package will surely cause positive reactions and gratitude from recipients.
ZWDMAER Boxing Training Machine
If someone has taken a special place in your heart this year, then Christmas is the right time to let them know. In that case, this wall mount brilliant music wall could complete your gift search. You can get it for $129.99 or with Amazon's discount of -23% for $99.99.
Maybe with this gift, you will bring them even closer to boxing and show them the fun side of training with their music. Help them meet their fitness goals or release unnecessary stress.
Boxing Reflex Balls
Training with this device will surely be fun for children and adults, making it a suitable Christmas gift for all ages. For $19.99, you will provide them with a great way to combine training and fun while working on their reaction time, accuracy, cardio, and burning calories.
For this money, you get a package of four different balls, one headband, and four extra cords featuring a carry bag for a complete set and extra portability.
Meister WRAP Bag for Washing
An ingenious idea of the Meister brand with the production of a helpful little thing that helps reduce the stress caused by tangled hand wraps. Anyone who has put them in the washing machine once knows what we are discussing.
For $9.99, you can make it easier for yourself and others with this wrap bag for cleaning; simply put the hand wraps in the bag and the bag in the washing machine, and forget about the nervousness and the loss of time after washing them.
Boxing Gloves Neon lights
We finalize our list with a wall-mount room decoration in the shape of boxing gloves that you can give for Christmas to your brothers in arms. Priced at $28.99, you can order this 15.7″ H x 11″ W neon ornament, which radiates enticing shades of blue and pink.
This device is made of Eco-friendly materials, glass, acrylic, and hazard-free flexible neon. It comes with a USB cable and is a beautiful boxing decoration when the lights go out.
If you found this article useful, you may want to save this pin below to your Combat Sports board.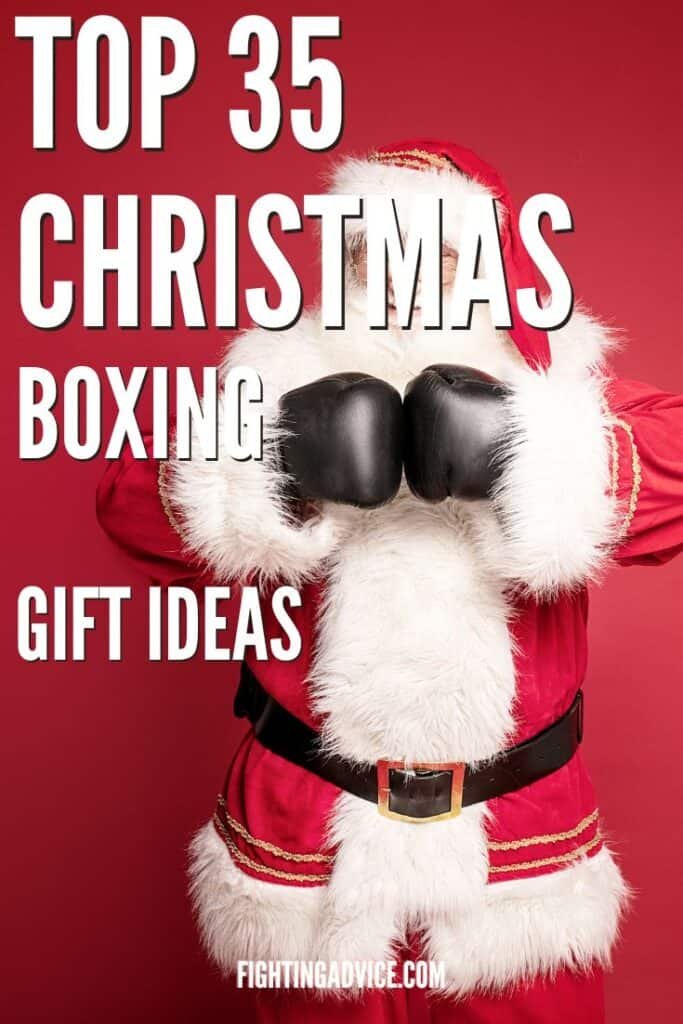 Last update on 2023-11-30 / Affiliate links / Images from Amazon Product Advertising API