When you're playing an aggressive sport like MMA, even with a lot of awareness, it's just a matter of when an unfortunate hit will end up between your legs. That's why a groin guard, with a mouthguard, is one of the basic protections you must have. You need the best shield for such an important and sensitive area. To decide what is best, you need to be informed about the best protective products on the market; where this list could help you. And take my word for it, the price is not the main thing you should pay attention to when buying.
Venum "Challenger" Groinguard and Support
Size: M (32″ – 34″), L (34 1/2″ – 36 1/2″), and XL (37″)
Color: Black
Made of: Plastic and rubber gel
Features: Dry Tech material supporter
Traits: Durable, supreme protection, sweat-free, and comfortable
We'll start this list with one of the best on the market, everyone's favorite and highly trusted Venum brand as a trademark of any professional or amateur fighter. Like the rest of Challenger's protective models, this one is designed to provide high protection and support for all martial arts activities.
You can order it for $28.99 in black, available in sizes M (32″ – 34″), L (34 1/2″ – 36 1/2″), and XL (37″). Made of durable plastic and rubber gel shield anatomically made for comfort and a good fit, with double-layer impact absorbers for supreme groin protection.
The order, apart from the cup, comes with lightweight support and uses Dry Tech materials that remove sweat, dry quickly, and provide maximum comfort that you won't even feel on yourself. After you put it under your trunks, it's almost invisible.
The groin guard performs admirably, remains put, and is unobtrusive when you are sparring. After the training, you may easily remove the cup to wash the cloth. Venum has to be acknowledged for excellently bringing this product to market, which has been selling successfully and has been around for a decade.
Diamond MMA Jock Strap + Athletic Cup
Size: S, M, L, XL, and XXL (27" – 48")
Color: Black-blue
Made of: spandex, elastics, and polycarbonate
Features: 4-strap jock system and bulletproof core
Traits: Movement-free, approved by doctors, maximum safety and comfort
From the Diamond MMA factory, worn and approved by Dustin "The Diamond" Poirier, this groin guard promises to protect sensitive parts even in the hottest moments. You can order it for $69.99 in black and blue color, with sizes available for everyone's waist size from 27″ – 48″, such as S, M, L, XL, and XXL.
In addition to the protective cup, the order also comes with a supporter with a 4 strap jock system with a suspensory role that prevents lateral and vertical movements of the protection while training. Supporter consists of high-quality materials such as premium spandex and military-grade elastics, a core protective cup manufactured from polycarbonate, the same plastic used to make bulletproof glass, which is rigid and flexible.
With rubber ends that provide high comfort and protection that won't bother you even after long and hard training sessions. This technology, created by Stanford University engineers and award-winning designers, has been acknowledged as the best groin protection available by urologists and medical professionals.
Professional athletes all around the globe, and not only in martial arts, utilize Diamond MMA goods without sponsorship. And this is one of the products that has been around the market for ten years with a very high rating and satisfied customers.
RDX Groin Guard
Size: S, M, L, and XL ( Waist 12.3"-15" H, 30"-37" W)
Color: Matte black
Made of: Maya-hide convEX leather, EVA padding
Features: Multi-layered product, leg and waist straps with lace-up closure
Traits: Long-lasting, high absorption and dispersion, comfortable
Designed, assembled, marketed, tested, and approved by the highest-ranked professionals in the MMA sport, the RDX groin guard is a must-have product for every fighting man. Available for $33.99 in the famous RDX matte black, in sizes S, M, L, and XL, it's affordable for anyone with a waist height of 12.3″ – 15″ and a width of 30″ – 37″.
Lined with Maya-hide convEX leather, which makes it one of the most durable on the market and promises longevity, under which there is a DenZo-Tron sheet for grip and comfort and EVA padding for absorption.
The internal composition of sensitive parts also includes a shell polymer cup with high impact absorption, thickened with an infused shock dispersion sheet, which, as the name suggests, has a dispersive role. An elastic band extends over your hips for a perfect fit, which uses a traditional lace-up system at the back, and leg straps, which completely eliminates the possibility of unwanted movement of the protection during use.
The cup comparison on the front has enough space to insert a double cup for bold protection. That RDX is reliable with protection products is also shown by the fact that this product will not be the only one on this list.
Hayabusa Steel Armoured Cup
Size: One-size-fits-all
Color: Black only
Made of: Premium steel
Features: Thai design and tie system
Traits: Comfortable, perfect fit, highly absorbent and dispersive properties
It would be naive to think that a leading company in this genre doesn't have some kind of crotch protection. That's why Hayabusa's steel cup is here to convince you otherwise, make you happy and protect you.
You can order this cup for $24.00 in one size and one color. With a weight of 0.5 pounds, this product is lightweight, simple, and highly secure. Hayabusa uses a traditional premium cast steel cup that is the standard for all those who want to take protection to a higher level.
Molded in a perfect shape for a good fit, and maximum comfort is provided by soft laces and contoured inside padding. Secure fit ensures no moving, and the outer cushion layer provides complete protection for the user and the striker. It uses a Muay Thai design and tie system.
Putting on the groin guard removes all worry and prevents injuries with highly absorbent and dispersive properties. Without any fancy and unnecessary accessories, this product is such that it could not be simpler and better. Recommended for all of you who like to press the gas pedal in bloodthirsty sparring.
Revgear X13 Compression Short & Cup
Size: S, M, L, XL, and XXL
Color: Black
Made of: Polyester fabric
Features: Combination of shorts and a cup for high-quality protection
Traits: Long-lasting, comfortable, superior safety
In cooperation with many world-famous trainers, fighters, and athletes for the last 27 years, Revgear sends only the best from its production to its loyal and forever satisfied customers. Revgear's protection cup comes with compression shorts, the combination of which further provides superior benefits.
You can order it for $39.99 in black available in sizes S, M, L, XL, and XXL. X13 is made of 100% all-way stretch polyester fabric, comfortable dry moisture wicking with dura stitch low-profile stitching for extreme durability, maximum comfort, and perfect fit.
It contains a cleverly designed invisible cup pocket with a solid cup with excellent absorption capabilities. The compression of the shorts prevents it from moving during training, and until it is removed, it remains where you first put it on.
The compression shorts provide a snug fit due to their anatomically-optimized ergonomic design that delivers exceptional support. The innovative X13 model is comfortable, does not restrict movements, and feels great on the skin.
The Revgear X13 Compression Short & Cup is a great product, and the customer experience has been nothing short of satisfactory. It is a well-designed, long-lasting, dependable product that provides excellent protection while maintaining comfort and fit.
RDX R2 Groin Protector
Size: S, M, L, XL, and XXL
Color: Black-red
Made of: Maya-hide leather, and Supremo Foam
Features: Double-layer tech, kidney protection, lace-up closure
Traits: Long-lasting, comfortable, durable, and lightweight
Two of the three spots on the list are dedicated to the exceptional production of the RDX with another highly-ranked groin guard. Protection that has served us for a decade, the SATRA-approved and CE-certified product can be yours for $28.99 in black and red, available in sizes S, M, L, XL, and XXL for all magnitudes, widths, and hip heights, everything that you need to take the correct measures for a more satisfying experience.
Covered with Maya-hide leather, completely resistant to splits, tears, and cracks, making it a long-lasting product that will be with you until the last bell. Filled with Supremo Foam technology with a double layer, it is a champion in absorbing and dispersing even the heaviest blows.
RDX uses optimal kidney protection with a hard shell plastic cup that serves as a safety barricade between the most sensitive part and direct impact. For maximum safety, the designers have left room for you to put on a double cup and forget about worrying about clumsily thrown blows from your opponent. Traditional laces and leg straps that prevent shifting, irritation, and slippage are responsible for comfort and a good fit.
Shock Doctor Compression Shorts
Size: S, M, L, XL, and XXL
Color: black and white
Made of: 100% synthetics
Features: Bio-Flex cup, core flex pocket, mesh materials
Trait: Durable, comfortable, and perfect fit
Relatively new on the market directly from the Shock Doctor factory, the perfect protector of your genitals for MMA offers everything you want in a groin guard. Available for $34.99 with a white coupon, you can choose between black and white shorts, and sizing-wise, you can't be too big or too small to wear it, as it comes in S, M, L, XL, and XXL.
Compression shorts made of 100% synthetics come with a removable Bio-Flex protective cup made strictly to deflect all impacts and disperse them as far away from your body as possible. The core flex pocket is designed to lock the cup in the appropriate position without movement restriction.
The breathable material in the form of dual mesh from which the shorts are made allows airflow and ventilation for as little sweating as possible. Although tight, your muscles will be free and comfortable with this protection.
Durable and high-quality materials that guarantee high safety and maximum comfort with a perfect fit at an affordable price make this product essential for your safety equipment. Whoever produced this groin guard knew what he was doing and did his job perfectly.
GLL Groin Protector
Size: One-size-fits-all
Color: Black with red stripes
Made of: PU leather, and rubber gel
Features: Dry tech supporter
Traits: Comfortable, solid safety, and restriction-free
The high-quality staff of GLL production, which has been successfully operating for ten years, tried to market a practical and effective groin guard for all MMA practitioners. You can buy this groin protector for men for a modest $14.99 in one size fits all, in black with red stripes.
The frame is made of high-strength and resilient PU leather, which is lightweight and breathable due to Dry tech supporters to eliminate unnecessary sweat collection. In areas where protection is most crucial, there is a double-layer shock absorber that reduces impacts, and its rubber gel shield guarantees a secure fit.
Supreme defense anatomical design offers unlimited mobility and simulates the body contour of the athlete. Rubber gel barrier reduces the impact effects and offers a high comfort level. Built-in supporter that is quite comfortable.
An elastic rubber warp, fixed by velcro, fits waists from 30 to 42 inches and is simple to wear. Thanks to its practical one-piece design, the cup can be fixed safely in place without uncomfortably moving and does not need to be adjusted frequently. The fastening is straightforward, and the baffle is cozy and significantly lessens the impact on sports. It also provides a solid protective area for the abdominal groove.
Pro Impact MMA Groin Guard
Size: M, L, and XL
Color: Red and white
Made of: 100% PU leather
Features: Hook-and-loop closure, banana-shaped
Traits: Durable, long-lasting, sweatproof, comfortable, and lightweight
The Pro Impact brand removed all attention from potential injuries and unpleasant blows with its MMA groin protector. It manifests the best possible focus during training. A highly affordable and uncomplicated designed groin guard can be ordered for a modest $15.00 in red and white for slightly larger people in sizes M, L, and XL.
Its construction consists of a one-piece 100% PU leather high-quality shell, which is super durable and guarantees a long product life. It is lightweight and easy to put on and off, and with solid protection that extends to the abdomen and groin, it offers comfort when wearing.
Designed as a banana shape so that its bottom is slightly curved and narrowed to protect the groin from hits rising up underneath it while giving you the freedom to throw kicks without the protective cup moving and sliding.
Stands high on the hips with comfortably elastic waistbands and an adjustable hook-and-loop closure for a perfect fit for all users. The cup is not removable; the materials are sweatproof, so you must wipe the surfaces afterward. All you need is to jump into the protection, and you are safe for the rest of your time wearing it, and this product will do what it is intended for.
Lobloo Thai Cup 2.0 Patented Athletic Groin Cup
Size: One-size-fits-all
Color: Black
Made of: Cotton supporter, and an alloy steel cup
Features: Wide ventilation holes
Traits: Superior durability, easy to clean, high safety and comfort
Made in Sweden with Thai design, CE-certified, and available on the market for many years, it's safe to say that this is one of the best protections you can buy for your nuggets. This product has been designed and tested by world-class athletes and has given positive results, and you can order it for $44.99 in black, and it comes in one size fits all.
For a perfect fit and comfortable experience, use a one-time set-up with 100% cotton elastic leg and hip straps. Once adjusted, it will fit forever. The patented fitting system offers 100% protection and agility with unrestricted movement, and you can wear it under or over trunks.
The protective cup is alloy steel with increased strength, hardness, wear resistance, and toughness. Unique "lobloo" design cup lined with soft plastic edges for comfort and dispersion of blows and helps in an active movement without the possibility of moving the protection.
It also has wide ventilation holes that allow you a sweat-free training experience. It is easy to clean, only wipe the cup and put the supporter in the washing machine.
RDX GGX-H1 Groin Protector
Size: S, M, L, and XL (24" – 40")
Color: Black with green stripes and white with red stripes
Made of: Polyester supporter, and PVC cup
Features: High ventilation, absorption, and dispersion
Traits: Lightweight, easy to wear, sweat-free, and comfortable
Finally, we come to the third of the three RDX products on this list. Arguably the best of all RDX groin protectors, if your training involves a lot of grappling, it can be yours for $16.99, available in black with green stripes and white with red stripes.
Size-wise, it's available for all hip sizes from 24″ to 40″ in S, M, L, and XL. The construction of the supporter consists of polyester material that gives it resistance and durability against extreme sports such as MMA, and it is so light that you won't even feel it.
Groin cup consists of hard shell PVC plastic with solid absorbent and dispersive attributes with silicone lining for comfort during long training processes. Elastic jock straps on the supporter, which are easy to put on and take off, are responsible for a firm and secure fit without unnecessary movement, falling, and sliding.
It has exceptional ventilation features for a sweat-free workout that will keep your hips and sensitive areas cool and dry. Suppose you like the quality of the RDX groin guards and the previous models were bulky for your taste and performance. In that case, this product is definitely the right choice.
TMA Metal Pro Groin Guard Protector MMA
Size: S, M, L, and XL (26″ – 40″)
Color: Black
Made of: Maya-hide leather supporter, and a steel cup
Features: Quick to wear and easy to carry
Traits: Comfortable, superior safety, movement-free
If you have a metal will to train and succeed, you should also get metal protection for sensitive parts to protect you in your training conquests. Tiger Martial Arts offer such groin guards that you can buy for a solid price of $22.99 in black color, available in sizes S, M, L, and XL for waist sizes from 26″ to 40″.
The construction of the supporter is made of Maya-hide leather with a modern jock strap. Easy to put on and take off, it is incredibly comfortable and lightweight, offering you proper protection and a secure and immovable fit.
Steel core with a padded outside and inner cup is used for comprehensive groin protection. The groin cup, located in the supporter, is made of steel construction that absorbs and disperses careless impacts with closed cell rim padding that offers comfort with the possibility to be worn under or over the trunks.
The simple superior safety design intended for Muay Thai can also be used in MMA training without any problems and is an essential product if you want to go far while protecting your important body parts.
Shock Doctor Protection Cup
Size: XXS – XXX-L (Children and adults from 19" – 46" waist circumference)
Color: White
Made of: 100% polyester
Features: mesh materials, four-way stretch fabric, cup-pocket
Traits: Maximum safety, movement-free, comfortable and durable
In addition to the model with compression shorts, Shock Doctor offers smaller but equally high-quality protection for sensitive parts. You can order this innovative product in white color at $12.75 to $19.99, depending on the size you buy.
A step ahead of other groin guards Shock Doctor this model offers a wide range of sizes suitable for every waist circumference from 19″ to 46″ for adult men and children from XXS to XXX-L. The supporter is made of 100% polyester four-way stretch fabric with a pull-on closure that provides a perfect and immovable fit, high comfort, and a restriction-free experience.
With the help of moister-wicking technology, the groin guard moves with you while removing sweat and odor during long and hard training sessions. The cup pocket with solid and promising protection keeps the groin guard firmly in place.
It is made of mesh material that repels sweat and has high ventilation capabilities that provide additional comfort. Whether you wear them under or over your shorts, it's your job to focus on your workouts, and the shock doctor will take care of misdirected shocks and scatter them away from your sensitive parts.
COOLOMG Men Sliding Shorts with Protective Cup
Size: S, M, L, and XL (30" – 38")
Color: Black and white
Made of: Polyester and spandex
Features: Compression shorts, ventilation shorts, and cup
Traits: Comfortable, cold and impact resistant, long-lasting
COOLOMG has done a great job with this innovative groin guard for all high-velocity sports that comes with compression shorts and can serve you well in the MMA gym. You can order it for $24.99 in black or white, and it's available in sizes S, M, L, and XL for all of your waist sizes from 30″ to 38″.
Compression shorts are made of moisture-wicking stretch fabric, responsible for keeping the protective cup in the right place through compression with elastic waist and leg bands, and the material eliminates unpleasant odors and perspiration while ensuring the desired fit.
Made of 85% polyester and 15% spandex, adjustable and comfortable to serve you like a second skin. The lightweight and solid cup, responsible for groin protection, provides a highly dispersive role. The flexible silicone edge is responsible for its comfort.
It also has ventilation attributes due to the cavities located on it and is also cold and impact resistant. The good news is that we live in a time where there are more and more modern and high-quality groin guards who do a top job. We should be happy about the protection in the market available to us.
Legendfit Sliding Shorts + Protective Cup
Size: S, M, L, and XL (30" – 38")
Color: Black, grid black, and white
Made of: polyester and spandex
Features: Pull-on closure, fixed straps, and cup pocket
Traits: Superior comfort, high protection, sweat-free
And the last one on our list is another modern groin protector, very similar to the previous one. Still, this innovation comes with sliding shorts from the Legendfit factory. You can order it for $23.99 in black, grid black, or white, available in sizes S, M, L, and XL, and will fit all of you with a 30″ to 38″ waist.
The shorts are made of skin-friendly polyester and spandex with stylish and durable stitching that promises a long life for this product in MMA. The materials are breathable and moisture-wicking, intended for high comfort and absorption with dispersive properties.
The built-in straps guarantee the protection will stand firmly on you without moving throughout the training. The compression shorts have a cup pocket, and the cup you receive in your order is designed to blend perfectly with the male body with soft rubber edges for comfort.
The groin protector cup is made of highly impact-resistant materials for high-quality absorption that prevents injuries, and the peak of its coziness is due to six ventilation holes that eliminate sweating problems.
The cleaning method is simple, put the shorts in the washing machine and clean the groin protector by hand. The material dries quickly, so the product is ideal for washing overnight and will be dry for training tomorrow.
If you found this article useful, you may want to save this pin below to your Combat Sports board.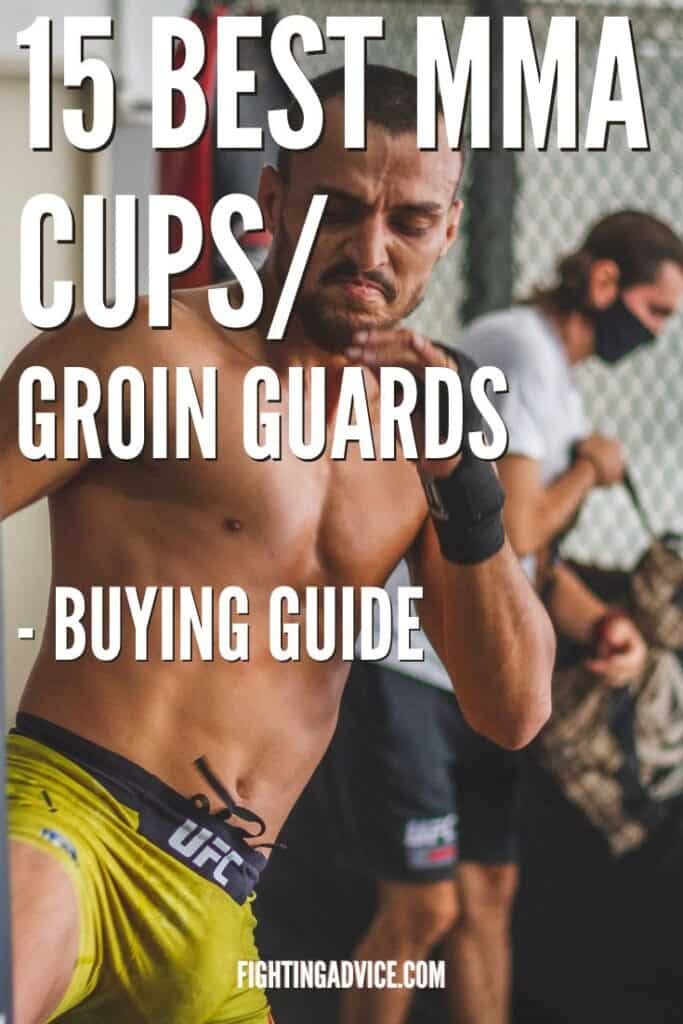 Last update on 2023-12-02 / Affiliate links / Images from Amazon Product Advertising API