When you're looking for wrestling knee pads, it's important to understand what they actually do- brace your knee and protect it from bumps. A knee pad can negatively affect your speed and movement if you don't get the size and materials right. Besides, there are different types of knee pads depending on the type of wrestling practice you'll be doing.
Today, I shall take a look at the best wrestling knee pads. A hard shell pad is worse for mobility but better for protection. Gel pads are a nice middle ground between hard pads and knee sleeves that only provide abrasion resistance as your skin slides against the mat.
KO Sports Gear Neoprene Knee Pad
KO Sports Gear Neoprene Knee Pad
Made from high quality padded neoprene.
Keeps your knee joint warm and ready for action.
Designed to move with the knee joint
Sold Individually
Size: S, L, XL, 3XL
Color: Black and grey
Material: Neoprene, synthetic rubber
Features: Pull-on, abrasion resistant
Strengths: Smooth surface, strong stitching
The edges are smoothed out to not cause any skin irritation, and the stitching is flush with the surface to ensure the same. There is a nice ventilation gap in the rear of the knee sleeve, with a synthetic rubber lining on the foam pad up front that absorbs all the shock. I highly recommend this knee pad if you want something affordable yet durable enough to protect your knee while sparring.
Cliff Keen Impact Knee Pad
Cliff Keen Impact Knee Pad
Cliff Keen bubble wrestling knee pad
Compression molded bubble provides impact protection and excellent fit
Red color-one size fits most
Size: One-size
Color: Scarlet, black, navy blue
Material: Neoprene
Features: Compression-molded foam in bubble structure
Strengths: Exceptional impact protection, breathable
The closed-cell foam bubbles on the front of this pad stand out immediately to the eye and provide exceptionally good protection from sudden impacts. Any time you drop hard on your knees, this thick layer of foam padding will dull the effect, so you can keep going at it for as long as you want. The sleeve underneath this pad is made from breathable fabric that wicks up sweat and tosses it into the air.
ASICS Unisex Wrestling Sleeve
ASICS Unisex Wrestling Sleeve
Country Of Origin: China
Item Package Dimensions: 15.24 L X 20.066 W X 5.334 H (Cm)
Item Package Weight: 0.6 Pounds
Sport Type Name: Exercise And Fitness
Size: XS/ S, M/ L
Color: Black
Material: Neoprene
Features: PU foam padding
Strengths: Comfortable, forms a perfect fit, and doesn't slide around
Compared to many other wrestling knee pads in this price range, the ASICS Unisex feels much more comfortable to wear. It uses a blend of different fabrics, with an elastic panel in the rear and a more durable type of fabric in the front. Combined with the PU foam padding, this creates the perfect balance of mobility and protection.
JMOKA Wrestling Knee Pad
JMOKA Wrestling Knee Pad
【High Quality Material】 The volleyball knee pads are made of superior elastic fabric by an...
【Anti-Collision Cushion】 Equipped with a thickened anti-collision sponge pad in the front ,...
【Ergonomic Design】 Easy to wear and take off, the elastic cuff keeps the knee sleeves from...
【Perfect Gift】This is the perfect gift for your relatives or friends. It can perfectly convey...
【Wide Application】 Our knee braces for women is perfect for dance, volleyball, basketball,...
Size: S, M, L
Color: Black
Material: Polyester
Features: Thickened foam pad, moisture-wicking fabric
Strengths: Multi-purpose pad, lightweight with adequate cushioning
Many cheap wrestling knee pads are just regular sleeves with foam padding on the front, which is good for impact protection but doesn't do anything else. However, a good knee pad like this JMOKA also compresses your knee joint to prevent it from sliding around under a sideways load. In the long term, this will prevent serious injuries and increase your longevity as a wrestler.
McDavid Hex Knee Pad
McDavid Hex Knee Pad
FULL COURT PROTECTION: McDavid Knee Compression Sleeves have built-in knee padding that is perfect...
ENHANCED FIT AND COMFORT: The extended length of the sleeves will protect your legs from scrapes and...
COMPRESSES WITH CONFIDENCE: Keep your muscles happy by keeping them warm to reduce fatigue and...
SWEAT FREE WORK OUTS: Keep cool & dry with advanced moisture wicking technology, hDc Moisture...
GAME-CHANGING ADVANCEMENTS: McDavid is the First-On-Last-Off choice for athletes looking to enhance...
Size: S, M, L, XL, XXL
Color: White, black, navy, scarlet, pink, royal blue
Material: Neoprene
Features: Hexagonal foam cells, moisture management technology
Strengths: Compression keeps knee ligaments and bones in place under stress
While not a dedicated wrestling knee pad, this compression sleeve does everything you want from one. It has closed-cell foam padding on the front- not a very thick layer, but substantial enough to protect your bones and ligaments from serious injury. And because this is a compression sleeve, it provides structural support to your knee joint and impact protection.
Cliff Keen 2.0 Wraptor Knee Pad
Cliff Keen 2.0 Wraptor Knee Pad
Medium Size
This sleek profile kneepad brings added comfort and function with stretch mesh panels on the back -...
The Wraptor 2.0 also features anatomical wrap-around padding for high-impact absorption, lateral...
Air-vent holes for greater breath-ability
Inner terry-loop fabric for maximum comfort and absorption
Size: XS, S, M, L, XL, XXL
Color: Black
Material: Polyester
Features: Double stitched seams, foam padding
Strengths: Very durable, good joint compression
It's not as flexible as the other pads on my list, nor does it compress your knee joint well. However, the Cliff Keen has a low profile, good impact protection, and anti-abrasive properties. This makes it a nice fit for both wrestling and jiu-jitsu, where your knee constantly grins against the mat.
Scraplife Wrestling KP0302 Knee Pad
Scraplife Wrestling KP0302 Knee Pad
✅【PROFESSIONAL】Impact absorbing, maximum protection! High density, premium elasticity keeps...
✅【BREATHABLE】Sweat-wicking breathable fabric!
✅【#1 CHOICE AMONGST WRESTLERS】Ergonomic fit, extra soft brushed lining! The top choice amongst...
✅【PREMIUM QUALITY】Compression Material to fit like a second skin!
✅【MAXIMUM COMFORT】Multi-Layer Padding to prevent knee injuries during training & competition.
Size: S/ M, L/ XL
Color: White
Material: Polyester
Features: Breathable fabric
Strengths: Very flexible, moisture-wicking
You get the comfort and flexibility of a knee sleeve with the protection of a knee pad. The only downside is that it isn't suitable for any grappling art other than wrestling due to the massive foam bulge up front. It can get caught up while rolling in BJJ, so I only suggest it for those who practice wrestling.
McDavid Wrestling Knee Pad
McDavid Wrestling Knee Pad
SUPPORT / RELIEF – Get instant relief thanks to the compression. Our brace will stabilize your...
LATEX FREE COMFORT – Extremely breathable and low profile snug fit. Made of Neoprene for...
PREMIUM QUALITY – Made from the highest grades materials, our knee sleeve brace is made with...
100% MONEY BACK GUARANTEE - If you are not COMPLETELY satisfied, get in touch with us and we will...
Size: S, M, L, XL
Color: Black
Material: Neoprene
Features: Latex-free microcell structure, viscoelastic gel padding
Strengths: Comfortable, excellent flexibility, consistent impact absorption
This McDavid knee pad is slim, sleek-looking, and flexible. It has ventilation panels on the bottom sides, made from a different type of fabric than the main sleeve. The padding is made out of a special viscoelastic gel, which provides the same level of protection as a large chunk of PU foam while taking up significantly less volume.
Bodyprox Knee Pad
Bodyprox Knee Pad
1 Pair Kneepads (Left and right), Unisex design, two sizes available. Polyester 45%/ Rubber 25%/ EVA...
Your Safety is Our Priority-made of high-density strengthen foam, good elasticity, breathable fabric...
Ergonomic design, super lightweight, provides freedom of movement. An ideal knee protector for...
Protect and Prevent knee injuries during exercise. Keep warm, prevention and reduction of stiff...
Great Grip, Non-Slip Feature! Easily put the knee pads on and forget that you had them on! That's...
Size: S/ M, L
Color: Black
Material: Poly-spandex
Features: Foam padding, breathable sleeves
Strengths: Easy to slip on, silicone lining ensures a secure fit
Not only does the Bodyprox pad protect your knee from frontal impacts, but it also has foam cells on the sides for complete 360° coverage. The sleeve is made from a spandex-polyester mix, so it's very comfy and breathable. Of all the pads on my list, this one is the best value for money and has no significant downsides.
Adidas Men's Wrestling Knee Pad
Size: XS, S, M, L, XL, XXL, 2XL Wide
Color: White/ flag, black/ grey, pink/ black
Material: Neoprene
Features: EVA foam padding
Strengths: Very durable and flexible, good keen joint compression
Adidas uses a hexagonal layout for the foam blocks on their pad, similar to Bodyprox, ensuring all-around coverage for your knee joint. However, the sleeve is made from a very different material- it's tougher, less flexible, and much more durable. And since it's all-white, you might want to wash it occasionally unless you want your knee pad to look like a modern art showpiece.
Conclusion
No matter which pad you buy, make sure it suits your needs and is built well. Brands always come and go, so don't focus on a particular name. Instead, buy based on your budget and customer reviews.
The primary goal of a knee pad is to prevent your knee joint from moving around too much as you spar or do training exercises. It protects you from mat burns and is especially useful if you've already been injured in the knee. Don't get a generic football knee pad; you need a single-piece pad designed specifically for wrestling.
If you found this article useful, you may want to save this pin below to your Combat Sports board.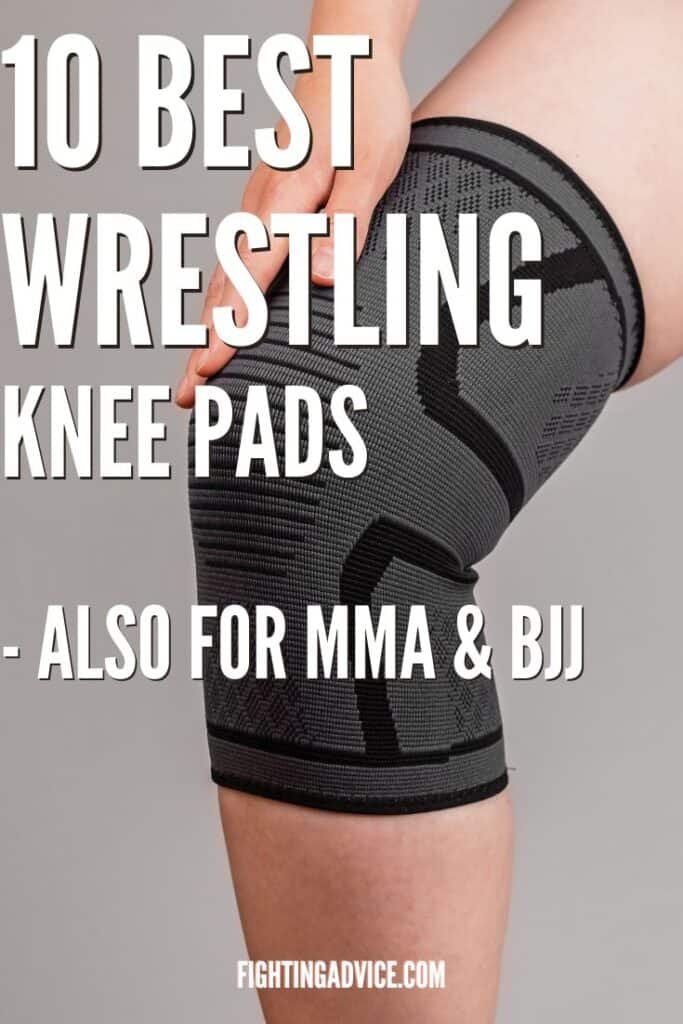 Last update on 2023-11-30 / Affiliate links / Images from Amazon Product Advertising API