Much like gloves, focus mitts should be fitted to individual hands. This can be a little tough to ensure while purchasing online, but you can often get close, thanks to the huge variety in sizes offered by modern brands. A boxing mitt that's too loose will flop around and slip away as soon as you intercept a punch.
Conversely, one that's too tight will hurt your hands and scare you into moving slower. Having a nice glove on the back is important, such that your hands always stay secure. Here are the best boxing focus mitts you can buy; check them out. 
Rival Boxing RPM11 Evolution Mitts
Rival Boxing RPM11 Evolution Mitts
Made of Rich PU microfiber
High density layered foam padding
Padded mesh finger protector
Breathable mesh hand compartment
Hook and loop adjustable wrist strap and padded wrist support
Size: S, M, L, XL
Color: Black, gold
Material: Microfiber
Features: Ventilated back, adjustable velcro strap
Strengths: High-density padding protects your hands really well
The shell is made from top-tier PU leather, which isn't as tough or long-lasting as the real stuff but more than adequate for regular punch training at the gym. I love that this focus mitt has a nice bullseye in the middle and is located right where the center of your palm sits once you put it on. The rear has a spacious hand compartment and lots of mesh to keep you cool through training. 
Hayabusa PTS3 Focus Mitts
Hayabusa PTS3 Focus Mitts
Hayabusa micro focus mitts are compact, light and perfect for high speed training drills and are the...
These micro focus mitts can be used as kickboxing training pads, boxing punching mitts, muay thai...
Hayabusa boxing focus mitts have air pocket cushions that make a distinct 'pop' sound upon...
They have a traditional design that will blend in flawlessly with your training facility.
Whether you are using these as boxing focus mitts, kickboxing focus mitts, Muay Thai focus mitts, or...
Size: One-size
Color: Black
Material: PU leather
Features: Triple-layer foam cushion, grip ball
Strengths: The curved shape with an air pocket is ideal for catching punches
Underneath the pre-curved shell of this Hayabusa focus mitt, there is an air pocket that comes before the multilayer foam padding. This reduces shock before the force is transferred into your palms, resulting in a pair of mitts you can wear all day without hurting yourself. Thanks to the wide velcro straps and metal support clasps, the grip feels ergonomic and stable.  
Fairtex FMV15 Curved Focus Mitts
Fairtex FMV15 Curved Focus Mitts
Made from premium Syntek Leather for durability and easy maintenance.
Compact size and curved design allow for precise targeting and improved accuracy.
Multi-layer foam padding absorbs heavy punches and protects trainer's hands.
Excellent training tool for improving speed, accuracy, and focus during striking drills.
Suitable for use in boxing, kickboxing, and mixed martial arts training.
Size: Standard
Color: Black, black/ gold, black/ red
Material: Synthetic leather
Features: Ambidextrous, laced nylon shell
Strengths: The glove on the rear provides a secure fit and has holes for ventilation
Fairtex FMV15 mitts look simplistic, but they are tough and don't slip around when sparring. On top of that, the strike face has more than enough padding to eat some hard uppercuts and crosses without sending jolts of electricity through your arms. So, no matter how big your fighter, you can stand before them comfortably while wearing a pair of these mitts, knowing you're protected.  
Title Gel Contoured Punch Mitts
Size: 9.5"
Color: Black/ white/ red
Material: Leather
Features: Hook and loop wrist lock
Strengths: Gel lining in the ball of the wrist and center of the palm for optimal protection
The tapered shape means that boxers must be precise if they want to hit the center white dot. But even if they miss, your wrist will be fine because the heel of this mitt has additional gel padding. This covers the ball of your palm; the gel padding is an assistant layer to the base foam padding, resulting in enhanced comfort and protection from all angles. 
Everlast Elite Leather Mantis
Everlast Elite Leather Mantis
Sold in pairs
Anatomically shaped hand design, additional gel lining and advanced multi-layer foam ensure that...
A mesh outer pocket with EVERDRI technology keeps the sneakers' hands cool during intense workouts.
The striking face includes a recessed target and is constructed with premium full-grain leather for...
Size: One-size
Color: Black and yellow
Material: Leather
Features: Ambidextrous, mesh rear panel, gel liner
Strengths: Recessed strike face and generous padding make this very comfortable
If you have larger hands, you might want to check out these Everlast Elite Mantis mitts since they have massive hand compartments. But that doesn't mean your hands will stay loose, as an adjustable velcro strap keeps things nice and tight. The mitts also have plenty of mesh panels on the rear to wick the sweat away from your hands so you can confidently train all day. 
Contender Fight Sports Gel Panther Punch Mitts
Size: Standard
Color: Black
Material: Leather
Features: Ambidextrous design, ventilated hand compartment, gel liner
Strengths: Laced nylon straps, recessed strike face improves palm alignment
It is one of the cheaper pure leather mitts you can buy, and it comes with an additional gel layer on top of the foam. The curved strike face and thick padding allow this mitt to soak up all sorts of punches, even ones thrown at awkward angles. And when you swing back at your boxer, the curved hand compartment will ensure you don't accidentally cut them. 
Fairtex FMV9 Contoured Focus Mitts
Fairtex FMV9 Contoured Focus Mitts
Enhanced Striking Accuracy: Elevate your striking accuracy with Fairtex Contoured Focus Mitts,...
Contoured Design: The contoured design of these punching mitts is specially shaped to fit the...
Maximum Protection: The multi-layer foam padding on the boxing mitts offers superior protection for...
Secure Closure: The hook and loop closure system on the boxing pads guarantees a secure and snug...
Syntek Leather Construction: Made from Fairtex's signature Syntek leather, these Muay thai pads are...
Size: Adult
Color: 8 unique patterns
Material: Synthetic leather
Features: Ambidextrous design, multilayer foam padding
Strengths: Excellent durability and comfort, easy to slip on and take off
Just by looking at this pair of mitts, you might think that they don't have enough padding to soak up hard punches or elbows. But the ergonomic shape of the hand compartment and curved strike face hides a ton of padding underneath, resulting in deceptively comfortable mitts. Importantly, these are some of the lightest and most agile mitts you can buy- perfect for training speed and precision. 
Cleto Reyes Boxing Focus Mitts
Cleto Reyes Boxing Focus Mitts
PERFORMANCE AND DURABILITY - CLETO REYES Curved Punch Mitts are your go-to solution for superior...
ERGONOMIC DESIGN - These boxing curved focus punching mitts feature individual finger compartments...
BREATHABLE - The breathable air holes in our punching mitts, ensure your hands stay cool and dry....
GENUINE LEATHER - Crafted with performance engineered leather, these boxing hand pads feature...
TRAIN WITH CONFIDENCE - The boxing mitts secure design helps to prevent injury during intense...
Size: One-size
Color: Black and white
Material: Leather
Features: Individual finger compartments, air holes
Strengths: Handcrafted from genuine leather, reinforced stitching, thick foam padding
Cleto Reyes knows what it's doing regarding boxing gear, and this pair of mitts is among the finest I've ever had the pleasure of reviewing. You get plenty of air holes on the rear for ventilation, individual finger compartments, a real leather shell, and a special lining that prevents moisture from entering the padding. These mitts are perfect for quickly slipping on and off since they have no velcro closure. 
Combat Sports Contoured Punch Mitts
Size: Adult
Color: Black and purple
Material: Leather
Features: 1.5" shock-absorbing padding, air holes
Strengths: Heel padding to improve wrist protection and alignment
Many cheap focus mitts with aggressive curvature often neglect to compensate for this with sufficient padding in the center. That is why a well-placed shot will often be felt through your palm because it takes a direct path through the center into the thin part of your palm. Combat Sports fixes this by placing 1.5" of padding between the center point and your palm, making it comfortable even with that deep curve down the middle. 
Venum Cellular 2.0 Punch Mitts
Venum Cellular 2.0 Punch Mitts
Product Type: Sporting Goods
Package dimension : 31.75 cms L x 37.846 cms W x 14.223 cms H
Package weight : 1.065 kilograms
Country of Orgin: Thailand
Size: 12.5" x 15"
Color: Black and white, matte black
Material: Microfabric
Features: High-density foam padding, mesh panel
Strengths: Heel padding, good at keeping your palms sweat-free
Venum knows that every good focus mitt needs just two things- good padding and good ventilation. This is exactly what Cellular 2.0 provides: mesh panels and foam on every surface. The only part not covered by mesh is the curved front strike face and the rear wrist strap that keeps your palm glued to the mitt. 
Conclusion
The center of a focus mitt should coincide with the center of your palm for optimal impact absorption. If the center of the mitt sits too high on the palm, your hands will get whiplash. A center that's too low will cause unnecessary wrist strain.
Speaking of wrist strain, try to get mitts with heel padding whenever possible, as this will help you keep your palm in line with the rest of your forearm. You don't want it angled at 90° against your arm; your arm and palm should be in one straight line while holding a mitt.
If you found this article useful, you may want to save this pin below to your Combat Sports board.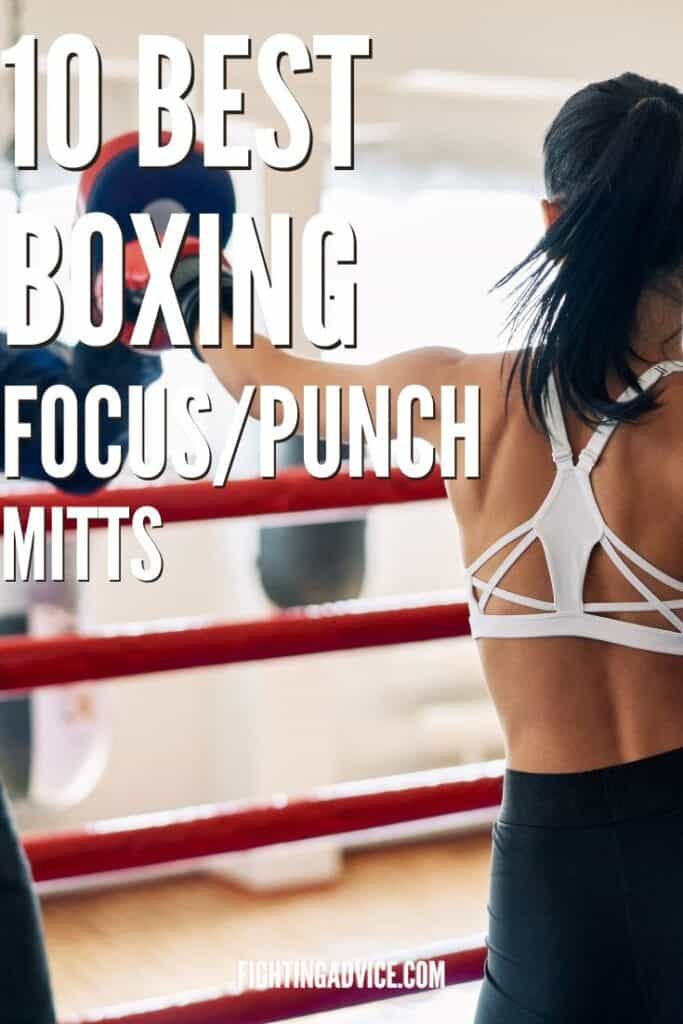 Last update on 2023-12-03 / Affiliate links / Images from Amazon Product Advertising API