Combat sports athletes are among the easiest people to buy a gift for. When it comes to MMA practitioners, you have an even wider range of possibilities due to the multiple sports they train in, especially in a market rich in martial arts equipment. That's why we've made your job easier and narrowed down the options even more by choosing only the best and maybe finding something to treat yourself to.
Gold BJJ Jiu Jitsu Backpack
The Gold BJJ Heavy Duty backpack will convince you that the perfect gift exists, which you can order for $59.99 in gray or black. Designed by BJJ athletes for BJJ athletes, it will offer the service your friends deserve. Waterproof, full of pockets, and places for all kinds of equipment with a capacity of 25 liters. The bag is made of quality, durable materials; it is here to see its owner from white to black belts.
Boxing Ball with App
You can order Boxbollen Original for a modest $19.99 and give your restless friends animal reflexes they can perfect wherever they are. This product is hot gear on the market and is used by celebrities from both the music and martial arts industries. This punching ball also comes with "THE BOXBALL" APP that allows you to track your progress and compete with others. It's a superb tool for productive fun and burning calories, and it's a favorite among all ages and genders.
Venum Men's UFC Authentic Fight Night Short
Let's be real because it doesn't get better than the Venum shorts worn by the athletes on the UFC roster. This potential gift can be yours for $119.99, available in yellow, black, black-gold, red, blue, green, and white. The shorts are made of 88% polyester and 12% elastane. They are lightweight to wear, and they provide a perfect fit using an elastic waistband. Available in sizes from small to xx-large to fit every waist. Find out which is your friend's favorite fighter and order him fighting shorts in his signature color.
LEXSIVO a Wrestler's Prayer
Hurry over to the Amazon page and grab a discount of up to -50% that reduces the price from $19.99 to $9.99, and buy your avid wrestlers this home decoration that they can keep on the bedside table or hang on the wall. Prayer is always a good sign of friendship; your friends will remember you whenever they see it. UV resistant, waterproof, and not so easy to scratch will ensure that this gift does not fade over time and maintains its original quality when you buy it and give it as a gift.
MMA Gift Fighter T-Shirt
We've already talked about how you can't go wrong with a clothing gift, whatever the occasion. MMA Fighter T-shirts can be ordered for $19.99 and are available in men's, women's, and children's sizes. You can choose them in dark but extremely attractive colors such as black, navy blue, dark heather, heather gray, and heather blue. It supports machine washing and is very comfortable with a material composition of cotton and polyester, the percentage of which depends on the color of the shirt you want. However, they all offer the same quality and smiling faces.
Black Belt Martial Arts Gift 
Of course, we had to find something for the fiery ladies who bravely fight on the mat, and an exceptional gift for them would be this black belt BJJ Makeup bag that costs $13.89. It comes in size 6.5″ H x 9.05″ L (up) x 7.5″ L (down) and is made of waterproof material with a secure zipper. This cosmetic bag can be used as a travel bag because, given that we know what women are like, it provides enough space for things women need. It can also be used as a gift for one of your BJJ beauties for Valentine's Day. So don't miss this opportunity and make the first move.
Tap Out Explosion T-Shirt
Die-hard MMA fans will know what is up when they see the famous TAPOUT shirts, as those markings were a trademark of the older MMA generation. Don't forget it, and make your colleagues happy for $17.99. These licensed shirts come in sizes from small to xx-large, long-sleeved, lightweight, and comfortable to wear in black, navy blue, dark heather, heather gray, and heather blue. Tap Out merchandise seems to be products that will forever remain on the market, marking the roots of mixed martial arts for generations to come.
BJJ Keychain
Sometimes trinkets are the cheapest but also the best variants for gift occasions. Tiny signs of attention have always been highly appreciated because, as they say, "it's the little things that matter." Just such a gift is a BJJ pendant that can be attached to a bag or keys for $14.99. Made from 100% cotton in 11″ length with a carabiner, they come in all BJJ belt colors, so you can buy a black belt keychain for your trainers or colleagues who are fighting so hard to earn them.
MMA Gorilla Pillow
Do you know that one friend from training who does strict routes from bed to the gym and back every day? Doing nothing but training and sleeping, hoping one day he will wake up like a champion. Well, we found a gift for him too. For the modest price of $21.99, you can treat him to an MMA Gorilla pillow, measuring 18″L x 18″W, filled with 100% polyester, and sewn closed, making it the perfect place to rest their head after hard training. Who knows, maybe you will contribute to their recovery with the comfort of this pillow.
Vinyl Record 12′ MMA Clock
Another home or gym decoration that can be an exceptional gift to your loved ones in the form of a wall clock can be yours for $57.80. This creative-looking clock was designed as a vinyl record that is a beautiful decoration for all kinds of spaces in a martial spirit. This gift comes in 11″W x 11″H, is black and white, and weighs 0.5 pounds. It uses AA batteries (which are non-included) and non-ticking silent sweep hands that do not produce unpleasant sounds like some clocks.
Hawk Sports MMA Dummy
The grappling dummy is the dream of every fighter owning a home gym, and it is also an excellent tool for practicing the technical aspects of jiu-jitsu and wrestling. For the price of $29.99, you can provide your friend with a calm and quiet sparring partner, with the fact that in addition to grappling, they can also practice ground-and-pound strikes on him. All his limbs are very mobile, and he weighs up to 80 lbs when full. The training dummy is made of soft materials for comfort and is double-stitched, so it can take years of abuse.
RDX Kit Bag
The RDX kit bag has the potential to be one of those gifts that will last a long time. Because of the renowned RDX quality and use of materials, you know you can count on safe and long-lasting service. Its price is $52.99, and the dimensions of 22.8″ L x 11.4″ H x 11.8″ W will give a vast space to pack a full gear. Made of waterproof materials, the RDX bag contains a spacious main compartment with side pockets and a mesh compartment for sweaty gear. It's really a hit, and with all the features, it's pleasing and attractive to the eyes.
Venum Men's Standard Zip-up Hoodie
Regardless of the person's size, this Venum zip-up hoodie will have a perfect fit because it is made in sizes from xx-small to xxx-large. Available in Venum's famous black or khaki colors, you can order it for $109.99. If you're lucky enough to grab Amazon's discount, you can make someone happy for $91.80. I don't think it's necessary to talk about the quality, and the materials that make up this beautiful item of clothing are 94% polyester and 6% elastane, giving the hoodie comfort and durability.
The Fighter's Kitchen
We bring you a creative and quite original gift idea for your favorite and hardworking colleagues in the form of a food recipe book. For $19.99, you will provide your friends with a healthy diet and reduce the hassle of thinking about "what to eat" daily. Used and approved by leading MMA fighters. With a book of 160 pages, over 100 meals, and quality advice and information from expert nutritionists, your friends will finally be able to have the perfect fighter's diet in their pocket. Help them get lean and better during training and competition on difficult days when you have to control your diet.
HYDRATE Water Bottle
True friends are those who, in addition to training together, motivate each other to stay hydrated no matter what. HYDRATE XL bottles come with a capacity of 43 or 74oz in as many as 15 colors with cotton, matt, and frosted models. The bottles are made of BPA-free plastic and a tough, robust nylon carrying strap for portability. Priced at $16.99 or $27.99, this gift will send a clear message to your friends about the importance of hydration.
Ninja QB3001SS Ninja Fit Compact Personal Blender
Another kitchen gadget you can use to brighten up someone's birthday, holiday, or every day is the Ninja Fit Blender, available for $49.99 for 700 Watts, $89.99 for 1100 Watts, and $79.99 for 900 Watts. Speaking from personal experience, after a couple of hard training a day, a person becomes so tired that even chewing is an aggravating circumstance. Therefore, this device can be a master aid in nutrition. The blender is high quality, BPA free, and dishwasher safe, and includes 50 recipes to help you with easy-to-prepare smoothies, frozen drinks, sauces, and more.
Ringside Cobra Reflex Boxing Punching Bag
Ringside Cobra reflex bag comes with a new and improved version, and thanks to its size, you can brighten up your friend's home gym. For $254.30, buy them a device that will last and help them. This reflex bag is adjustable in height from 5″ to 7″, and with the help of a quality steel alloy spring, it can withstand beating without destroying the product. It comes in 14″W x 50″H dimensions with a stable base tank that can be filled with sand or water up to 140 lbs. Take my word for it: This bag is indestructible and will outlive the one who received it as a gift.
TriggerPoint GRID Patented Multi-Density Foam Massage Roller
As fighters get older, they start hanging out with foam rollers more and more. It is the best thing for relaxation, deep tissue, and muscle recovery. It removes stiffness, relieves inflammation, and avoids injuries. Available in black, orange, pink, red, and teal, it will suit both men and women. Therefore, the price of $65.99 is solid for this tool because the price of your colleagues' health is much higher, and this is a great way to show them that you care.
Venum Classic Snapback Hat 
Venum is a brand that can be found on fighters in and out of the gym. Over time, products with his logo became like the uniform of MMA practitioners. That's why Venum's Snapback Hat is the right thing to treat your gym members with, those who want to be marked with martial spirit even while walking around town. You can order it in black for $29.93 and $27.99 in black and white, made of 100% cotton. It will find a perfect place on the head of your colleagues.
Venum Challenger Standup Shinguards
By buying protective equipment as a gift, you let them know that you care about the health of your loved ones from training. Shins are a sensitive part of the body, and as such, they need solid protection, which you can provide with Venum shinguards priced from $61.00 to $69.00. They are available in medium, large, and x-large sizes in black and black-white color, providing maximum safety with high-density foam along the shins, including the foot.
If you found this article useful, you may want to save this pin below to your Combat Sports board.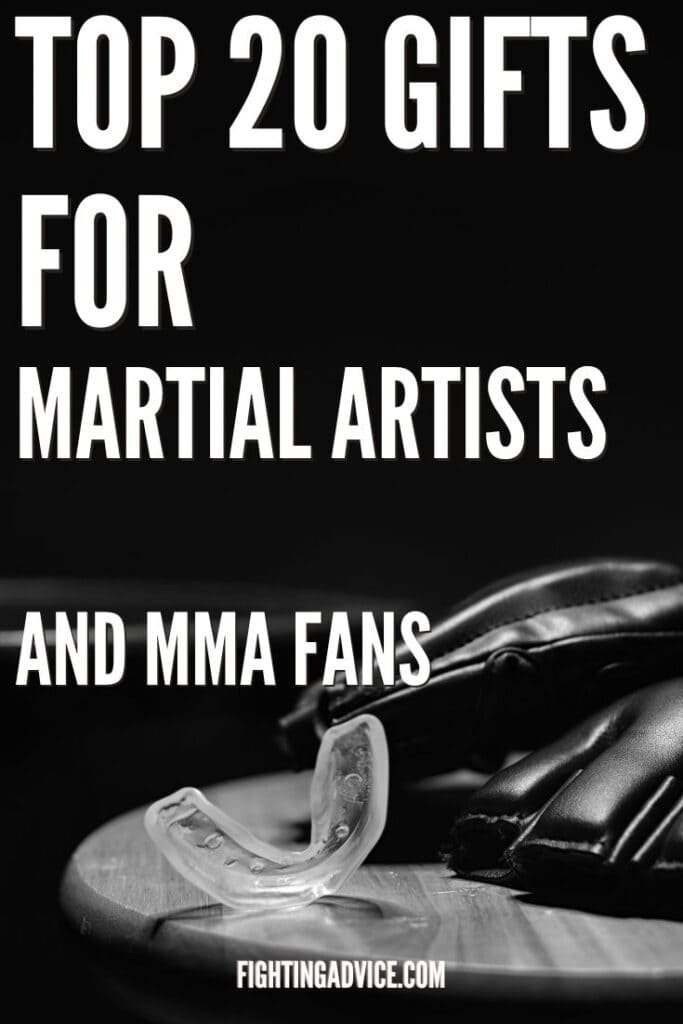 Last update on 2023-12-03 / Affiliate links / Images from Amazon Product Advertising API