Research has shown that training outside has benefits for the human body as well as the psyche. It acts as a natural antidepressant, relieves stress, lowers blood pressure, strengthens the immune system, and you are also exposed to vitamin D. Even if you don't train, external influences will improve your mood and motivate you further. All you have to do is to get the right equipment, bring a friend, and enjoy the outdoors.
The OranguBag Portable Punching Bag
The OranguBag Portable Punching Bag
The OranguBag becomes an ideal tool for training, since it allows Contact Sports users to practice...
The OranguBag comes in a comfortable, lightweight sports bag that allows you to train your preferred...
The OranguBag is made of highly resistant PU Leather, with 2 sections filled with Eva Rubber, 4 cm...
The OranguBag is developed by a team of sports experts and product designers. It is designed to...
Our main objective is to make life easier for the amateur or professional athlete who wants to...
Boxing, Kickboxing, Muay Thai, MMA
39.3"W x 4.72"H 
Black color
Durable, Resistant, Portable, Protects wrists and ankles
Synthetic Leather, High-density Foam, 1.6" Tatami
Designed by experts from Orangu Sport for amateurs and professionals for $229.99. It is made in black color, with a width of 39.3″ and a height of 4.72″, and is made of synthetic leather. Its hitting parts are filled with high-density foam that has the role of protecting your wrists and ankles.
The bag is durable and resistant, and as a gift, you get a cover that makes it waterproof. This unique and first-of-its-kind punching bag is a revolutionary tool for developing your punching and kicking skills. It is handy for any striking sport you do.
This bag is really in step with the times we live in. It's practical and transferable and can be installed anywhere you go. Its portability was made possible by the light bag you receive. Orangubag can be placed in your yard, on the mountain, or even on the beach.
All you need to set it up is a tree or a solid pillar. You no longer have to worry about whether the gym is open; now, you can train even when you are on vacation. I highly recommend it to anyone who enjoys working outside the home and the gym. 
Century Original WAVEMASTER
Century Original WAVEMASTER
🥊 MADE IN THE USA - When You Buy A Wavemaster Punching Bag You Are Supporting A US Company
🥊 PORTABLE BAG - The Wavemaster Can Be Moved, Tip It Onto The Side Of The Base And Roll It.
🥊 ADULT FREE STANDING KICKBOXING BAG - Works on even floors in home, office and gym studio.
🥊 ADJUSTABLE SIZES - 7 Height Options From 47" To 68" In 3" Increments For Men, Woman And Kids
🥊 STABLE FLOOR BASE - Weighs 270 Lbs Filled With Sand Or Water. Base Is More Stable With Sand
Boxing, Kickboxing, Muay Thai, Karate, Tae kwon do
19.5"W x 68"H , 270lbs
Black, Blue, White, and Red colors
Easily portable, Good absorption, Easy to set up, Adjustable height
Decent quality, High-density foam, Vinyl cover
Centuriy's WAVEMASTER Heavy punching bag is a product that will not disappoint you; quality made by a US company in black, white, blue, and red for $199.99. It is Inexpensive, practical, and of decent quality. Everything about it is positively surprising.
This bag is relatively new on the market and does not require the usage of a large space. It is filled with high-density foam and covered with a durable vinyl cover. Thanks to these materials, it perfectly absorbs strong hits and barely moves during light hits.
Its dimensions are 19.5″ wide and 68″ high, and its weight is 270 pounds. All you need to do to set it up is to fill it with water or sand, unlike the old bags you had to hang from the ceiling. Considering how heavy it is, it is quite easily portable.
Its benefit is that you can adjust it to seven different heights, so even children can use it. It is excellent as a tool for home use during the winter, and when the weather is sunny and warm, it can also be placed outside the house. It is durable, long-lasting, and ideal for practicing kicks and punches.
Innolife Wall Boxing Pads 2-in-1 Wall Punching
Innolife Wall Boxing Pads 2-in-1 Wall Punching
2-in-1 Punching Pad -- The boxing pad is not only a wall punch pad but also a tree focus target to...
Thicker & Bigger Wall Pads -- Measuring 56x45x5.4cm/ 22.05x17.72x2.13in,the wall mount punching bag...
Quality Foam Target -- The foam inside is detachable and changeable and outside wrapped with real...
Lightweight & Portable -- The kick pad is designed for both outdoor and indoor use.2 adhesive hooks...
Boxing, MMA
Large 18.5"W x 22.4"H, Small 13.5"W x 16.9"H, 2 pounds
Light Orange color
Easily portable, durable, waterproof
Indoor or outdoor usage, microfiber leather cover, thick replaceable sponge, reinforced metal hooks
Wall boxing pads from the Innolife company are excellent for developing boxing techniques wherever you are. You can get them for the affordable price of $67.99. You can order it and try it on in a large and small size.
The dimensions of the large pads are 18.5″ wide and 22.4″ high, and the dimensions of the small ones are 13.5″ wide and 16.9″ high. Lined with a light orange microfiber leather cover, which is durable and guarantees longevity, the interior is filled with a 2.17″ thick sponge that is replaceable.
Since it comes with reinforced metal hooks, you can hang it on the house wall, which is ideal for training at home, but you can also place it on an outside wall. Another accessory is the two-meter-long straps that can be used to tie this tool to a tree for outdoor training purposes.
You can take it anywhere because it's practical, portable, and weighs only 2 pounds. Although its surface is waterproof, I advise you not to leave it outside in order not to shorten its life. The surface of the pads is not dangerous for your hands, so it is not necessary that you have to use gloves when hitting.
HAOEA Free Standing Tire Boxing Punching Bag
No products found.
Boxing, Kickboxing, Muay Thai, MMA
3,4,5 or 6 tires
Black color
Steadily, Long lasting, Very good absorption
Quality and durable tires, durable chains, and a stable metal pole
The standing bag made of tires from the HAOEA company will take your bag work to a whole new level. It is available from 2022, and its price varies depending on how many tires you buy. As an option, you can choose between three, four, five, or six tires for $860 – $1700.
The order comes with a solid metal pole and chains that hold the tires, and everything is black colored. It is good for placing in the office, home gym, or garage and has a solid base that prevents it from moving. What fascinated me the most was its ability to take heavy and violent hits, making it a great tool whether you're into professional martial arts or want to blow off some steam and get in shape.
You can certainly count it as one of the more durable pieces of equipment because it promises to serve for a long time. It is suitable for all ages and produces much less noise than a regular heavy bag. Since it only comes in black, its surface allows you to paint it in a color that matches your home gym's aesthetic.
MaxxMMA Double End Striking Punching Bag Kit
MaxxMMA Double End Striking Punching Bag Kit
Ideal for all punching action, slipping, counter punching and reflex
Heavy duty spring bounces back for more punishment
The absolute best equipment for developing speed, timing and accuracy
Kit includes base, one pair of gloves, pump and door frame fixer
Boxing
Bag 8"W, 12.2"W x 4.1"H Stand
Black color
Practical, Adjustable height, Durable
Synthetic leather and Heavy-duty springs
The MaxMMA brand has done a decent job producing a double-ended punching bag. It is easy for you to set it up, take it down and move around as you please. For 54.99$, you get an 8″ wide bag, a 12.2″ wide by 4.1″ high stand that you can fill with sand for better stability, and adjustable heavy-duty springs that hold the bag on both ends.
You also got a pump, gloves, and a door frame fixer. The bag alone only weighs a few pounds and is made of synthetic leather. I advise anyone with a heavy bag at home to purchase this equipment as an addition to your defensive combat gear.
This bag will improve your speed, agility, and timing when throwing punches. With the springs that return the bag after impact, you will also develop good reflexes to avoid and block incoming hits. Since the gloves are weird, I advise you to use your own and throw light punches because that's what this one is for.
I also advise you to bring someone who knows how to install the bag to get the desired results because most of the bad reviews come from the inability to install the bag.
Portable Martial Boxing Spinning Bar
Portable Martial Boxing Spinning Bar
Wing Chun wooden reflex rod---: double bearing design, 360° punch to achieve unrestrained rotation,...
Boxing speed ball---: We have designed 2 balls, which are the best choice for your punching or foot...
Adjustable Height---: Bundled Wing Chun is perfect for use at any height. Adjust the appropriate...
Premium Material---: The boxing spin bar is made of high quality steel, painted, durable, strong,...
Wide application---: Wing Chun wooden figure is very suitable for beginners and kung fu training...
 Boxing, Kung Fu
Two small bags of 7.87"W, 22" Long metal tubes,
Black and Red colors
Portable, Adjustable Height, Practical for outdoor
PU leather bags, Microfiber leather cover on a metal tube
This punching bag serves many possibilities and is a product of the DYK&NX brand. For $160, you get two small 7.87″ wide bags with cushioned bottoms to put on a 22″ long metal tube. The metal tube on the other end is held by a stable mechanism that you can install on the tree, but it can be installed on any stable post.
Between the punching bags is a boxing spinning bar made of microfiber leather that does not wear out or crack. The Spinning Bar has a 360-degree range of motion. In terms of use, this tool is really versatile and is amazing for boxing purposes and kung fu use. It can be installed indoors or outdoors and placed at various heights.
It will serve you well when practicing reflexes, evasive movements, and throwing punches with kicks. The material is of high quality, stainless steel, durable, strong, and intended for long-term use. The bags are made of leather material that does not peel off, and the elasticity of the amortized ends can reach up to 90 degrees. The complete structure is easy to install and portable.
Century Wavemaster XXL
Century Wavemaster XXL
XXL ADULT PUNCHING BAG - The Wavemaster XXL stands 69 inches tall and measures a full 18 inches in...
LARGEST STRIKING AREA - The bag section itself is a whopping 52" inches tall with an 18"...
HIGH QUALITY MATERIAL - The striking area features a durable vinyl cover sitting atop high-density...
PORTABLE & EASY TO MOVE - Just tip it onto the edge of the base and rotate to roll. This design...
MADE IN THE USA - When You Buy A Wavemaster Punching Bag you are supporting a US Company that...
Boxing, Kickboxing, Muay Thai, Karate, Tae kwon do, MMA
XXL, Bag 69"H x 18"W, Stand 17"H x 28"W, 280lbs
Black color
Stable, High absorption, Hard surface, Easy to install
High-quality material, Vinyl cover, filled with foam
Another quality Century product is the standing punching bag, this time in XXL size for $349.99. It's not cheap, but it is worth every dollar because it will exceed your expectations. You won't find better quality, size, and durability for less money.
This bag is much larger than its predecessor, with a height of 69″ and a diameter of 18″, making it the highest-standing punching bag on the market, and it is quite new in production. It's great for your garage if it does not have a high ceiling. It is made of high-quality material covered with durable vinyl and filled with foam with a stable weight distribution that will absorb your hard hits brilliantly.
It is hard on the surface, so I advise using gloves to avoid burning your knuckles. You can fill her 28″ diameter and 17″ tall stand with dry sand rather than water to keep it from moving around, so its final weight is 280 pounds.
It is easily portable and easy to install, and you can use it for training indoors and outdoors. Although it is a quality material, I do not recommend leaving it outside due to external influences such as high and low temperatures. So consider also getting some waterproof cover for it.
FairtexExtra-Large Heavy Bag HB3 – Filled
Boxing, Kickboxing, Muay Thai, MMA
38"H x 18"W, 70lbs
Black color with Red/Green/Blue shades
Solid leather bottom, high-quality synthetics, nylon top
Non-tearable, Durable, Waterproof, Long lasting
If anything in my life has not disappointed me regarding the quality of martial arts equipment, it is definitely hand-made Fairtex equipment from Thailand. For the price of $299
you receive a solid and large heavy bag that is solidly and qualitatively filled in. It comes in black color with red, green, or blue shades. It can withstand all kinds of hard punches with very little movement, whether you are honing boxing techniques, strong Muay Thai kicks, or kickboxing combinations.
It is 38″ tall and 18″ wide, and its surface consists of mixed materials. The lower part of the bag is lined with solid leather that maintains the weight of the bag, and the upper part is lined with high-quality synthetics. Non-tearable nylon at the top is durable and waterproof.
This is an extra large version of their classic bags, and for ease of shipping, you get an empty bag that weighs 70 pounds when filled. Unlike Fairtex's HB2 bag, this bag requires more upper body power and strength, making it excellent for boxing or Muay Thai.
Fairtex Heavy Bag Banana
Fairtex Heavy Bag Banana
Durable and versatile: Made with high-quality synthetic leather for long-lasting use
Unique shape: Allows for a wide range of striking techniques, perfect for Muay Thai, boxing and...
Sturdy hanging straps and swivel: Easy to install and use
Improve your striking technique: Great tool to improve striking technique and power
Suitable for all skill levels: Whether you're a beginner or an advanced martial artist, this heavy...
Boxing, Kickboxing, Muay Thai, MMA
70"H x 14"W, 90lbs
Black, White, Green, Yellow, Blue, Red, Brown, Pink colors
Synthetic leather, Nylon web strap
High-quality materials, Firm straps, Long lasting, Hard but smooth surface
Fairtex bags come in various colors, shapes, sizes, and prices from $129 – $299. This product is a narrower and taller version of the classic Fairtex bags, and considering their durability and quality, you will not regret even one dollar you spend on them.
You can choose whether to order it filled or empty, which is pretty much practical for its delivery. Banana bags are made of high-quality synthetic leather that promises long-lasting use. It is 70″ tall with a 14″ diameter, and when you fill her up, she will weigh about 90 lbs.
Their weight is maintained by a reinforced nylon web strap that does the job great. Definitely one of the better bags for practicing heavy low kicks, and because of its height, it also allows you to practice high kicks. After a year of use, it will still remain in the same condition.
It is filled with quality and guarantees comfortable use. The bag is firm but allows you to throw strong punches without possibly injuring yourself. You can leave it touching the floor for less movement, but due to its absorption, it can be a couple of inches above the ground.
Water Punching Bag
Water Punching Bag
Punch Training: 18In water punching bag allows you to practice jab cross hook and uppercut at the...
Easier On Body: If you hate working on the heavy bag as the feel it in your joint, the water filled...
Realistic Feeling: Filled with water, water boxing heavy bag could easily absorb the hardest...
Convenient Design: Water punching bag is very portable, just fill with water when you want to use...
Suitable For Combos: Water punching bag is barely moves and absorbs the energy when being hit which...
Boxing
18"W, 8 pounds, 39" adjustable chain
Black and Red colors
Durable PVC high-quality coating
Joint safety, Perfect absorption, Resistant to damage
Quingi's water bag for $164.90 is another solid addition to your gym and boxing training. It comes in a mix of red and black colors, is 18″ in diameter, and weighs 8 pounds. With the bag, you will also get installation accessories such as an expansion ring, insurance buckle, D-type buckle, and a 39″ chain whose height is adjustable, and the bag itself is very portable.
The bag is filled with water and coated with durable PVC material, which perfectly absorbs punches and withstands damage. Due to the high-quality coating, you don't have to worry about water spilling. When hitting this bag, you will not have the joint problems you have when hitting a heavy bag, so it is safe to say that it keeps the joints healthy.
It is firm but soft and creates a realistic feeling in your hands as if you are hitting an opponent. It will serve you well in hand combinations, and its mobility will serve you well in practicing head movement. Unlike flat, heavy bags, it also allows practicing uppercuts. Using this bag is a different and skill-changing experience I would gladly suggest to any avid boxer.
Additional Punching Bag Hangers Strap
Dolibest Punching Bag Hangers Strap
Unique design: This heavy bag strap is designed with a swivel, which changes the traditional fixing...
Adjustable: Came with an adjustable buckle that can adjust to suit your needs. The rope is 3.3 ft...
Easy to install: Each end of the punching bag straps with an openable triangular carabiner which can...
Suitable scenes: Suitable for boxing, mma, kick boxing, muay thai bags up to 1000 lb.
Satisfaction guaranteed: If you are dissatisfied for any reason, return your order within 30-days...
Practical solution for hanging a punching bag
Adjustable strap heights 21.5" – 40"
Max weight 1000lbs
Easy and safe to install
Straps made of high-quality polyester 
Carabiner and swivel with 260 degrees of rotation
For hanging bags, you might have had problems for years with low-quality hanger straps that twist and break quickly when hitting the bag hard until you try Dolibest's hangers straps on Amazon for $21.99. It's a great addition to the three bags I'll write more about below.
The order comes with a carabiner and a swivel that allows rotation for 260 degrees, and the straps you will receive are easily adjustable for heights from 21.5″ to 40″ and are made of high-quality polyester. They can easily hold any 1000lbs bag you put on it.
If the carabiner cannot be used to attach the water bag, I advise you to buy a new one that costs a few dollars. I also highly counsel you not to be hasty and take your time to install them slowly and safely for a better and longer duration.
The straps are durable enough to hold any bag you put on and your weight while doing crunches hanging from the bag. They can last through plenty of your kickboxing, muay Thai, and boxing practices, which will satisfy you, and this equipment can help hang the bag in outdoor training.
If you found this article useful, you may want to save this pin below to your Combat Sports board.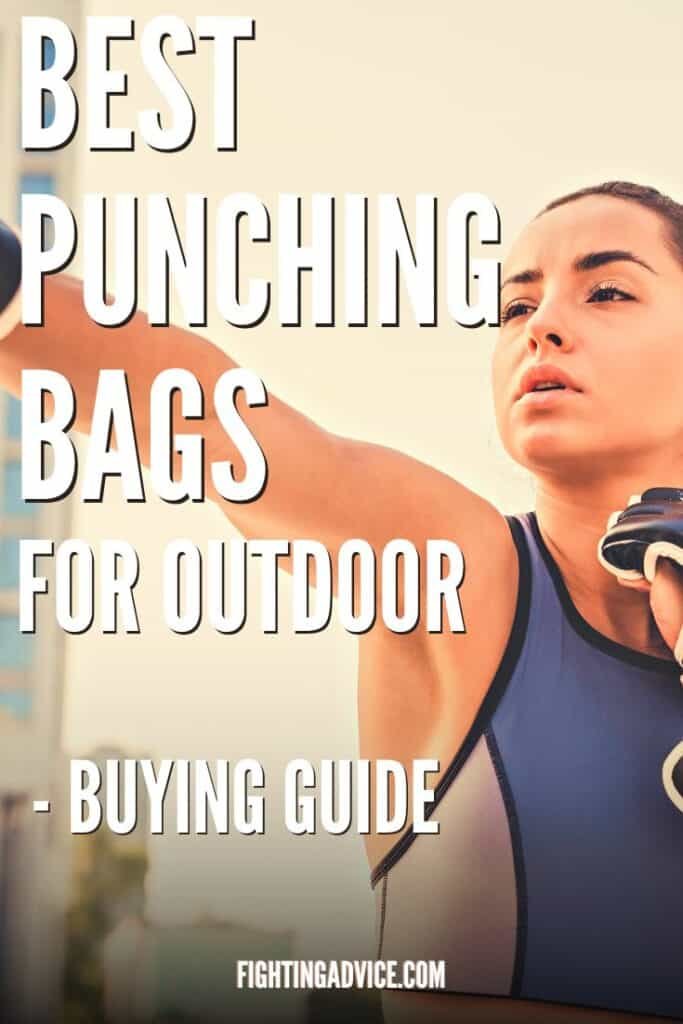 Last update on 2023-12-04 / Affiliate links / Images from Amazon Product Advertising API