Punch trackers are cool little gadgets that track how many punches you throw and the speed at which you throw them. Some advanced models can even figure out the type of punch you're throwing and the strike force, but these metrics aren't super reliable. Boxing gym trainers generally don't suggest you buy punch trackers since these toys are more of a feel-good gimmick, and you're better off hitting a bag or sparring.
However, today, we're going to review the best punch trackers. Because I feel they do have a place for folks, who don't have access to a gym and just want to shadowbox at home or practice their combos by themselves. Even if you're hitting a speedbag or heavy bag in the gym, a punch tracker will help you build more intricate combos and track your progress via the phone app.
Corner Boxing Tracker
Corner Boxing Tracker
Train Smarter & Get Fit with Corner Boxing Trackers: Corner Boxing Trackers provide the most...
High Punch Accuracy & Performance Tracking – Enhance your motivation in training sessions by using...
Ultimate Training Motivation – Train with users across the world in our OnDemand classes, or...
No Subscription required – Easily create and track your own sessions, mirror live metrics to your...
Compatible with iOS and Android - Corner Boxing Smart Punch Trackers are fully integrated with the...
Size: 0.98" x 1.37" x 0.31"
Color: Black
Material: Plastic
Features: Water-resistant, 8hr battery life, impact-resistant
Strengths: Tracks 5 valuable metrics in real-time, clean app UI
This is the most reliable punch tracker, and it's also the most durable of them all. You can fit these on a strap that ties around your wrist; there are two- one for each hand. The tracker can calculate your total number of punches, rate per minute, G force behind each punch, punch speed, and more.
It also has a punch power metric, but there is no information on what data it takes into account or its formula. The only real use for this metric is comparing your punching power number with someone else wearing the same tracker. These trackers can be used barehand, with MMA gloves and boxing gloves.
Hykso Wearable Punch Tracker
Hykso Wearable Punch Tracker
The Hykso app allows you to view your punch output in real time and measure your daily, weekly, and...
Hykso's punch trackers track your hand movement 1000 times per second to detect the number, the...
Sweat Proof
6000 data points per punch will give you top quality data on your punch speed, type and intensity.
Install the trackers on the top of your wrists, underneath two or more wraps of your wrist wraps....
Size: 2.01" x 1.73" x 0.49"
Color: Black with red accents
Material: Rubberized plastic
Features: Tracks 1000 times per second, 6000 data points
Strengths: Comfortably fits under wrist wraps and gloves, seamless app integration
Hykso has designed this tracker specifically to deal with the rapid, high-impulse forces generated while landing a strike with your fists. The software is claimed to track 6000 unique data points, updating 1000 times each second to detect your hand movement. It calculates punch speed, number, and type in real-time.
The app logs all this data and converts it into a usable system of charts, graphs, and tables for you to easily track progress made with each session. There are two trackers, and they go under your wrist. These are 100% waterproof and shock-resistant; you just need 2 layers of wraps to keep them in place.
Move It Swift Smart Boxing Gloves
Move It Swift Smart Boxing Gloves
Smart motion Tracker & Data Analysis, help you to improve
Professional Courses & Guidance online
Interesting Dynamic Light Effect with pace changing
Grading & Ranking Share, higher level challenge
Size: 8oz to 16oz
Color: Black
Material: Microfiber, faux leather
Features: Motion tracking, cloud data storage, progression charts
Strengths: Excellent way to get casuals interested in boxing
These might look like cheap gloves with a fancy gimmick that only interests kids and casuals… and you would be right for the most part. However, there is one big difference between a toy glove and this one. Within each glove lies an actual motion sensor (accelerometer-based, with Bluetooth) that hooks up to a phone app.
This motion tracker fits into the handcuff of the glove and tracks your punch force, speed, and rate. There are two trackers, one for each glove. You also get an app with cloud data uploads to track your progress over several months and some fancy LED lights that react to changes in your punching patterns.
Aqua Training Bag Sensor Kit
Aqua Training Bag Sensor Kit
LEVEL UP YOUR TRAINING – Link to your smartphone with our FREE App to track past workouts and...
ROUND-BY-ROUND ANALYTICS – Measure your rounds with Punch Force, Hardest Punch, Punch Calorie...
PERSONALIZED USER EXPERIENCE – Personalize your workout with Power Punch Threshold, Round Timer...
EXCLUSIVE COMPATIBILITY – The Aqua Training Bag Sensor works exclusively with 15", 18" and...
Size: 3.9" x 3.78"
Color: Black
Material: Plastic
Features: Pressure and G sensor, real-time readouts
Strengths: Measures punch force in pound-feet (lb-ft)
This sensor kit will add new capabilities if you own an Aqua heavy bag. It attaches to the top of your Aqua bag and uses a probe to track metrics such as punching power in lb./f, punches per minute, and number of strikes. I like the fact that it uses foot pounds to measure punching power rather than some ambiguous compound unit of force that nobody's ever heard of.
Understand that this is not a universal sensor and is designed only for Aqua heavy bags. If you try to install it on a regular heavy bag, it won't provide any readings. Remove the plug on your Aqua bag, insert this tracker into the valve, and rotate until it fits securely.
Nexersys Cross Body Trainer
Nexersys Cross Body Trainer
CUSTOMIZABLE TRAINING: Teaches and develops proper striking technique while effectively training...
WORK SMARTER: Interactive Double-End Bag that delivers a full-body workout through high intensity...
REAL-TIME FEEDBACK: The 3-axis Bluetooth Sensor in the Double End Bag syncs with the Cross Body...
EASY-TO-USE APP: Our free Mobile App guides you through 10,000+ exhilarating and adaptive workouts...
HEIGHT & SPEED ADJUSTMENTS: Height-adjustable Shock Cord with Speed Strap enables users of different...
Size: Large
Color: Matte black
Material: Aluminum, plastic
Features: Double-end bag with 3-axis gyro, digital readout
Strengths: Measures type and quality of punch in addition to raw speed and power
The most expensive product on my list, the Nexersys Cross Body Trainer, is a complete system for home workouts rather than just a punch tracker. It comprises a stand, a double-end bag, and a digital display. There are two models- Home and Professional.
Inside the 8" double-end bag is a 3-axis sensor that measures punch speed, force, and accuracy. This is the only punch tracker I know of that measures precision in addition to force. You can select round type (cardio, freestyle, etc.), skill level, and workout duration using the touch display.
NET PLAYZ Combat Force Tracker
NET PLAYZ Combat Force Tracker
360 degree evaluation powered by x-force instead of measuring single punching or kicking power, the...
Global ranking System the app will store 10 latest results for you automatically, keeping all the...
Everything you need to make a real progress the app will store 10 latest results for you...
Universal standard across multiple forms of martial arts the force tracker and its System is...
Non-wearable complete wireless design for ease of Use free your hand and space, no more wearing and...
Size: 9" x 2" x 9"
Color: Black
Material: Plastic
Features: Suction cups, accelerometer, Bluetooth
Strengths: Can register both punches and kicks on a heavy bag
The NET PLAYZ tracker is a puck that attaches to the bottom of your heavy bag. You'll need a heavy bag with a relatively flat bottom, as the puck uses 4 adhesive pads to stay in place. Inside is an accelerometer and microchip to measure data like strike force, G force, speed, number of hits, etc.
All of this data is relayed via Bluetooth to the app on your phone, where you can track data independently for Multiple sessions simultaneously. This tracker is unique because you can also measure kick force with it since it attaches to the bag rather than your wrists. If you want a full-body workout tracker, this is a good choice.
Quiet Punch Heavy Bag Tracker
Quiet Punch Heavy Bag Tracker
Community: Our smart heavy bag punch tracker gives you access to a community of over 20,000 of your...
Content: With Quiet Punch boxing bag sensors, you get unlimited access to on-demand training content...
Insights: Get better results from your workouts by tracking metrics like your punch count and punch...
Free App: With the convenient Quiet Punch app available for both iOS and Android devices, you'll...
Size: 18" x 2"
Color: Black
Material: Nylon strap, plastic sensor
Features: Push-button recording, Bluetooth,
Strengths: Free app tracks progress, has a virtual coach system and online leaderboard
I've already reviewed the Quiet Punch bag you can attach to door frames. It comes with a separate tracker accessory, sold separately- the standalone tracker. It's one of the cheapest punch trackers on the market and fairly reliable.
You simply strap it around a heavy bag and get to work. Ensure not to punch the tracker; it's not designed to take hits. Once you're ready to start tracking, hit the red power button on the side and begin your session (it automatically turns off if no activity is detected).
SQUATZ Portable Boxing Mat
SQUATZ Portable Boxing Mat
AUTOMATIC PUNCHING MACHINE: This punching trainer is an automatic electronic punch tracker which...
SUITABLE FOR EVERYONE: Whether you're a beginner or an athletic pro, our equipment stands up to the...
DIGITAL SCREEN: The boxing pad has a computerized screen system to track your progress. The mat can...
COMFORTABLE AND SAFE TO USE: With the 0.79" thick foam interior, the boxing mat is safe and...
SMOOTH INSTALLATION: We've provided 2 hook and loop fasteners and 6 plastic nails. Installing that...
Size: 17" x 16.6" x 3.5"
Color: Black with orange corners
Material: Faux leather pad, steel frame
Features: Digital readout, 661lbs max force
Strengths: The free app tracks progress across 6 unique metrics
Despite the name, this isn't a mat you stand on. Instead, it fixes to a wall and acts as a punching pad. A built-in force indicator shows your data on an LCD, similar to a digital weight scale.
The surface is made from vegan leather and cotton; it's soft and supple yet strong enough to withstand heavy strikes. The maximum this mat can endure is 661 lbs, which is well beyond the reach of most regular people. It also comes with Bluetooth for wireless app integration.
Uptivo Boxing Tracker
Size: 2.56" x 1.8" x 0.63"
Color: Black
Material: Plastic
Features: Carry case with a lithium-ion battery, 25hr battery life
Strengths: Durable, comfortable, easy-to-use app
Similar in concept to the Hykso wearable punch tracker, these sensors go under your wrist and sense motion in real-time. They fit inside a portable carry case, which can be charged via USB. The trackers send data to a phone app through Bluetooth and measure metrics such as speed, rate, quantity, etc.
You can create workout programs within the app and track things like session duration, personal records, etc. Data is uploaded to the cloud so you can compare your groups with those of your friends. This is a nice way to create some competition and push each other even harder.
IRGRMIE Boxing Mat
IRGRMIE Boxing Mat
No drilling required for boxing pads: Our Home Boxing Machine is designed to help you improve your...
Convenient Training at Home: With this innovative boxing equipment, you can enjoy effective training...
Multi functional boxing machine: Whether you are a beginner or an experienced boxer, our boxing...
Durable and Reliable: Our boxing machine is built to last, featuring high-quality materials and...
Boxing equipment suitable for all age groups:The size of the boxing strength measuring device is...
Size: 17" x 16.2" x 3.5"
Color: Black with red corners
Material: Faux leather pad, steel frame
Features: Digital readout with 6 unique metrics
Strengths: Height adjustable mount, useful to both casuals and veterans
The IRGRMIE mat works similarly to the SQUATZ mat, and I am willing to bet both are made by the same Chinese OEM. This one just has a different logo and paint job. One unique feature of this particular mat is its mounting system, which lets you move it up and down.
It also uses a different app than the SQUATZ mat. Both track the same number of data points and display 5 unique metrics in real-time. These are punch number, power, personal record, average power, and hits/s.
Conclusion
A punch tracker measures quantity rather than quality; only a good boxing coach can guide you in improving the quality of your punches. And remember- boxing is not just about hitting; it also involves not getting hit whenever possible. And a punch tracker won't teach you how to do that.
Nevertheless, these gadgets are useful for logging and tracking your growth over time. It's like a Fitbit but for boxing. Some of these trackers have really good apps with extra features (calories burned, monthly progression graphs, etc.).
If you found this article useful, you may want to save this pin below to your Combat Sports board.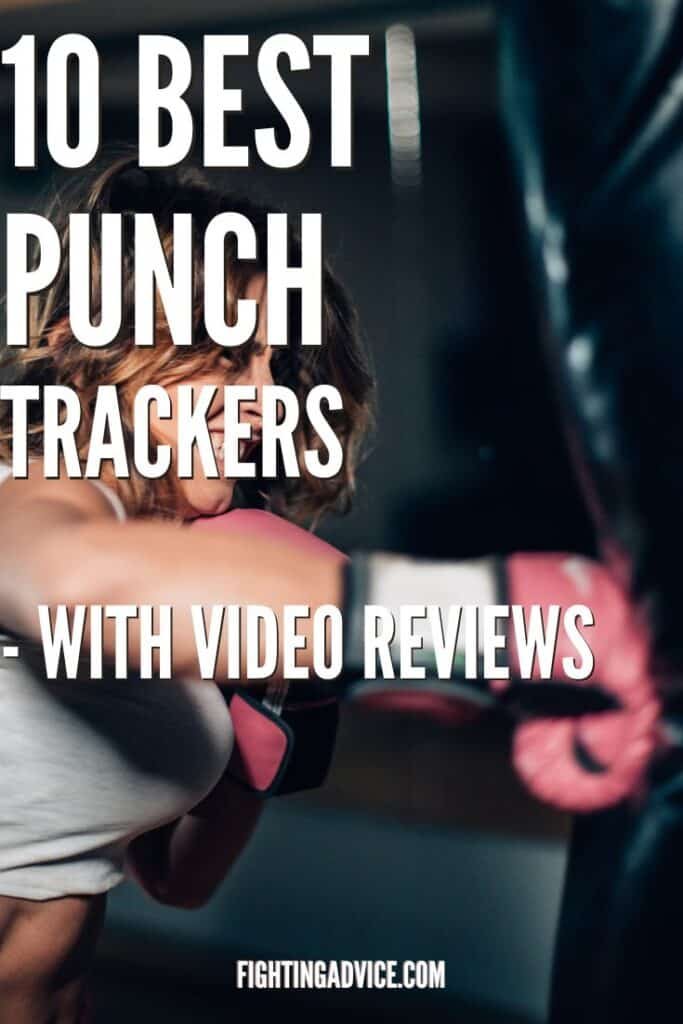 Last update on 2023-12-02 / Affiliate links / Images from Amazon Product Advertising API