Double-end bags are an excellent training tool for boxers, amateur athletes, fitness enthusiasts, and just about everyone else who wants to improve their striking skills. Not only does a double-end bag help you train your basic punches (jab, cross, hook, etc.), but it also helps build speed and precision. While hitting a double-end bag, it will swing around and sometimes even come back at you, enabling you to practice your footwork and head movement.
Today, we will review the best double-end bags. These things come in different sizes, ranging from small to large. You can use the small ones to train your fast jab and reaction times and the large ones to throw harder strikes with longer combinations.
Whatever double-end bag you get, it will be the same basic concept. A ball made from leather or vinyl that's pumped full of air and attached from both ends (hence the name) to the floor and ceiling via elastic straps. Choose a size, and make sure it's a bag with a sturdy rope that's also easy to adjust.
Ringside Double End Bag
Size: 5", 7", 9"
Color: Black, white, and red
Material: Genuine leather
Features: Triple reinforced top and bottom loops, stitched logo
Strengths: Heavy-duty rubber bladder can take a pounding and retain pressure
The Ringside double-end bag is an excellent choice for veterans and beginners alike, with its genuine leather cover and tightly sealed bladder that prevents air from leaking out. The bladder is made from latex, making it lighter and snappier than bags that feature rubber bladders. Excellent for those who wish to train their jab and evasive maneuvers.
You can get the bag in 3 sizes- 5", 7", and 9". Surprisingly, the smallest one isn't much faster than the largest one; however, it is a smaller target and will require more precise hand-eye coordination to hit reliably. I recommend either the 7" or 9" version of this bag for most of you.
Hayabusa Double End Bag Classic
Size: 12"
Color: Black
Material: PU leather
Features: Rubber bladder, heavy-duty braided cord
Strengths: Very easy to install, comes with an air pump
Hayabusa combat apparel and training equipment are highly favored among martial artists worldwide for their quality. The company uses a research-focused approach to equipment design and thoroughly tests each new product in coordination with combat sports veterans before releasing it to the wider market. I love that this bag comes with a heavy-duty bungee cord, unlike the more expensive Ringside bag with a basic rubber cord.
This means more longevity for users who like to hammer their bags daily. It is larger than the Ringside bag at 12" in diameter but weighs less due to the PU leather exterior. The bladder is made from rubber and gives you great feedback on each punch.
Cleto Reyes Double End Bag
Size: One-size
Color: Red, black, Mexico, USA
Material: Genuine leather
Features: Laced sleeve, nylon lining
Strengths: Long-lasting, quick swing
Cleto Reyes is a household name and has been making boxing gear since the 1940s. Legends like Muhammad Ali, Mike Tyson, and Manny Pacquiao have used Cleto Reyes gloves. Their bags aren't built any less tough than their gloves, and this double-end bag is a fine example of Cleto Reyes's quality.
It's designed specifically to improve your hit probability with jabs and hooks by training your muscle memory, reflexes, and hand-eye coordination. The teardrop shape generates more circular motion than a regular spherical shape, forcing you to stay on your toes and move your head to avoid getting hit.
PUYREEINN Double-End Bag
Size: 3.9"
Color: Green
Material: Polyurethane skin, foam interior
Features: Foam-filled sphere, suction cup
Strengths: Can be installed anywhere without mounting hardware
This is probably some Chinese company, and I won't even try to pronounce its name. However, the benefit of getting a cheap Chinese double-end bag is that… well, it's cheap. It's quite cheap for the amount of accessories you're getting alongside the bag.
This bag is more like a ball since it's made of polyurethane and filled entirely with foam. It's really fast and small, making it excellent for training your head movement and footwork. 
There is no need to worry about air leaking out since the ball has none. Plus, the setup is super easy- just hook up the suction cups to any flat surface, and you're good to go.
Title Gyro Balanced Double End Bag
Size: 6", 7", 8"
Color: Black with red seams
Material: Genuine leather
Features: Double-stitched seams, lace closure
Strengths: Proprietary bladder balancing ensures a consistent rebound pattern
This is a double-end bag that's capable of taking incredible punishment on the regular, with consistent bounce-back every single time. The exterior is genuine leather, which feels great to hit, and it uses double-stitched welted seams that hold up much better than regular ones. The bladder is made from rubber, giving it more weight and longevity than latex bladders.
The rubber bladder is balanced with a special design that generates linear movement each time you strike it; the bag will try to balance itself out. This helps you work on your timing and rhythm. The air plug is located at the top, where your hands can't hit it.
Amber Boxing Double End Bag
Size: 5"
Color: Black
Material: Genuine leather
Features: Reinforced end straps, metal loops
Strengths: Extremely durable, ideal for training reflexes and footwork
With a bag like this, I bet you'd be a champion in boxing, MMA, and Muay Thai. And whatever other sport the manufacturer used as a marketing gimmick for their product. But seriously, it's a well-made bag and feels great to hit, thanks to the real leather exterior.
While you certainly won't be training kicks with this (so no Muay Thai), you can practice your jab, hook, and elbow combos. String it up tight, and you can end the combo with a powerful cross.
However, remember that this is a tiny 5" bag, and it's very fast. You need to be a good striker to control it with the bungee cord laced up tight.
NDNRTA Double-End Bag
Size: 7"
Color: Black, red
Material: Faux leather
Features: Quad-layer skin, double stitched seams
Strengths: Comes with a full set of accessories, durable
This is an oval-shaped bag, which is better than bags that use spherical cores with straps on each end. The additional surface area on either end helps you practice uppercuts and angled punches since there is a higher chance of striking your target. You get a pair of bungee cords, carabiners, and air pump needles.
The package also includes an air pump, so you can inflate it on the spot if the pressure starts getting low. The PU leather has foam padding and stretch resistance layers underneath, so you can do long sessions without wraps or gloves. It feels firm yet supple at the same time.
Ringside Mexican-Style Double-End Bag
Size: 16" x 6.5"
Color: Red, black
Material: Faux leather
Features: Twin air bladders, metal carabiners
Strengths: Easy to use for boxers of all skill levels
If you're a Muay Thai practitioner or kickboxer, a Mexican-style double-end bag such as this one is an excellent choice. You mostly practice head strikes with a regular bag, but this one also lets you do body shots and uppercuts. You can even use your knee for a jumping strike.
Because it's heavier than a typical 7/ 8" spherical bag, there isn't much rebound, and you can strike harder because it moves slower. Considering the increased weight, you need slightly more tension in your cords, too. If you're using a dumbbell to hold it to the floor, go with one that weighs 40 lbs or more.
Hayabusa Double-Ended Boxing Bag
Size: 7.6"
Color: Black
Material: Faux leather
Features: Tear-resistant rubber bladder
Strengths: Snappy but predictable movement makes it good for training the jab and slip
I've already covered the Hayabusa Classic; this one is smaller, at 7.6 inches. And it's got an oval-shaped cover instead of straps. The angled surface makes it easier to control and set up unorthodox strikes despite this being smaller than the 12" spherical bag.
The included cord is attached with a closed loop that can't be adjusted, so you might want to use your own bungee cord if you aren't getting enough height. While the air valve isn't tucked away at the edge, it sits flush with the PU leather surface, so you will never strike it directly. The bladder is made from quality rubber and can handle some pretty impactful strikes without blowing up.
MaxxMMA Double-End Punching Bag Kit
Size: 8"
Color: Black
Material: Faux leather
Features: Adjustable cord length, reinforced seams
Strengths: Doesn't require permanent mounting
This is a complete double-end bag kit, which includes a heavy base and adjustable cords. It even comes with MMA-style gloves. These aren't the best quality gloves out there, but they are better than nothing and help you train for actual sparring, where you will be wearing gloves.
The base is filled with water, and the included cord is fairly snappy. By adjusting the plastic plate, you can increase the range of motion or rebound speed of the bag. If you live in an apartment and don't want to drill holes into the ceiling, the included C-clamp helps you rig up a non-permanent setup for training.
Wesing Double End Striking Bag
Size: 7.1"
Color: Red, black, yellow
Material: PU leather, microfiber leather
Features: Rubber bladder, protected air valve
Strengths: Comes with an air pump and all necessary mounting hardware
The Wesing double-end bag has two different material options for the exterior- PU leather and microfiber leather. You pay a couple of dollars extra for the microfiber option. Still, it's more wear-resistant than PU and feels closer to real leather. Suppose you work out in the backyard or have an outdoor gym. This is the superior choice since it resists water, acidity, mildew, etc., much better than real leather.
The bungee cord provided with this bag isn't adjustable, but it's of good quality. The 7" diameter and light weight make it quite snappy, so don't hit too hard unless you've got good slipping and pulling. Wesing includes screws and hooks to attach this bag to your floor and ceiling after drilling a couple of holes.
Title Double End Smash Bag
Size: 7", 9", 11"
Color: Black, Grey, Gold
Material: Genuine leather
Features: Open cell foam core
Strengths: Unique bladder design facilitates a more predictable rebound pattern
The smash bag uses a foam inner layer on top of the bladder to reduce the impact on your hands whenever you deliver a hard strike. It is also balanced to move less, so you can set up some heavy combos. The movement is consistent with each strike, helping you develop a nice rhythm.
As for the exterior, it's 100% genuine leather, which feels good on your hands (and looks good too). If you're a beginner, I recommend the 11" version, as it's much easier to hit consecutively. All the seams are welted and double-stitched, so they will last longer than most other bags.
TMA Leather Double-End Bag
Size: 6.7" x 14.5"
Color: Black/ yellow, black/ red, black/ white
Material: Genuine cowhide leather
Features: V-gravity technology, laced sleeve
Strengths: Can be used by martial artists of any discipline
Thanks to the oval-shaped cover, you can use this bag with your bare hands, wraps, MMA gloves, or full-on boxing gloves. It's built from cowhide leather and has thick nylon straps attached to the bungee straps with S-hooks (included with the bag). You get 48" of cord on either end; the length can be adjusted depending on your training regiment and room size.
Because one end of the oval cover has split seams, you can adjust the straps to make it larger or smaller. There is textile padding on the inside to improve durability and reduce the stress on your hands. It can be used for boxing, kickboxing, and Muay Thai practice.
BOXERPOINT Double-End Bag
Size: 7"
Color: Red, white, and black
Material: Faux leather
Features: Metal hooks, adjustable bungee cords
Strengths: Gas nozzle is protected by the straps, heavy-duty stitching
Much like the Hayabusa, this bag has all the necessary accessories- adjustable bungee cords, carabiners, hooks, screws, air pump, etc. You even get an instruction manual and carry bag to help you rig everything up. Just ensure you screw into a joist or beam, not the drywall itself.
The PU leather exterior doesn't feel as good as real leather, but it's easier to clean and better at handling moisture. The gas nozzle on this bag is hidden under the strap, protecting it from accidental punches or elbows. The bag is 7" in diameter, with solid stitching that's guaranteed to last for years.
OHMYFIT Flex Double-End Punching Bag
Size: 7.08", 8.27"
Color: Black with red accents, black and white
Material: Microfiber leather
Features: Reinforced straps, top-mounted air valve
Strengths: Quick-adjust cord, versatile design
Of all the double-end bags on this list, the Flex is the easiest to adjust, thanks to its special buckles. You also get an air pump, a pair of bungee cords, 4 carabiners, and a carry bag to take your double-end bag with you on a trip. The cover is made from microfiber leather, which is more durable than normal PU leather.
The bag comes in two versions- spherical and elliptical. I recommend the elliptical version for those who want to train barehand or with MMA gloves, as it's easier to hit if you clip the edge. The elliptical bag is also excellent for Muay Thai because you can get some knees and elbows in.
Conclusion
It will be slightly heavier if you're going for a Mexican-style double-end bag (peanut-shaped). These won't move as quickly, but you can also strike them harder and practice a wider range of shots. Body shots, angled shots, uppercuts, etc.
With a traditional double-end bag, you should always look for one that suits your experience level. Medium size is the best as it isn't too fast for beginners and just barely heavy enough to land hard punches on without losing the bag completely. Bags with a teardrop shape tend to move more circularly, so they are great for practicing your footwork.
If you found this article useful, you may want to save this pin below to your Combat Sports board.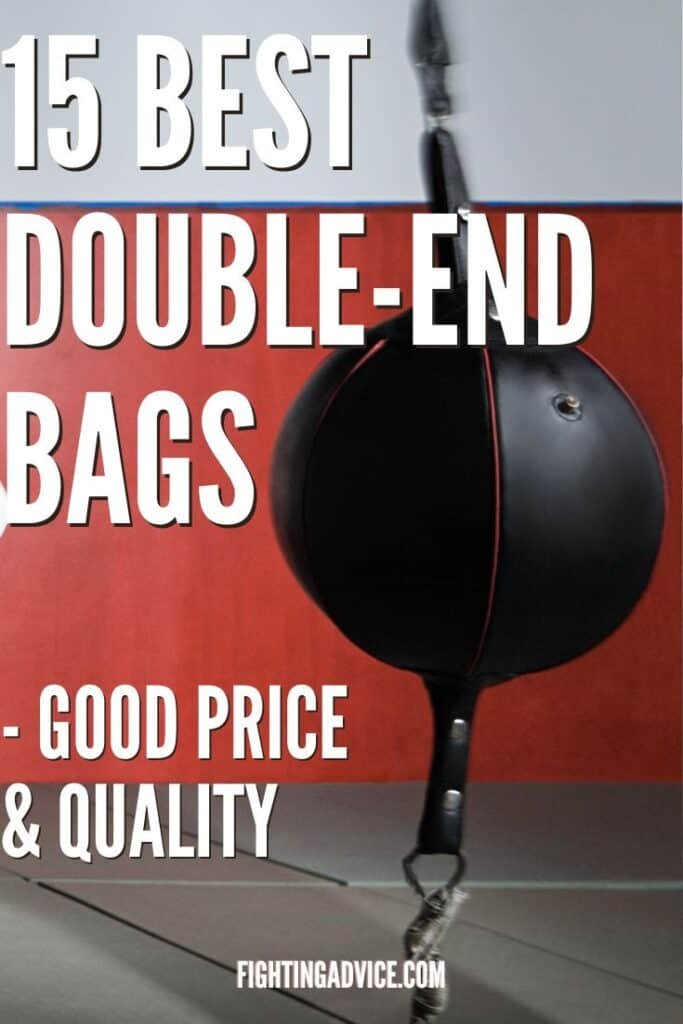 Last update on 2023-12-01 / Affiliate links / Images from Amazon Product Advertising API