If you are a boxing fan, you know how important protection is in fighting practice. Getting kicked in the crotch is probably one of the least pleasant feelings in training. Of course, apart from the genitals, preserving as many sensitive parts as possible is necessary. Be careful when choosing protective equipment, and don't skimp on yourself because safety should always come first.
Hayabusa Pro Boxing Groin Protector
Size: S, M, L
Black color
Microfiber leather, cup with double foam, elasticized straps,
Comfortable, adjustable laces, durable
Easy to breathe, light to carry, no movement restrictions
Hayabusa's groin protector does its job very well. Their price of $199.99 is equal to the quality of their product. It comes in small (30″ – 32″), medium (32″ – 34″), and large (35"+) sizes, in black color, and is intended for complete protection of the sensitive parts of adults. The entire product is made of microfiber leather, which is durable and it will not wear out easily over time.
A reinforced safe cup on the front side is filled with double foam. There are adjustable laces on the back and elasticized leg straps on the bottom. Its wraparound design guarantees good use, comfort, and safety. It's stretchable and light to carry. The protection arrives with contoured edges, so it doesn't get in the way while sparring or fighting in a match.
It won't make it difficult for you to breathe, restrict your movement or shift around while moving with it. Its wide front and back area is designed to protect your hips, kidneys, genitals, and a large area of your stomach and liver.
Winning Protective Cup Standard Cps500
Size: M, L
Black, blue, red, green, white, orange, and gold colors
Artificial leather, adjustable ties, elastic leg straps
Super-quality, durable, long-lasting
Good absorption, handmade, stable, and safe
As always, the Japanese company Winning is responsible for releasing hand-crafted and quality sports products that are mostly rated five stars. Their adult men's groin protection is priced at $449, and you can choose from blue, green, orange, red, black, and white.
You can choose between medium (28.70″ – 32.70″) and large (30.70″ – 34.70″) sizes depending on the width of your waist. Covered with artificial leather, under which there is a protective cup with super good absorption of hits. It has adjustable ties and leg straps in the back area that ensure its stability and safety.
This product is 100% authentic and has been on the market for almost ten years, which speaks volumes. The price is high, but it offers above-average protection. Many customers are satisfied with this product, which promises longevity. If you order the right size, you'll feel like it was made just for you.
Title Boxing Armor No-Foul Protector 2.0
Size: S, M, L, X-L, XX-L
Weight: 1.5 pounds
Black color
High-quality leather, elastic leg and back straps, quality filling
Long-lasting, comfortable, restriction free
Adjustable for all sizes, maximum safety, bulky in size
This Title Boxing Groin protector is accepted and approved for usage by Golden Glove, USA Boxing, and all other sanctioned professional boxing bodies. You will hardly find better and cheaper protection for only $49.99. It is intended for competition or sparring and meets amateur and professional regulations.
It comes in black in five sizes, small, medium, large, X-large, and XX-large. It is manufactured of leather and comfortably padded to ensure you are comfortable when moving. It weighs only 1.5 pounds and is restriction free. Groin armor's wide design is shaped to perfectly cover the kidneys, liver, genitals, abdomen, and hips.
On the back, it has a back waist strap with a hook and loop adjustable fastening. It also has elastic leg straps that are adjustable for everyone's legs and will definitely not slip. It guarantees 100% comfort and protection; every time you wear it, it will give you the feeling of a perfect fit. The only thing you should do is buy a bigger bag for this groin armor in which you can fit it because it is relatively bulky.
CLETO REYES Kidney and Foul Protection Cup
Size: S, M, L, X-L
Weight: 3 pounds
Black, red, and gold colors
Cowhide, latex, foam cushion
Quality and long-lasting materials
Excellent mobility, stable and easy to carry
You can always expect the Cleto Reyes company to provide you with the highest quality boxing equipment and accessories that elevate the market scale. You can order this Kidney and protector cup for $149 in three different colors and four different sizes.
The colors offered are red, gold, and black, and the sizes vary from small, medium, large, and X large. The protection armor is made of cowhide, long-lasting latex, and a comfortable foam cushion. It weighs 3 pounds, and it is purposeful for use in training.
It has a broad but not too bulky design you can wear over training trunks. Cleto Reyes made it mainly to protect the kidneys, hips, and stomach. It is easy to put on and fasten because it has an elastic waistband and replaceable strap on the back.
This product has an amazing grip on the hips, allowing free and comfortable movement without the possibility of the protection falling off. Elastic leg straps add to its stability on your hips and make it easy to carry. If you decide on this protection, you will not regret it, the quality is really excellent, and the absorbency is very high.
RIVAL Boxing RNFL100 Pro No-Foul Groin Protector
Size: S, M, L, X-L
Black, red, blue, white, and green color
Microfiber PU, Rival feather-lite foam
Double-secured, ultra-durable, adjustable hook and loop buckle
Maximum flexibility, comfortable, easy to wear
The company Rival offers boxing protection that looks different from what you are used to, which makes it unique. At an affordable price of $145, you can choose from five different colors and four sizes. The colors offered are black, white, blue, red, and green, and the sizes are small, medium, large, and X large.
Handmade with high-quality materials and developed by boxers. The groin protector is made of super durable microfiber PU and Rival's feather-lite foam construction. There is a RIVAL 100 series rubber patch on the waistband.
This product has dual waist straps that fasten hook-and-loop and enable a double-secured fit. It also has adjustable and comfortable leg straps. It allows maximum flexibility with its strategically placed flex-creases.
It was perfectly designed to follow natural boxing movements. It has an alluring aesthetic appearance because the manufacturers consecrated attention to many details. The armor is comfortable, easy to wear, and will fulfill your expectations one hundred percent.
Adidas Hybrid Pro Men's Boxing Groin Guard
Size: S, M, L, X-L
Weight: 1 pound
Black and white, red and blue color
FLX 3.0 Maya PU, EVA foam padding, plastic cup
High-density, multi-layered, top-quality materials
Comfortable, maximum protection, free movement
We don't need to say much about Adidas products because this well-known brand has been available for many years and supplements us with high-quality equipment. You can order Adidas' highly-rated hybrid groin guard for the incredibly modest price of $75.
Ordering this product allows you to choose between black and white and red and blue colors in four different sizes. Available sizes are small, medium, large, and X-large. The materials are top quality, such as FLX 3.0 Maya PU and High-density multi-layered EVA foam padding.
Under the cover, the interior is packed with comfortable material, and there is a plastic cup that is resistant to hits and guarantees maximum protection. The anatomical design allows free movement because it is manufactured to blend with your figure.
The product is not made strictly for boxing but can also be used for kickboxing, Muay Thai, and MMA. It is incredibly stable, comfortable, and easy to carry. It uses an adjustable Velcro strap closure with a wide elastic hoop and loop fastener.
RDX Groin Protector
Size: S, M, L, X-L 
Weight: 0,26 pounds
Black, white, red, and blue colors
Maya hide, Supreme Foam, Den-Zo Tron sheet, Polymer cup
Elastic band ties, double cup, handmade
Low expense, durable, lace-up, easy to carry
RDX is a well-known sponsor of today's superstar fighters in and out of the UFC. Their groin protector has been on the market for ten years. It is suitable for muay thai, boxing, and kickboxing and is recognized and approved by SATRA for karate and taekwondo.
What gives it a slight edge over other protections is that you can also use it for grappling purposes. You can order it for the incredibly low price of $26.99 in four colors and sizes. The colors offered are black, white, red, and blue. The sizes available are small, medium, large, and x-large.
This product is unisex, so you can use it whether you are a woman or a man. Handmade from solid Maya hide leather and Supreme Foam technology with incredible shock absorption. Your waist will be gripped by an elastic band with ties behind the back that ensure stability.
Lace-up closure allows quick putting on and taking off. Underneath the layers of skin is a polymer cup, and there is enough space to put another cup for better protection. A Den-Zo Tron sheet is placed under the skin in the abdominal area to protect your abdomen. You can wear it under or over your trunks.
Contender Fight Sports Professional Style No-Foul Protector
Size: S, M, L, XL 
Black and white color
Leather, pliable foam
High-quality, durable
Comfortable, adjustable lace-up, movement free
Contender Fight Sports has one of the professional protections for sensitive parts of the body in its offer. The protection is accepted and approved by USA Boxing and Golden Gloves. This protection costs $49.99 and is intended for men of all ages and weights.
The product is designed only in black and white in small, medium, large, and x-large sizes. Although its design is extensive, it weighs only 0.85 pounds. It ensures the safety of a large area that includes the hips, kidneys, genitals, and abdomen. Its entire construction is sewn of leather.
Its stability is secured with elastic leg straps and traditional lace-up adjustment, which makes it a perfect fit for your body. Underneath the solid outer leather cut, it is filled with pliable foam that guarantees safety.
This protection is light to wear, comfortable, and will not restrict movement. It is guaranteed to last and serve you through many sparring sessions. The materials are high quality and durable, so you don't have to worry about wear out, and its price is affordable.
Title Boxing Deluxe Groin Protector Plus 2.0
Size: S, M, L, XL 
Black color
Leather
Long-lasting, comfortable filling
Lightweight, quick, and easy to wear
This groin protector is another product approved by USA Boxing, Golden Gloves, and other sanctioning bodies for professional boxing. The prestigious product has been on the market for four years, and its low price of 25$ is no measure of its quality.
You can order it in black, and it is available in small, medium, large, and extra-large sizes. Its entire construction is made of leather, under which there is a comfortable filling. This enhanced version covers the kidneys, liver, abdomen, and hips with its surface and guarantees maximum safety.
It is crafted to be worn under trunks, so in addition to sparring, you can also use it in matches. It has an extra-deep "banana" style cup for extra protection. It is at the top of the list of groin protectors for ease of putting it on.
It has an elastic waistband with a pull-through D-ring and hook-and-loop closure, ensuring an excellent fit and quick dressing. All this without the ability to fall and move. Its stability during the heat of battle is secured by twin elastic leg straps.
Fighting Deluxe Groin Ab Protector 2.0
Size: S, M, L, XL
Black and white color
Synthetic materials
Durable, good quality, low expense
Adjustable, movement free, comfortable
If you want adequate but not overpriced protection, you can't go wrong with Fighting Sports' new and improved groin protector. For $19.99, you will get what you were looking for; the first time you use it, you will exceed your expectations.
It is another product on this list approved by professional boxing-sanctioning bodies. Composed of synthetic materials in black and white color, you can order it in small, medium, large, and x-large sizes. It has additional abdominal coverage for extra protection below the waist.
Underneath has a thick, extended cup for superior coverage during training or matches. In addition to this product is an extra wide and reinforced elastic band that uses an adjustable hook-and-loop reverse fastener.
Its stability on your body is finalized by elastic leg straps that guarantee free movement without slipping. This groin protector is decorated with good quality, comfortable protection, and an attractive price, and you will hardly feel it on yourself.
Ringside No Foul Boxing Groin Protector
Size: YM, YL, S, M, L, XL, XXL
Black and red color
Synthetic leather, tricot lining
Hook and loop closure, leg straps
For adults and kids, lightweight, long-lasting
In its 30 years of quality work, Ringside has built its reputation as a source of inexpensive but quality martial arts equipment. They designed their products for all levels of participation. The special thing about this groin protector is that it can also be used by juniors.
Its price varies from $65 to $80, depending on the size. It is produced only in black and red, but there are seven sizes for you to pick. For your use, you can choose between small, medium, large, x-large, and xx-large. Youth medium and youth large sizes are available for your little ones.
The construction of the groin protector is manufactured from synthetic leather, which is easy to wear and excellent for mobility. It has a tricot lining that guarantees comfort, and a simple hook and loop closure is responsible for its stability.
This armor is easy to get in and out of and provides easier adjustability. It is exceptionally durable, of reasonable quality, and supplies excellent protection. I advise you to measure your waist before ordering for a better fit and desired use, and it is a product that will not disappoint you.
CLETO REYES Traditional No-Foul Padded Protective Cup
Size: S, M, L, XL 
Weight: 0.95 pounds
Black color
Leather, latex foam padding
Adjustable closure, elastic leg straps
Comfortable, lightweight, and very durable
The traditional-looking protective cup comes from the reputable company Cleto Reyes. Made in black, you can buy it for $105, and it is highly recommended for professional fighters. It comes in small, medium, large, and x-large sizes. Its weight is 0.95 pounds.
Judging by the reviews on various sites, I advise you to check carefully when ordering whether it is the original to meet your needs. Its whole construction is manufactured of leather and latex foam padding that guarantees carefree training.
It has an adjustable hook and loop closure on the back with elastic leg straps that keep it firmly on you. Due to the quality materials, it is comfortable to wear, and you won't even feel it is there because of the freedom of movement it will give you. This groin protector is labeled as adult and unisex, so it can be used by adult men and women.
RIVAL 360 Pro No Foul RNFL10 Groin Guard
Size: S, M, L, XL 
Black, grey, blue, and red colors
Cowhide leather, dual-density foam
velcro hook and loop, adjustable
High-quality materials, comfortable, long-lasting
Only a few people have been disappointed by Rival's martial arts gear. It's the same story with their professional groin protector that you can buy for $85, which is very affordable when talking about its quality. Rival gives you a choice of black, grey, blue, and red colors. You can get their product in small, medium, large, and x-large sizes.
The protector is covered with high-quality cowhide leather and filled with dual-density foam 0.60 inches thick. These materials are essential for the safety of your genitals, kidneys, and abdomen. This protector also has a microfiber lining and a Velcro hook and loop strap that is adjustable, which adds to its comfort when wearing.
It is suitable for use by both men and women and can be worn by practitioners of all ages. As always, Rival does its job excellently. I highly recommend it to everyone who is involved in martial arts because of its quality and low price.
RDX Groin Guard SATRA Approved
Size: S, M, L, XL
Gold and silver color
Maya hide leather, EVA-LUTION sheet, sponge padding, blacktop fabric
Hook-and-loop, elastic leg straps, dual cup
Durable, long-lasting, good shock absorption
The RDX groin protector is one of the most aesthetically pleasing protectors you can find. It is relatively new because it only arrived on the market a few years ago. At a super affordable price of $26.99, you can order this product in small, medium, large, and x-large sizes.
The groin protector comes in gold and silver color. It is professionally constructed of Maya hide leather, which makes it resistant to cracking and tearing and will not wear out over time. It is designed for all martial arts of striking or grappling
Underneath the leather cover is an EVA-LUTION sheet with sponge padding which is additionally reinforced with spongy blacktop fabric. Underneath, you can find a solid plastic cup, and it also allows you to put an additional cup for better protection, which promises good shock absorption.
It has a fast and firm hoop and loop hook with elastic leg straps that will firmly ensure stability, provide a secure fit, and allow you to move freely. It also offers hip and abdominal protection.
Ringside Deluxe Groin Abdominal Protector
Size: S, M, L, XL, XXL
Black color
Synthetic leather
Adjustable laces, leg straps
Long-lasting, practical, quality protection
Anyone in urgent need of protection can afford this high-quality Ringside groin protector. With the price of $25, it is designed for boxing lovers, women, and men. It can also be used for children because it is available in youth medium (26″ – 28″ W) and youth large (28″ – 30″ W) sizes. It is cut high on the hips to allow easy movement and breathing in the ring.
Although small, it still offers complete protection and coverage of the genitals, abdomen, and hips and can be worn under or over trunks. It is produced in black color and in small, medium, large, x-large, and xx-large sizes. The weight is 0.45, which makes it one of the lightest groin protectors on the market.
It is manufactured from synthetic leather with laces in the back and leg straps for a better hold. Under the leather structure and the abdominal area, you can find a deep cup that absorbs shocks brilliantly. Due to its leather construction, it is light to wear, comfortable and guarantees longevity.
If you found this article useful, you may want to save this pin below to your Combat Sports board.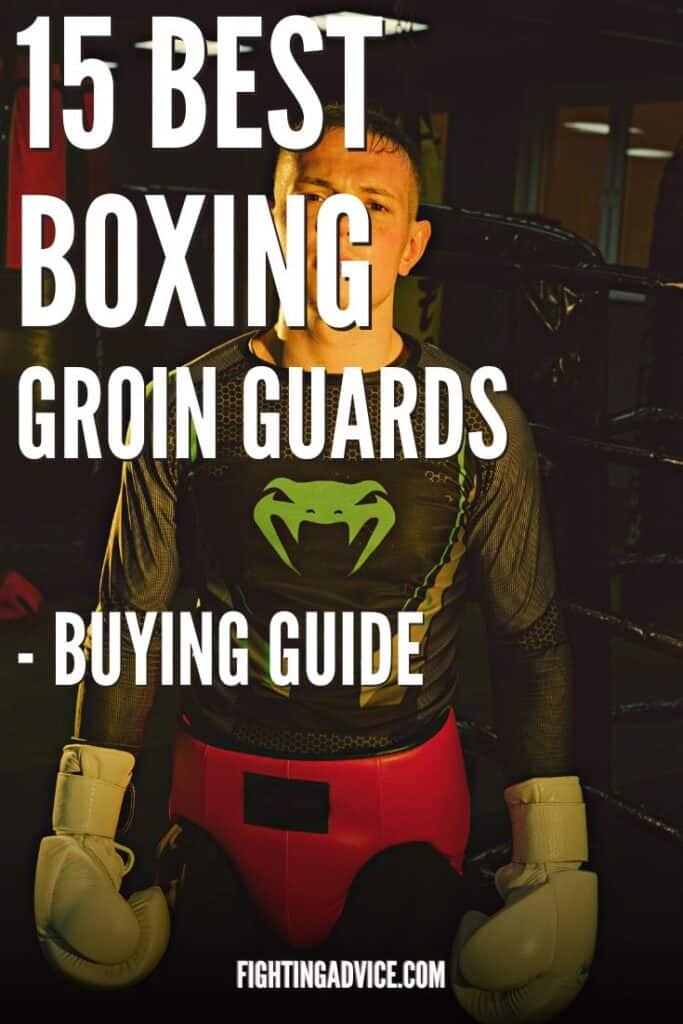 Last update on 2023-12-03 / Affiliate links / Images from Amazon Product Advertising API