If you have decided to fight in deep professional waters, you should sail with professional equipment. The professional world of any fighter is too brutal and rigorous for you to sweat and bleed in low-quality equipment. This list will help you choose the most experienced decision for yourself because to train seriously, you must commit yourself seriously.
Also, be sure to check my article about choosing the right boxing equipment, so you can save time and money.
RDX APEX Professional Boxing Fight Gloves
Size: 8oz,10oz
Color: Blue, Red
Made of: Maya Hide, Sponge X filling, Equilibrium Foam
Accessories: Traditional laces, attached thumb
Traits: Perfect fit, superior protection, good absorption
Since 1999, RDX has been supplementing us with handmade durable, quality equipment that can be used professionally. Since 2021, they have offered professional boxing gloves that you can use for serious training and competitions. You can order them for $146.93 in red and blue, available in sizes 8 and 10oz.
The construction of the gloves consists of luxurious Maya Hide super skin leather, which is durable against wear and tear and guarantees longevity through intensive training and competition. While under the leather cover, there is Equilibrium Foam and Sponge X filling, which allow good absorption of heavy impacts and maximum protection for the knuckles.
RDX APEX gloves also use Sponge X padding on the thumb to absorb shocks in that area to protect against ulnar collateral ligament tears. Designed brilliantly with every edge and contour to reach perfection.
These gloves use traditional laces made of nylon threading for excellent wrist support and alignment, perfect fit, and protection, which eliminates all worries when throwing even the heaviest punches. With your order, you also get a box in which you can store this prestigious product between your training sessions and an RDX handy carry bag in which you can carry them.
Cleto Reyes B200 Professional Boxing Gloves  
Cleto Reyes B200 Professional Boxing Gloves 
PROFESSIONAL BOXING GLOVES - CLETO REYES Professional Competition Gloves are handcrafted in Mexico...
TRADITIONAL SLIM DESIGN - Adult boxing gloves with a traditional slim design for high precision...
WRIST SUPPORT - Handmade with the finest craftsmanship, CLETO REYES boxing gloves for men and women...
HIGH-QUALITY MATERIALS - Professional Boxing gloves with a lace up closure and attached thumb that...
WATER RESISTANT LINING - Professional boxing competition gloves with a water-repellent nylon lining...
Size: 8 and 10oz
Color: citrus green, solid gold, yellow, pink, white, and 15 other
Made of: Leather, polyurethane foam, nylon
Accessories: Traditional laces, attached thumb
Traits: Durable, flexible, comfortable, safe
Professionalism leaves little room for error, so the high-quality Cleto Reyes is here to provide you with the best service and offer its professional gloves. You can order B200 Family Official Professional Boxing Gloves for $184.50 in sizes 8 and 10oz in 20 colors, such as citrus green, electric blue, metallic purple, tiger orange, and many others.
They are approved and recognized by several professional boxing commissions. Hand-crafted in Mexico from the best leather, the highest quality materials, filled with polyurethane foam, and equipped with water-repellent nylon lining.
They have quality wrist protection and a very tight hand shape that gives you the impression that the gloves are part of you. Designed with an attached thumb that reduces the chance of thumb injury and secures your opponent from eye pokes.
They use extra-long laces for wrist support and a slim design for better accuracy. Their quality is unmatched, and their durability is incredible, flexible, and comfortable. Drying in a cool room is recommended, and they should be cleaned with a wet cloth.
The gloves are not to be exposed to direct sunlight, hair dryers, or water immersion to preserve them, and they are equipped with a round timeline to monitor their usable lifespan.
Ringside IMF Pro Fight Gloves
Ringside IMF Pro Fight Gloves
The first professional fight gloves to incorporate IMF Tech padding
Innovative Quick Tie Tech Lace System that allows them to be tightened with a simple pull of the...
Supportive segemented cuff offers extra stability for the wrist while providing recessed channels...
Attached thumb for added safety
Durable leather construction
Size: 8, 10, and 12oz
Color: Black, blue, and red
Made of: Leather, IMF tech padding
Accessories: Quick Tie Tech Lace System
Traits: Durable, safe, affordable, tight fit
The Ringside IMF Pro Fight Gloves certainly have the qualifications to become the weapon you need for fights. Available in the market since 2012, the gloves can be ordered for $80.63 – $99.45 in sizes from 8 to 12oz in black, blue, and red colors.
They are made entirely of durable leather and are the first professional gloves with IMF Tech padding, which is safe for knuckles. Gloves with laces have only one downside: they take more time to put on, which is not the case with Ringside gloves because they use the Quick Tie Tech Lace System.
This allows them to be swiftly put on your hands with a simple pull of the lace, which guarantees extra stability for your hands. They also have an attached thumb for added safety and are tested to provide perfect power.
You can use them in sparring, hitting the heavy bag, or the double-end bag, and even in competition, and you will not find more suitable gloves for professionals on the market that are cheaper than these. They are tight around the hand, very hard to break and justify Ringside's reputation.
RIVAL Boxing RS1 2.0 Ultra Pro
RIVAL Boxing RS1 2.0 Ultra Pro
The Crown Jewel! The glove that started it all! The RS1 is the crown jewel of our line and the true...
Manufactured with a new, ultra-resistant, upgraded outside Microfibre, the improved RS1 2.0...
Upon listening to our closest and most trusted customers, we have reshaped and streamlined this...
As it has been since the beginning, the RS1 Ultra Sparring Glove is the pinnacle of a professional...
RS1 2.0 incorporates our unique and original innovation, the Angled Lace Track System, which...
Size: 14, 16, and 18oz
Color: Blue, black, red, gold, and white
Made of: Microfiber, high-density foam
Accessories: Angled ergo lace track system, extra grip bar
Traits: Super-resistant, movement-free, soft, long-lasting
You could often see professional boxers using Rival's gloves during the match, which means that if you are on your way to becoming a professional, Rival's gloves could be your right choice. This high-quality brand has been selling Boxing RS1 2.0 Ultra Pro Gloves since 2020, which are excellent for sparring.
You can order them for $169.95 in sizes from 14 to 18oz, and they are available in blue, black, gold, red, and white color. These gloves are an improved RS1 version made of super-resistant microfiber, with several layers of high-density foam padding with phenomenal wrist support and hand protection.
They use Rival's famous angled ergo lace track system that provides wrist protection and glove immobility without any interference for your hands. The interior is a soft, foamy cloth inner lining that gives comfort, and the thumb is entirely covered with padding.
There's even an extra grip bar at the end of the fingers to grip on when throwing a punch. It is one of those products that looks good online and even better in person, guaranteed to last through a lot of sparring, and worth every dollar if you go for them.
Cleto Reyes Hook & Loop Training Gloves
Cleto Reyes Hook & Loop Training Gloves
All the quality and craftsmanship you have come to expect from an authentically produced Cleto Reyes...
These training gloves are manufactured under strict quality control in goatskin leather with...
Complete with an attached thumb for safety to help prevent eye and thumb injuries and 2 inches of...
Gloves sold in pairs and feature a full hook & loop closure that allows you to take them on and off...
Size: 12, 14, 16, and 18oz
Color: Blue, black, red, yellow, purple, gold, and other designs
Made of: Goat skin leather, foam padding
Accessories: Hook-and-loop adjustable closure, attached thumb
Traits: Durable, perfect fit, superior safety, comfortable
We always get what we expect from Cleto Reyes, and you can order these professional gloves for $180 to $220. Their price varies from all kinds of one-piece colors that you can choose from, such as blue, black, red, yellow, purple, and gold.
They also offer silver, red-white-blue, USA MX2E, Yellow MX2E, titanium, and Mexico MX3E designs for those who like more colors. They are available in sizes from 12 to 18oz. The quality of their products as well as these gloves, do not need much to be said.
The gloves are handmade from goat skin leather with a comfortable waterproof lining that will keep your hands dry, cool, and comfortable during intense training. They come with an attached thumb covered with 2 inches of latex and are filled with foam to protect your fists.
The gloves use a hook-and-loop closure for a firm and faster glove fit, and their optimal and adjustable wrist support will prevent your hand from bending and hurting, which finalizes the safety this product provides for the users.
Hayabusa Pro Leather Lace-Up Boxing Gloves
Hayabusa Pro Leather Lace-Up Boxing Gloves
Traditional Design: Crafted to perfection with a traditional lace-up design that boxing purists...
Pillowy Padding: Soft pillowy padding keeps your hands comfortably protected. When combined with...
Supple Leather: Absolutely no detail is overlooked. Crafted entirely of supple top-grain cowhide...
Supportive Lace Closure: The full palm lace-up closure ensures you receive a custom, secure, and...
Sparring, Bagwork, & Padwork: Choose your weight for professional training, from 8oz, 10oz, 12oz,...
Size: 8, 10, 12, 14, 16, 18 and 20oz
Color: Black, blue, red, and white
Made of: Cowhide leather, pillowy padding
Accessories: Attached thumb, grip bar, lace-up closure
Traits: Adjustable, fit, comfortable, long-lasting, and safe
The research-based approach allows Hayabusa to provide fighters with professional battle tools that meet all their needs regarding protection, comfort, and fit. Hayabusa paid attention to even the minor details of its equipment.
So their innovative Pro Leather Lace-Up Boxing Gloves are a hot commodity on the market as of mid-2022. You can order them for $249 in sizes 8 to 20oz in red, blue, black, and white. The gloves have a traditional boxing design, fully made of high-quality cowhide with meticulous needlework construction, which gives the gloves durability against intense training.
Filled with soft cushion filling, they guarantee protection for your knuckles and the comfort of the entire hand. Their silky smooth lining keeps your hands cool and dry. They use the traditional lace-up closure for the full palm for an adjustable, supportive, and secure fit, and to finalize the protection.
These gloves come with an attached thumb in an ergonomic thumb pocket and a foam grip bar for a firmer feeling of your hand. They are excellent for professional training and can be used for sparring and working a heavy bag.
TITLE Boxing Gel Suspense
Size: 12, 14, 16 and 18oz
Color: Red-white
Made of: Leather, exclusive gel, tri-layered foam
Accessories: Nylon weave mesh, hook-and-loop closure
Traits: Superior wrist support and knuckle safety
Whoever has been purchasing Title gear over the years has been fully satisfied. Boxing Gel Suspense Training Gloves have been available since 2012; you can order them for $139.99 in red and white, available in sizes 12, 14, 16, and 18oz.
Made from select full-grain leather hides to withstand a continuous beating with very little wear and tear. These gloves are recommended for anyone looking for tools that won't break down within a matter of months.
Designed with exclusive gel, which is the highest quality of these prestigious gloves, enforced lining, and filled with tri-layered foams that are excellent gloves to train with both for speed and power. The foam padding absorbs the hard punch impacts easily and leaves your hands surprisingly good after a hard workout.
They use a nylon weave mesh palm to combat sweaty hands and keep them dry after long training sessions. For firm wrist protection, they have a full seatbelt wraparound nylon wrist strap with hook-and-loop closure, and you will love the support these gloves have for your wrist. The high-ranked quality of these gloves is worth the extra money because they guarantee long endurance, hand safety, and high-quality training sessions.
Adidas Tilt 350 Pro Gloves
Adidas Tilt 350 Pro Gloves
A Truly Innovative Boxing Gloves with a Unique DNA. A new design concept that revolutionizes Boxing...
The innovative Tilt Design keeps Knuckles in alignment, allowing progressive engagement of the...
A single mold design protects against Wrist Extension or Flexion injuries. The gloves have a Lace-up...
These Boxing / kickboxing gloves are made from a high-quality Vegan Cactus leather to give them a...
Utilizes Multi-Layer, Multi-Density Foam construction to allow for great shock-absorption, keeping...
Size: 10, 12, 14, and 16oz
Color: White-gold, blue-gold and black-gold
Made of: Vegan cactus leather, multi-layer foam
Accessories: Lace-up closure, foam grip bar
Traits: Safe, durable, comfortable, and adjustable
When you see quality sports equipment like these Adidas gloves used by seasoned pros like Miguel Berchelt, Jamel Herring, and Anderson Silva, that should be enough sign for you to decide. Available from 2021, you can order these modern-looking gloves for $189.95 in white-gold, blue-gold, and black-gold colors because the word GOLD describes what kind of product it is.
The gloves are available in sizes from 10 to 16 oz. They are made of vegan cactus leather for longevity and durability. They are filled with multi-layer multi-density foam such as latex, pure foam, and memory foam to absorb all impacts and protect your hand because more foam means better protection.
Adidas uses recycled polyester traditional laces for easy dressing and comfort and an engineered soft foam grip bar that provides superior wrist support to complete hand protection. The polyester lining used is waterproof and prevents sweat from reaching the foam. The glove's shape keeps your wrist secure and aligned with your fist for the correct punching position.
Venum Giant 2.0 Pro Boxing Gloves
Venum Giant 2.0 Pro Boxing Gloves
100% Nappa leather
Triple density foam for advanced shock absorption and protection of the hand
Extra-long lace design for a secure fit
Handmade in Thailand
Size: 8 and 10oz
Color: Black and white color
Made of: Nappa leather, polyethylene, multi-layer foam
Accessories: Lace-up closure
Traits: Handmade, durable, comfortable, and perfect fit
With its innovative equipment, Venum provides extra support to athletes who decide to be professionals in their work. In the large offer of cheap and high-quality gloves, Venum also thought of its professional customers when it sent Giant 2.0 Gloves from its factory to the market in 2017.
You can order them for $199.99 in black and white, available in 8 and 10-oz sizes. They serve as "a shield and a sword" because they provide security and enable attack. Handmade in Thailand from 100% Argentinian cow nappa leather with two layers of polyethylene that is maximally resistant with a hand position and curved shape of glove ideal for heavy hits.
A good absorption is due to the filling, which consists of layers of lightweight foam, natural rubber sheet, and EVA layer, which gives power and flexibility to the hand. It also offers exceptional protection due to quick bounce-back foam and wrist and thumb reinforcers.
Giant 2.0 gloves use extra long laces for a secure and perfect fit. The materials are well-chosen and durable, and the inside of the glove is extremely comfortable, which is nothing less than what we are used to from Venum.
RIVAL Boxing RS2V 2.0
RIVAL Boxing RS2V 2.0
Made of super resistant microfiber
Multi-layered foam padding
RIVAL's angled Ergo Xtreme strap system
Conic cuff design
Soft, foamy cloth inner lining
Size: 12, 14, 16 and 18oz
Color: Red, blue, and black
Made of: Microfiber, multi-layer foam
Accessories: Angeled Ergo Xtreme hook-and-loop strap
Traits: Good fit, long-lasting, wrist support, soft and comfortable
Given that Rival gives the word professionalism a new meaning, their RS2V 2.0 glove model is excellent for professional sparring. Although they have been available for four years, they are still the number one choice.
You can order them for $144.95 in red, blue, and black colors; the sizes available are 12 to 18oz. They are manufactured of super-resistant microfiber with long-lasting durability that keeps the gloves long life filled with multi-layer foam for the safety of your hands and your sparring partners.
The gloves use a soft, foamy cloth inner lining to guarantee comfort. They will not bother you after long and rigorous sparring. They are easy to take off and put on and use the iconic RIVAL's angled Ergo Xtreme strap system, which is adjustable and has an improved hook and loop wrist support, which ensures stability and good fit. As always, RIVAL offers goods of high quality and attractive aesthetic appearance.
If you found this article useful, you may want to save this pin below to your Combat Sports board.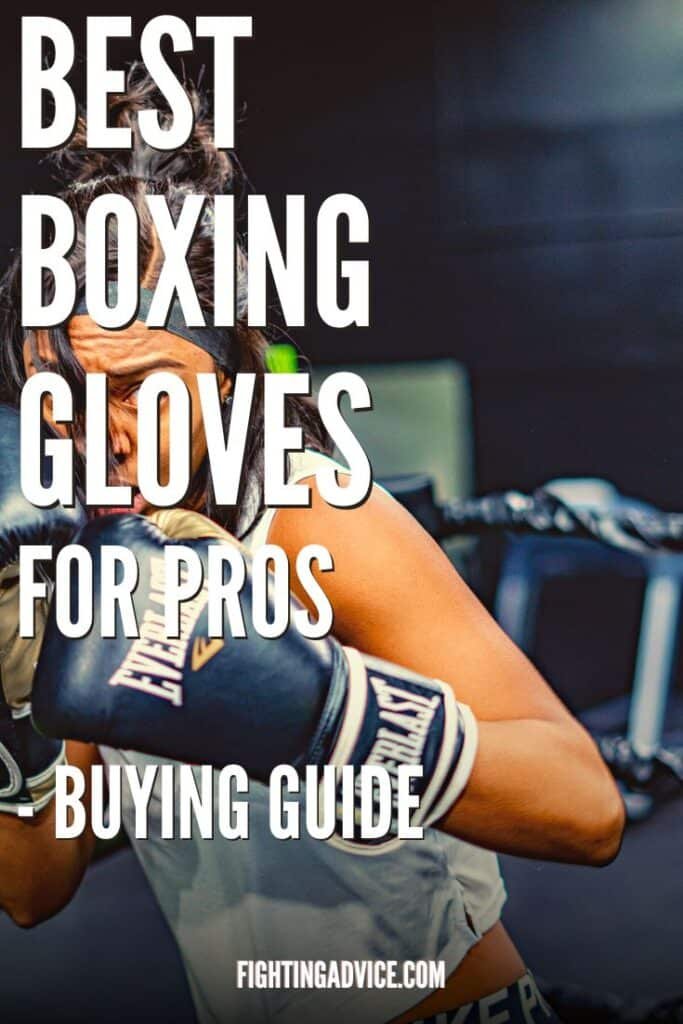 Last update on 2023-12-04 / Affiliate links / Images from Amazon Product Advertising API