Many people before getting into martial arts or sports in general are thinking about buying personal equipment. Often athletes are not ready to buy expensive equipment at once, because they are not sure if a particular sport is right for them. So one of the main problems is always finding the right equipment for minimal costs.
Of course, for boxing, for example, you can buy the first cheapest gloves for a few classes. But why not try to find good gear for a small price? Sometimes even budget gloves can be of good quality. But if you are sure that this sport is for you and you're going to make it an integral part of your life, it's worth checking out the more expensive and high-quality products.
Top Rank Contender Training Gloves
These are pretty good gloves for those who would like to try out boxing. They are looking good and also feel good. They are amateur gloves that are made of faux leather. But for their price, the quality of the material and stitching is not bad at all.
They are quite comfortable and fit securely on your hands. Also, the padding on these gloves is not bad to protect the knuckles. Unfortunately, the wrist support is not too hard here. Therefore it is very important not to put the gloves on the bare wrist and wrap them with special hand wraps.
Moreover, these gloves have a breathing zone with mesh material on the palm. This will allow your palms to sweat less and therefore the gloves will not get wet as much. In this price range, it is very hard to find other gloves with these breathing zones.
The gloves are comfortable, and the padding is great for long practice punches on the bag or with a partner. The gloves also come with a drawstring bag, which will be very convenient to use at the gym. Of course, as already mentioned these gloves are suitable for those who start practicing boxing and are not ready to spend a lot on something more expensive.
Cheerwing Pro Boxing Gloves
Top Rank Contender Training Gloves
Thumb Protection: Carefully tailored to ensure the most optimum spacing between thumb and fingers,...
Full Wrist Support: Extra-thick and extra-long wrist strap, make the punching bag gloves easy to put...
Great gloves from a Chinese manufacturer that cost around $25 and $30 depending on size. These gloves are budget-friendly and of course, are more suitable for beginners in boxing. For that price, an athlete gets pretty good quality gloves. They are made of faux leather.
The seams of these gloves are also made fairly well. There is soft padding inside that makes the hand more comfortable. Their padding is very good to absorb the impact of a heavy bag. Also, it is quite tight that reducing the risk of injury to the wrist. The straps are fastened well and there are small holes in the palm so that your palms sweat less and breathe more.
At first, during the first couple of workouts, it might seem that the thumb is an uncomfortable feeling and as if the glove is pressing on it. There is no need to worry because after a couple of workouts the glove will break in and you will feel very comfortable in it.
Also, the gloves can't be called 16oz as they weigh about 14.2/14.3 oz. But that gives them more lightness, so it's perfect for those looking for a lighter glove. These gloves will last well for regular and long sessions. Weighing all the pros and cons these gloves are a very good budget option for this low price.
Revgear Premier Boxing Gloves
Revgear Premier Boxing Gloves
PROTECTION YOU NEED - The PREMIER can do it all - making sure that you have the protection you need...
SECURE FIT/TIGHT GRIP - Wide hook and loop wrist wrap. Grip bar keeps the air out
COMFORTABLE AND DURABLE CONSTRUCTION - High-tech modern synthetic construction
UNBEATABLE VALUE - The PREMIER boxing glove represents unbeatable value with the same high level...
REVGEAR has worked with the top athletes and coaches in the business to create the perfect low cost,...
Pretty good gloves for this price. The gloves are fairly budget, but they are made of good quality. The material is tight and all seams are even. These gloves fit great and are soft enough for hard punches. The large padding on them helps protect the hands well.
They fit the hands because of the inner grip bar that keeps the fingers from slipping. The inner foam gloves have a definite shape and are very comfortable. It does not allow the hand to shift inside, which provides excellent stability.
The wide and long velcro strap makes them versatile in size and can fit both small and big fighters. The mesh material on the palms provides more flexibility when clenching the fists for power punches. It also helps the gloves to ventilate well.
Velcro holds in place without lifting and has a very large girth. Also, the hook and loop attachment at the wrist makes putting on and taking off the gloves much easier and quicker. With some care, which mainly consists of taking care of moisture, they will last a long time. So don't forget to keep your palms wrapped.
FILA Accessories Boxing Gloves
FILA Accessories Boxing Gloves
BOXING GLOVES: FILA Accessories 10 oz Boxing Gloves are great for boxing, kickboxing, MMA, heavy...
MULTI-DENSITY FOAM: Punching bag gloves provide optimal shock absorption - ultimate protection for...
HIGH-QUALITY: Heavy-duty construction with reinforced stitching for superior performance and...
PROFESSIONAL-GRADE: Features breathable mesh and pre-curved anatomic hand design to ensure proper...
AVAILABLE IN 3 SIZES: Available in multiple colors and three weight sizes: 10 oz., 12 oz. and 14 oz
In general, these gloves with a great design are pretty well built. The seams are also made with quality. They hold very good and feel great on the hands. There is also a hook and loop closure on the wrist. This helps in putting them on and taking them off easily.
These boxing gloves hold up well to different kinds of heavy bags. They come in three sizes, making them ideal for men, women, and teens. They also provide excellent wrist support and have a firm palm and finger curve inside. Therefore, a fighter's hands will be well protected during sparring or working on a heavy bag.
In some cases, it happens that the first time after purchasing these boxing gloves there will be discomfort in the thumb area. This is similar to the case with shoes that are not breaking in. The uncomfortable feeling is that the thumb is hard to squeeze against the fist. This feeling usually goes away after a few training sessions until the glove fits properly.
Revgear Pinnacle Boxing Gloves
Revgear Pinnacle Boxing Gloves
CRUSH YOUR PERSONAL BEST: Perfect for people new to the sport or requiring gloves for fitness based...
REVGEAR QUALITY CONSTRUCTION - Made to the same specifications as many of Revgear's professional...
YOUR HANDS CAN BREATHE: The palm of the glove has a ventilation strip and the wrist is long for...
ANIMAL FREE: Made of full synthetic materials the Pinnacle boasts excellent protection that will...
VICTORY IS YOURS: This glove has fast found itself a winner in boxing, kickboxing, and krav maga.
This set of boxing gloves is great for amateur and beginner boxers. They are very soft but at the same time have a noticeable weight. When working on a heavy bag this glove will well absorb an impact. Also, the hook velcro allows you to adjust the tightness and holds the palm well and tight.
At the bend of the wrist, these boxing gloves are sturdy and rigid. By doing so, they help keep the fighter's wrists straight while punching the bag or sparring. This cut wrist injuries even for those who do not wrist their hands. But it's worth noting that hands wrapping is very important.
It saves your wrists from injury and it also absorbs sweat and so the gloves would hold longer. Besides, even though the gloves seem big, they fit the hand very tight. The hands must not slide around in the gloves but stay snug.
Also, velcro hook and loop fasteners make it easy to put on and take off the gloves. In addition, there is a seam along the entire finger area that is very tight. In some cases, at the very beginning of use, this prevents you from making a tough and good fist. But after a few good workouts, this discomfort should disappear as the glove will break in.
Reebok Boxing Gloves – Gold/White
Reebok Boxing Gloves - Gold/White
5mm gel shock Absorption for protection and comfort at the point of contact
Built-in tetra impact System
Injection foam padding for better ergonomic fit around the hand and cushioning on impact
Ventilation for added comfort and cooling effect
Wrap around wrist support to guard against potential injury and ensure a secure fit
These boxing gloves are of pretty good quality for their price and are good for beginners. Also, the stitching is done at a pretty high level for budget gloves. The padding in these boxing gloves is soft, but not so soft that your knuckles absorb the impact.
The mesh inside allows your hands to breathe and sweat less. This is a very big benefit, especially in budget gloves. This is all because as a rule budget gloves are not made of the best materials and moisture contributes to their rapid deterioration. Therefore the gloves must be as moisture-free as possible.
But don't think that if these gloves have any ventilation, you don't need to wrap your hands. Wrapping your hands will also reduce the moisture level and keep your wrists safe as well. Also, these boxing gloves fit well and tightly on your hands.
Also, the hook-and-loop velcro fits very snugly and securely on your wrist. All this holds your wrists well and does not let them slip inside reducing the risk of a wrist injury. Also, their white color can be a bit problematic for those who care about what they look like after a certain period.
These gloves are more suitable for people with standard fists, as they fit quite tightly. Fighters with bigger wrists might find them a bit small. But you can only find that out by trying them on, just like any other product.
Everlast Powerlock 2R Training Gloves
It is very difficult to find good gloves from different brands on a budget. Everlast is no exception. But in these boxing gloves, it is worth noting that they did a pretty good job. Also in these gloves, the stitching and seams are made pretty well.
The velcro closure is not circular like usually and goes through the hole on writing and fastens backward. So if you have skinny hands, maybe these gloves will not sit tight. But you can only find that out by trying them on. Also on the back of the gloves, there is quite a bit of padding that allows you to keep your wrist in a straight position.
In addition, the inner part on the palm side is made of mesh, which helps the gloves to breathe better and your hands to sweat less. Let me remind you that excessive moisture contributes to glove deterioration. The padding on these gloves is also pretty good. It is not too soft and at the same time not too hard.
It has a strong resemblance to helium padding although it is not. The inside of the glove fits snugly and the thumb is quite loose. This helps with a good clenching of the fist and the thumb is not overpowering.
Jayefo R-6 Boxing Gloves
Jayefo R-6 Boxing Gloves
✅ Uses | Jayefo R-6 Boxing Gloves Can Be Used as Muay Thai Gloves, Kickboxing Gloves, Sparring...
✅ PROTECTION & COOL PALM | INTRODUCING THUMB LOCK, These Gloves Has a Thumb Lock Which Will Never...
✅ HAND MOLD & HAND MADE | These Gloves Are Handmade with Every Inch Of Perfection Giving You The...
✅ Use as Mma Gloves | These Gloves Are Great for Boxing Training but Also for Mma Training, To...
✅ Padding | Jayefo R-6 Boxing Gloves Has Proper Padding to Protect Your Hands Sparring or Working...
Even though these gloves are not a well-known brand focused on martial arts, they are worth checking out. Though low in price, these boxing gloves have no competitors in terms of price-quality ratio. They are quite durable faux leather gloves with quality stitching and good padding.
Of course, at first use, it may seem that these boxing gloves are too hard and not suitable for sparring. But after a few workouts, they will break in and sit well on your hands. There is also an inner mesh for better ventilation. But this ventilation could be made better. But for this price, it is fully ok.
These gloves also support your hands well, so it may seem like the hands wrapping is not necessary. But, of course, I always recommend wrapping your hands. Not only will it protect your hands from injury, but it will also keep moisture from getting in the gloves.
And moisture, as we know, contributes to shortening glove use life. Besides, these gloves have a velcro closure, which allows you to take them on and off without any problems. This is a great choice for beginner boxers or those who want to try their hand at this sport. So with proper care, these budget gloves can last a long time.
Starpro M33 Boxing Gloves
Starpro M33 Boxing Gloves
𝗥𝗲𝘃𝗼𝗹𝘂𝘁𝗶𝗼𝗻𝗮𝗿𝘆 𝗪𝗿𝗶𝘀𝘁...
𝗘𝗹𝗲𝘃𝗮𝘁𝗲 𝗬𝗼𝘂𝗿 𝗣𝗲𝗿𝗳𝗼𝗿𝗺𝗮𝗻𝗰𝗲:...
𝗖𝗿𝗮𝗳𝘁𝗲𝗱 𝘄𝗶𝘁𝗵 𝗣𝗿𝗲𝗰𝗶𝘀𝗶𝗼𝗻: Meticulously...
𝗘𝗿𝗴𝗼𝗻𝗼𝗺𝗶𝗰𝗮𝗹𝗹𝘆 𝗗𝗲𝘀𝗶𝗴𝗻𝗲𝗱...
𝗥𝗶𝘀𝗸-𝗙𝗿𝗲𝗲 𝗚𝘂𝗮𝗿𝗮𝗻𝘁𝗲𝗲: Your training, safety, and...
This is another budget glove that is not as well known as other brands like Venum or Everlast. In addition, the gloves do not have almost any disadvantages. These boxing gloves like many budget gloves are made of synthetic leather, but this is quite normal.
But they are still made of high-quality materials. They have good padding, fit snugly to the hand, and are securely locked at the wrist, which is a typical feature of more expensive branded gloves. This, as we know, is very important to reduce the risk of injury if you don't execute the punch in the right way.
Their padding is also quite high quality and made of foam. But to the touch, it may seem as if the padding is helium. Therefore after intensive and hard punches hands and knuckles will not hurt as in a glove of poor quality. The palms of the gloves are covered with a mesh material that makes them very breathable.
Consequently, the hands will breathe better and sweat less. But do not forget to wrap your hands anyway. This will, in any case, reduce the flow of moisture into the gloves and more importantly reduce the risk of injury to the wrists. Also, the gloves may seem to fit too snugly. It is normal and after a couple of workouts, they should break in. As I said, these gloves would be a great choice for their price.
Hayabusa Ikusa Charged Boxing Gloves
Hayabusa Ikusa Charged Boxing Gloves
Hayabusa patented dual-x wrist closure for maximum wrist support and striking power
Ergonomically designed for perfect wrist and thumb positioning to yield optimal and consistent...
State of the art inner core provides the perfect density for superior force dissipation
Superior quality engineered leather and exclusive inner lining for a perfect fit and feel
Now the latest boxing gloves under $50 are the Hayabusa gloves. I think the introduction of this brand can be denied, as anyone who does martial arts has at least heard of it. And so the Hayabusa Ikusa Charged Gloves is undoubtedly a well-made product. Unlike other boxing gloves, Hayabusa use here engineered leather, which is quite impressive.
Accordingly, the quality of the gloves is at the highest level for a budget glove. Excellent material, quality stitching, and impact-absorbing padding. Besides, there is a double velcro closure, which should be suitable for both large and small hands. At least the manufacturer says so.
This also increases the protection of the hand from injury, which is very important in a glove. Without a doubt, the quality of these gloves is the best for this money. But unfortunately, like many products, these gloves are not perfect and there is a big problem with them. These gloves are very tight.
A person with standard hands will find it almost impossible to put them on. So they will squeeze the palms of the hands very tight. And big fighters can just skip this product. Therefore, unfortunately, these gloves are probably suitable only for people with small hands. Also, the hand bandages constantly get caught in the velcro of the double closure, which makes it harder to put on and take off the gloves.
So if you have a standard or big hands and you want Hayabusa gloves specifically, you might want to check out their other available products.
If you found this article useful, you may want to save this pin below to your Combat Sports board.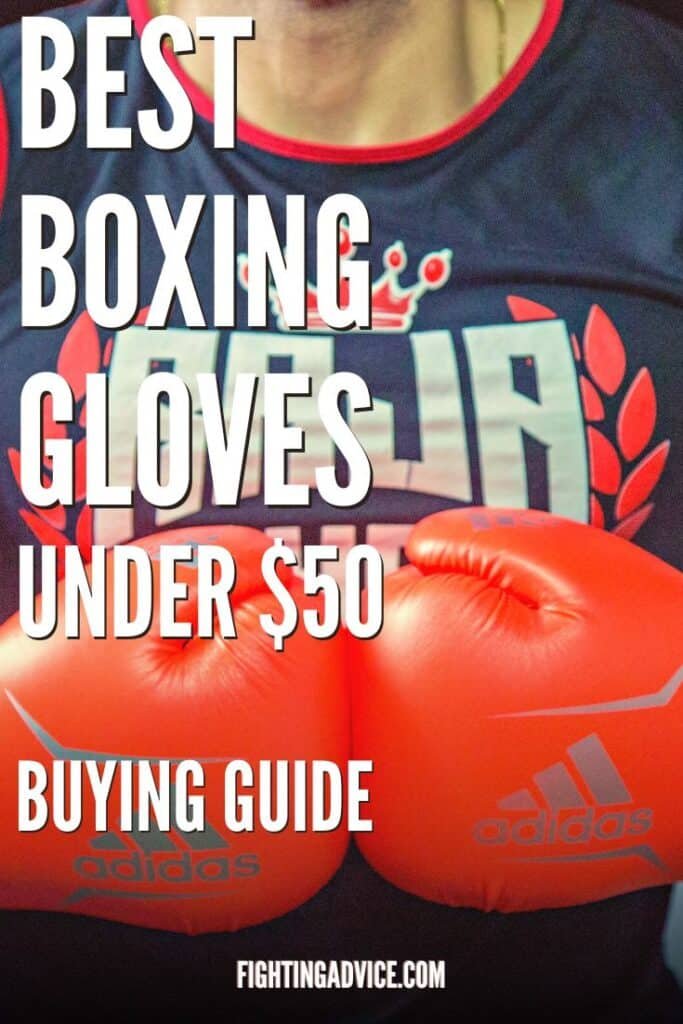 Last update on 2023-11-30 / Affiliate links / Images from Amazon Product Advertising API