Boxing is as much a spectacle as it is a sport. This is why you often see fighters walk out to the ring in luxurious gowns embroidered in precious metals while wearing expensive jewelry. This sentiment also carries over to the training gym, whether you're competing for the belt or just trying to become a better fighter.
Looking unique and better than everyone else in the gym gives you a certain morale boost that can help you push a little further to gain the edge. Right after your boxing trunks, your gloves are the next most significant piece of kit you wear and a nice way to showcase your personality. So, to help you stand out from the crowd, here are the top coolest boxing gloves for this year. 
Hayabusa Marvel Hero Elite Boxing Gloves
Hayabusa Marvel Hero Elite Boxing Gloves
MARVEL HERO ELITE TRAINING GLOVES: Each glove is crafted to reflect your favorite Marvel heroes....
WORLD RENOWNED WRIST SUPPORT: Patented dual wrist straps and our exclusive splinting system work...
ULTIMATE KNUCKLE PROTECTION: Premium foam technology absorbs impacts, dispersing energy for...
BUILT FOR COMFORT WITH A TAILORED FIT: Interior fabric feels smooth and helps to regulate your hand...
HANDCRAFTED: Each Hayabusa X Marvel Hero Elite Boxing Glove is handcrafted by experienced...
Size: 12 oz, 16 oz
Color: 14 unique patterns
Material: Faux leather
Features: Supportive wrist splint, 5-layer foam padding
Strengths: Officially licensed by Marvel, excellent impact dispersion and wrist support
This series has licensed Marvel-themed boxing gloves from many popular characters, including legends like Thanos, Hulk, Captain America, and Iron Man. And it's not just a matter of switching the paint job; different gloves have slight structural changes to match the character they represent. Underneath, these are all Hayabusa with trademark technologies such as the wrist support split and 5-layer foam padding.
Fairtex Glory Boxing Gloves – Limited Edition
Fairtex Glory Boxing Gloves - Limited Edition
Handmade in Thailand. Made with premium genuine leather for durability.
Multi-layered foam padding for superior hand and wrist protection. Velcro closure for a secure fit.
Suitable for both professional and amateur fighters.
Designed for kickboxing and other combat sports.
Available in different color and sizes.
Size: 8 oz to 16 oz
Color: 8 unique patterns
Material: Genuine leather
Features: Lace closure
Strengths: Long wrist cuff, attached thumb
You can get gold motifs on a black background or black motifs on a white background; there are 8 different patterns to choose from. All these gloves are handmade from genuine leather and optimized for kickboxing. The shape of the hand compartments makes these ideal for people with small to medium-sized hands.
TITLE Boxing Infused Foam Combat USA Training Gloves
Size: Large
Color: Red, white, and blue (USA flag)
Material: Synthetic leather
Features: Hook and loop closure, mesh palm
Strengths: Lots of padding, not only for the knuckles but also for the palm
Check out these TITLE foam-infused gloves if you want a pair for training. They have an American flag theme going on with the stars and stripes and are fairly well-padded for basic tasks like light sparring and bag work. I wouldn't recommend these for matches or full-contact sparring because most of the padding is around the knuckle area, with some in the palm to absorb shocks.
Sanabul Sticker Bomb Adult Boxing Gloves
Sanabul Sticker Bomb Adult Boxing Gloves
Available in three different designs, Sanabul Sticker Bomb Adult Boxing gloves are sure to be a hit...
High quality and durable outer material is easier to clean with a sponge and soapy water
Impact Protection Foam is soft and durable to help prevent injury to hands
Secure Hook and Loop Closure System. Ensures a secure fit for training while making the gloves easy...
Breathable palm keep hands cooler
Size: 10 oz to 14 oz
Color: 70s, Dino Jungle, Manga Action, Roar Rage
Material: Faux leather
Features: Breathable palm, attached thumb
Strengths: Easy to put on and take off, durable and comfortable
You can choose from 4 different themes for your sticker bomb artwork; I personally prefer Manga Action and the 70s. The material is faux leather, with a soft but dense layer of impact-reduction foam underneath to protect your hands while striking. Yes, these are real gloves, and the 14-ounce models can deliver a nasty punch, so be careful what you're striking at.
RDX Women's Boxing Gloves
RDX Women's Boxing Gloves
MAYA HIDE FLORA SKIN LEATHER is used to manufacture these women boxing gloves which makes them...
MULTIPLE LAYERS OF PADDING are combined in the Membrane Grid 1 technology that includes EVA and...
ATTACHED THUMB DESIGN of the ladies punching gloves provides additional support and alignment of...
STRATEGICALLY PLACED HOLES in the palm region keep the hands dry which allows girls to train for...
QUICK-EZ HOOK-AND-LOOP CLOSURE provides support to the wrist and helps the ladies in pressure...
Size: 8 oz to 12 oz
Color: Black
Material: MAYA Hide synthetic leather
Features: Palm ventilation holes, hook and loop closure, attached thumb
Strengths: Multi-purpose, can be used for both boxing and Muay Thai
Maya hide synthetic leather is the new trend; it's better than PU but still not on the level of genuine leather. However, you get pretty close in terms of durability and longevity, plus the synthetic leather is much easier to clean and maintain (it's also cheaper). With multiple layers of impact diffusion and shock absorption foams, these gloves are perfect for extended sparring/ bag work sessions. They will keep your hands protected at all times.
Venum Dragon's Flight Boxing Gloves
Venum Dragon's Flight Boxing Gloves
Premium PU leather.
Triple density foam for ideal shock absorption.
Reinforced palm for improved comfort.
Attached thumbs for better protection against injury.
Reinforced seams for increased durability.
Size: 10 oz to 16 oz
Color: Black/ black, black/ bronze, black/ sand
Material: Faux leather
Features: Triple-density foam, reinforced palm
Strengths: Heavy-duty seams and all-around foam padding
The cool Dragon artwork on this glove comes in three different forms, each looking like a tattoo you'd find on the back of a yakuza. The triple-density foam and reinforced palm make this an excellent glove for sparring; it protects your partner from injuries and keeps your hands free from strain. Reinforced seams prevent the shell from falling apart no matter how hard you strike, and attached thumbs ensure you don't accidentally cut your opponent.
TITLE Boxing Infused Foam Donut Print Training Gloves
Size: 14 oz
Color: Black/ white
Material: Dura-lined Neoprene
Features: Nylon mesh palm insert, hook and loop wrist strap
Strengths: Secure fit, comfortable with lots of ventilation, and an ergonomic shape
These infused-foam gloves from TITLE Boxing have a funky donut print going on, but don't be fooled by the cute looks because they are built for real training. With a dura-lined neoprene skin, these are some of the toughest gloves you can buy, and the nylon mesh panels underneath keep your hands sweat-free for extended periods. The full wraparound velcro strap ensures your gloves stay in place no matter how hard or fast you move.
Ringside Limited Edition Boxing Gloves
Size: 16 oz
Color: California, Mexico, Texas
Material: Genuine leather
Features: Full wrap-around hook and loop closure, vent holes, attached thumb
Strengths: Extremely well padded and durable, elastic sleeve on top of velcro closure
The unique selling point for these gloves is their genuine leather construction combined with the elastic sleeve that goes on top of the velcro strap for an extra-secure fit. These great all-rounder gloves can be used for bag work and sparring. They are easy to put on and take off and have ample ventilation holes underneath to keep your hands cool.
Hayabusa S4 Kids Epic Boxing Gloves
Hayabusa S4 Kids Epic Boxing Gloves
THE MOST ADVANCED YOUTH GLOVE: Your kid's hands are fragile while they continue to develop and...
WRIST SUPPORT UNLIKE ANY OTHER: Quality matters when your child's safety is on the line. Hayabusa...
EXCITING DESIGNS FOR KIDS: Give your kids a glove they can show off in class. The S4 Epic designs...
THE ULTIMATE FIT: The single strap works in tandem with the splinted wrist support to deliver a...
BUILT TO ENDURE YEARS OF TRAINING: These gloves are made to endure beating after beating with strong...
Size: 6 oz, 8 oz
Color: Fairy, Flames, Machine Blue, Pink Star
Material: PU leather
Features: Splinted padding on wrist joints, injected foam
Strengths: Ideal for teaching kids boxing, Muay Thai, kickboxing, etc.
Featuring some of the most vibrant and highly detailed artwork I've ever seen on a pair of boxing gloves, these Hayabusa S4s are a perfect gift for your kids. Not only do these gloves look excellent, but they also have trademark Hayabusa technologies built-in, like the wrist support splint and multilayer injected foam padding. The palm is entirely covered with nylon mesh, and the attached thumb has a special fabric edge that makes it easy to wipe off sweat from your face.
Sanabul Ronin Professional Boxing Gloves
Size: 12 oz, 14 oz
Color: Black, white
Material: Synthetic leather
Features: 4-layer padding, hook and loop closure
Strengths: Well-ventilated, good padding on knuckles for working the heavy bag
These are expensive, but they look unlike anything else you'll ever come across in the gym with their combination of Japanese graffiti and anime-inspired artwork. These are designed to be competition gloves, so they have professional grade 4-layer padding underneath to keep up with the heaviest of strikers. And they fit just as well as any other top-tier glove from companies like TITLE and Cleto Reyes.
Conclusion
Remember, the best-looking gloves in the world won't do you much good unless you train hard. And you should always prioritize getting a pair of gloves that fit your hand. There's no point in spending a fortune on the most extravagant pair of mitts if your hands get cramped inside them after throwing a couple of punches.
If you found this article useful, you may want to save this pin below to your Combat Sports board.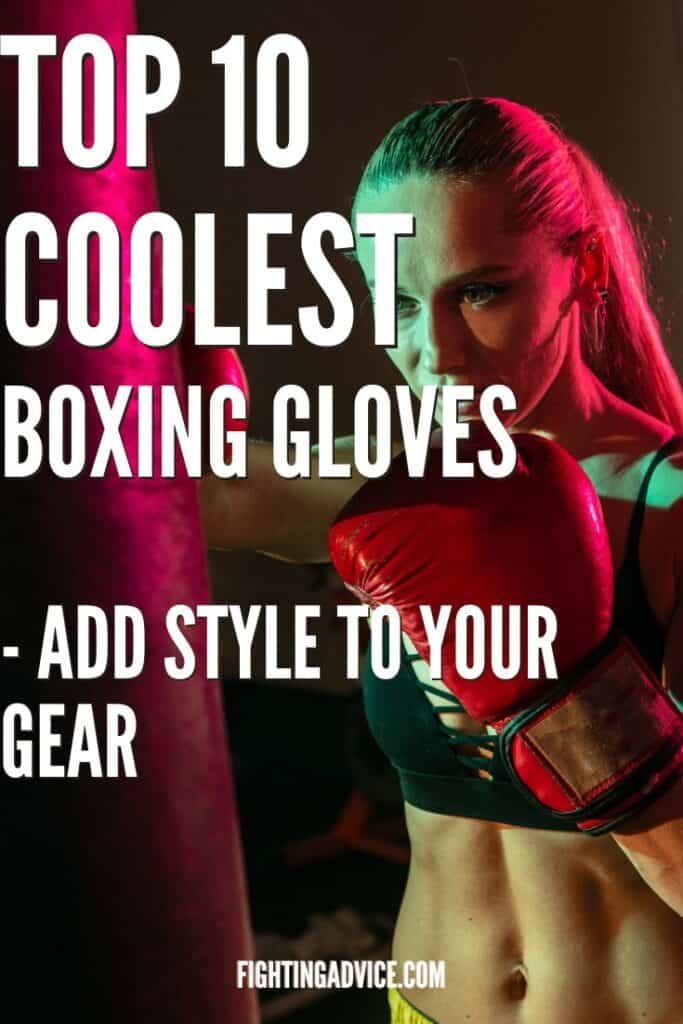 Last update on 2023-12-04 / Affiliate links / Images from Amazon Product Advertising API