So, you want to get into MMA and sign up for some classes at the local gym. You show up wearing your normal shorts and wonder why everyone is looking weird at you. Very soon, you realize that the pockets and drawstrings on your shorts are a liability to be exploited by others as they toss you around and rip your clothes off.
I've created the best MMA shorts list to prevent you from looking like a dweeb. These are different from boxing or athletic shorts. They are more flexible yet also more durable at the same time.
Hayabusa Hexagon Mid-Thigh Fight Short
 Size: S, M, L, XL, XXL
 Color: Black, burgundy, gray, green, navy, white
 Material: 88% polyester, 12% elastane
 Features: Hook and loop closure, hybrid training optimized
 Strengths: Extremely strong fabric, works in both stand-up and ground-fighting
These shorts will feel incredible whether you're throwing kicks to the head or grappling on the mat. They combine the flexibility of kickboxing shorts with the planted nature and quick-dry construction of board shorts. Hayabusa uses a special fabric blend that is guaranteed to be strong.
In fact, they tested it in the lab, and the fabric could pull 790 newtons without breaking. Because of the mid-thigh length and side cuts, this pair of shorts provides incredible mobility.
RDX MMA Shorts
 Size: S, M, L, XL, XXL, XXXL
 Color: Black, Blue, Red, White, Army Green
 Material: 98% polyester, 2% spandex
 Features: Adjustable drawstrings, hidden inner pocket
 Strengths: Ergonomic cuts and seams allow for greater mobility
RDX MMA shorts are cleverly designed to take the best aspects of kickboxing, Muay Thai, and BJJ shorts combining them into one product. These are flexible; they stay dry even during intense sparring sessions. They will resist tearing even as people are pulling you around. The cuts are designed to match up with your thigh and waist joints for maximum range of motion.
Side slits let you pull your leg up high and to the sides without interference. The drawstrings are thick and strong, but don't dig into your waist. The polyester-spandex fabric is good at wicking up sweat and doesn't shrink after washing.
Venum Men's Standard Pro Line
 Size: XXS, XS, S, M, L, XL, XXL, XXXL
 Color: White, green, red, yellow, black, black and gold, blue
 Material: 88% polyester, 12% elastane
 Features: Ripstop fabric, moisture-resistant
 Strengths: High elastane content improves flexibility, mid-thigh profile makes it good for throwing high kicks
Venum designed this pair of MMA shorts for intermediate-level MMA practitioners who like flexibility and speed. Thanks to the polyester microfiber, it's built tough but is also extremely light and tear-resistant. Because it contains 12% elastane and uses a mid-thigh profile, you can get your legs high.
MMA fighters with a Muay Thai, kickboxing, or Taekwondo background will love the Venum Pro Line shorts as they can easily pull off a jumping knee or head-kick their opponents. Even grapplers from a BJJ school will like it, thanks to the slim profile and velcro closure that keeps this thing glued to your waistline no matter how much you roll around. The graphic designs on Pro Line shorts are inspired by Fight Night outfits worn by fighters; no wonder they look so cool.
Reebok Men's UFC Fight Night Gladiator Shorts
 Size: 26" to 42"
 Color: Black, harvest green, symphony blue, club green, lux maroon, power grey
 Material: 87% polyester, 13% spandex
 Features: Speedwick technology, flatlock seams, inner drawcord
 Strengths: Side slits go all the way up, completely removing any restrictions on leg movement
You saw the name; these are actual Fight Night shorts used by UFC pros, and they sure do cost a fortune. However, these shorts have features you simply won't get elsewhere. Like side slits that run all the way up, almost transforming these into gladiatorial skirts.
Then there's the bonded waistband, which results in a very slim profile that sits close to your waist, leaving no room for grabbing shenanigans. Underneath the waistband, there's a friction lining to grab your rash guard and prevent it from slipping out. Flatlock seams protect your skin from chafing and increase durability. At the same time, the polyester-spandex blend excels at wicking sweat away from your body.
Elite Sports Men's MMA Shorts
 Size: S, M, L, XL, XXL, XXXL
 Color: Black, grey
 Material: Microfiber fabric, 150gsm+
 Features: Elastic waistband with drawstring closure
 Strengths: Has side slits to improve mobility, made with tear-resistant fabric
One of the most highly rated MMA shorts on Amazon, these give you a full range of motion, whether on the ground or standing up. You can move around quickly because the shorts have an athletic cut, with plenty of room for your thighs. The waistband sticks in place once you tighten it with interlocking drawstrings.
Thanks to the side slits in the leg, you can seamlessly transition from one hold or submission to another while practicing your BJJ. As you do your warmups, these shorts will keep you dry thanks to the incredible breathable fabric that wicks away sweat.
Hayabusa Men's Icon Fight Shorts
 Size: XS, S, M, L, XL, XXL
 Color: Black, black and yellow, red, white, blue, teal, yellow and blue
 Material: 100% high tensile strength polyester
 Features: Single-loop drawstring, silicone waistband, extended side-slits
 Strengths: Comfortable, stays in place, extra mobility for fighters
The Hayabusa Icon is something you should consider if you're training MMA, whether as an enthusiast or serious professional. It can withstand the rigors of high-level training thanks to its tear-resistant fabric blend, which took over 790 newtons of force in a lab test. Hayabusa uses flatlock seams and extended side slits to boost your mobility, so you can move like a cat and kick like a mule.
The waistband is secured with a hook and loop strap and a single-loop drawstring underneath for further support. A silicone layer stretches perfectly around your waistline, conforming to the natural shape of your body and preventing the shorts from sliding in any direction. While the exterior is 100% polyester, the inseam uses an elastane blend to improve thigh flexibility.
Sanabul Essential MMA Shorts
 Size: 30 to 38 inches
 Color: Silver, black, blue, brown, purple, red, white, green
 Material: 100% polyester
 Features: Open seams, four-way stretching
 Strengths: Advanced mobility, durable, stays dry
Sanabul excels at making combat gear that is affordable yet effective. These shorts follow similarly; they have a minimalistic look and use basic fibers. No hyper-advanced lab-tested microfibers here.
But even basic fibers go a long way when you use quality stuff, and the Sanabul shorts are made of tough polyester. This fabric won't rip when you sprawl your legs to defend from a takedown. Nor will it hinder your movement when you jump up to launch a high kick.
Venum Men's Electron 3.0 Fighting Shorts
 Size: S, M, L, XL, 3XL, 4XL
 Color: Black
 Material: Polyester
 Features: Tear-resistant microfiber, mesh inserts
 Strengths: Multi-use, works for everything from BJJ to Krav Maga
As far as fight shorts go, they are relatively affordable for their quality, especially considering that they are made by Venum. The company markets itself as being heavily goal-focused. It uses a ton of technical jargon to describe why its gear is better, but there is some truth behind all of this. For instance, the Electron 3.0 is objectively better at wicking sweat away from your body, thanks to its mesh inserts.
The yoke pulls sweat away from your lower back and waistline, helping you train and spar more freely. Also, the unique polyester blend helps you slide around more easily on mats due to its lower friction coefficient. Extra long side slits with reinforced stitching ensure you never have issues while throwing a head kick, roundhouse, etc.
FUJI Baseline Grappling Shorts
 Size: 28 to 42 inches
 Color: Black, black/blue, black/orange, black/purple, grey
 Material: Microfabric
 Features: Saddle gusset, sublimated logo, athletic cut
 Strengths: Secure Velcro and drawstring closure, tear-resistant build
These are slightly longer than your typical wrestling or Muay Thai shorts; however, the side slits and elastic fabric compensate for this fact. You still get enough range of motion to grapple on the mat and throw high kicks from both the standing and jumping positions. Because of how the fabric is designed, it can withstand forces from every direction.
To improve durability under load, the shorts have a saddle gusset that distributes forces across multiple seams rather than just 2. So when you sprawl your legs and push down with all of your body weight, this pair of shorts will not yield. You could lift another man above you with your thighs pressing against the shorts, and it would still not tear.
Venum Men's Authentic Fight Night Gladiator Shorts
 Size: S, M, L, XL, XXL
 Color: 6 different artistic patterns
 Material: 88% polyester, 12% elastane
 Features: Pull-on closure, heat-glued strips, sublimated graphics
 Strengths: Slim fit, very strong yet also flexible
Venum knows the needs of MMA athletes since it has been UFC's official outfitter for a while now. Martial artists worldwide trust Venum to build quality products with features that exclusively benefit high-level fighters. Features such as the moisture-wicking fabric that's also lightweight and tear-resistant.
The polyester blend used by Venum contains a bit of elastane to help with flexibility as you run around or throw kicks. And since the bonded waistband is secured with Velcro, it isn't moving anywhere, no matter how hard you fight. Graphics are sublimated, so they are part of the fabric and won't wash away over time.
Venum Camo Hero Fight Shorts
 Size: M, L, XL
 Color: Camo pattern
 Material: Polyester
 Features: Vault 3-way closure system, speed grip
 Strengths: Easy to grapple with as it won't budge once you put it on
Its camo pattern immediately catches the eye of viewers and fighters alike. Still, there's more to this pair of shorts than some fancy graphics. First, the polyester blend used here is slightly tougher and less flexible than previous Venum product lines. This is good for high-intensity activities you might engage in while training for your fight but not as optimal for high kicks compared to other Venum shorts.
Thanks to the speed grip system, you can easily adjust the shorts if they move around (which they likely won't). Seams are heavily reinforced, so you're likelier to break before this pair of shorts. The fabric is so strong that you could probably do splits while carrying a small car and not tear a single thread.
Combat Sports Training MMA Boardshorts
 Size: 30" to 40"
 Color: Black/ red, green/ white, grey/ black, royal/ white, white
 Material: Polyester
 Features: Mesh panel, hook & loop closure, internal drawstring
 Strengths: Perfect combination of comfort and practicality
Strategic placement of polyester mesh sections through areas like the yoke, inseam, and waistband make this one of the most comfortable pairs of MMA shorts you can buy. It is ideal for training but also durable enough for regular sparring sessions. With the 6-inch side slits, you don't have to worry about a restricted range of motion; you can kick away to your heart's content.
I reckon these shorts will appeal mostly to younger folks new to MMA and want something affordable and stylish for daily practice. If you've already got a Muay Thai or kickboxing background, it's even better because of how flexible this is.
Anthem Athletics Resilience MMA Shorts
 Size: 30" to 44"
 Color: Black, black and white, black and grey, and many other patterns
 Material: Microfabric
 Features: Fast-dying fabric, 4-way stretch crotch, two-fold velcro waistband
 Strengths: Excellent for kicking, lightweight
Anthem Athletics makes gear for intermediate to advanced-tier MMA practitioners, and these shorts reflect that approach. They resemble the offspring of a marriage between Vale Tudo shorts and boardshorts. This is great; you're getting a pair of extremely light and form-fitting shorts while also being durable and comfortable.
There are extended side slits, so you can do as many kicks as possible in whichever position you want. The hook and loop closure and internal drawstrings keep these shorts bolted onto your waistline. A 4-way stretch crotch ensures you don't embarrass yourself while squatting or throwing a high kick.
Meister MMA Dragon Hybrid Shorts
 Size: 29 to 40 inches
 Color: White
 Material: 100% polyester
 Features: Flex nylon panels, Velcro closure
 Strengths: Snug fit is great for grappling, double-stitched seams are very strong
I consider this a proper pair of MMA shorts with all the bells and whistles. First, you have the elastic yet high tensile strength fabric that allows for exceptional mobility even with a slim fit. Then, there's the hook and loop closure that's complemented by drawstrings on the inside.
There are no external pouches for opponents to grab and an internal pouch for your mouthguard. Side slits improve thigh mobility even further. You can use these shorts for striking and rolling, two of the core "jobs" within MMA.
Meister MMA Crown Vale Tudo Shorts
 Size: 28 to 41 inches
 Color: Black, blue, orange
 Material: 75% nylon, 25% polyester
 Features: Lycra microfiber, double-stitched seams
 Strengths: Looks sleek, feels comfy, clings to your body
Vale Tudo was the precursor to modern MMA; it originated in Brazil as a no-holds-barred barehand fighting contest. Many MMA fighters use Vale Tudo shorts as they provide the best mobility and stick onto your skin like a superhero's spandex costume. These are like compression shorts, but the fabric is slightly thicker and stronger.
When you buy a pair of Vale Tudo shorts, you must get the right size. It's better to go a size higher than lower. The waistbands and leg cuffs are slim, and there is no Velcro.
Conclusion
MMA shorts aren't as "short" as vale tudo shorts or Muay Thai shorts. However, they are more flexible around the joints and feature drawstrings on the inside. You also get hook and loop straps on your waist to ensure a tight fit. These shorts can be combined with a good rash guard if you want to roll around on the mat.
Regular boxing shorts will do if you're doing a lot of stand-up fighting. But MMA shorts are still better if you train in all aspects of MMA. For a training routine focusing primarily on grappling, you can look into vale tudo shorts as they cling tightly to your body and are very flexible (like compression shorts).
If you found this article useful, you may want to save this pin below to your Combat Sports board.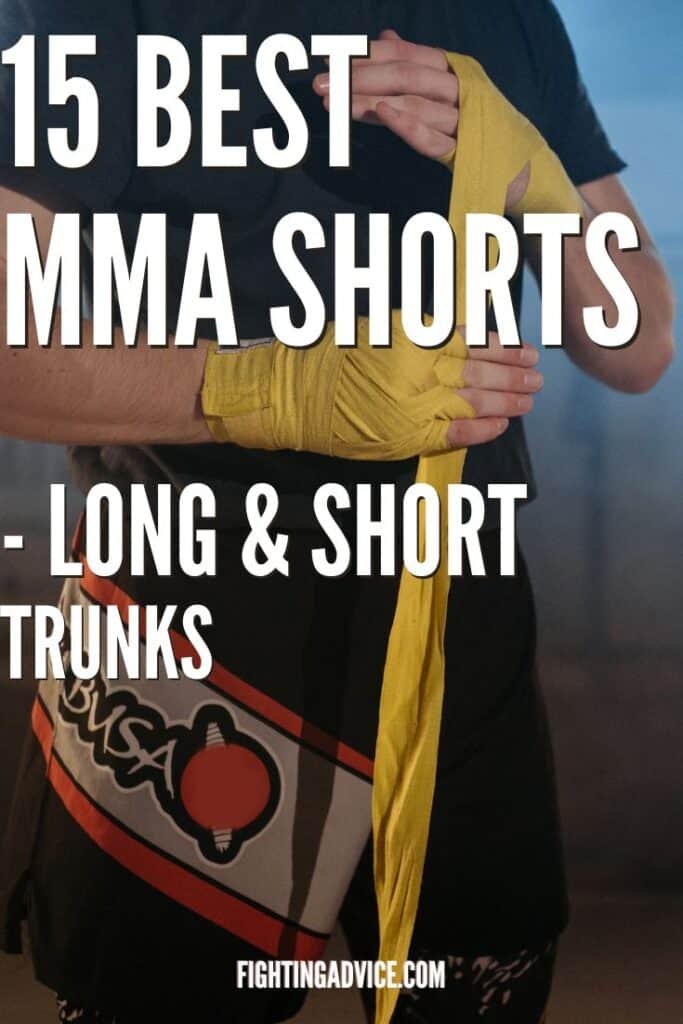 Last update on 2023-12-02 / Affiliate links / Images from Amazon Product Advertising API