Any of us who've ever watched an amateur wrestling bout or MMA fight knows that many of these fighters tend to have a "cauliflower ear." This results from the cartilage in their ears slipping or getting damaged and blood pooling up in that area. Over time, if untreated, it can become a permanent issue.
Some fighters consider it a symbol of pride. Still, since you're here, I assume you would rather learn about the best wrestling and grappling earguards. Not all of us can endure the pain of the cauliflower ear. And most folks don't want to walk around with what looks like a cancerous tumor on the side of their head.
Cliff Keen F5 Tornado Headgear
Size: One-size
Color: Black
Material: Plastic
Features: Hard ear cup, adjustable straps
 Strengths: Good impact protection for wrestling
Its ear holes are large, and ample padding around the ear cavity prevents this headgear from digging into your skin. Any time the Cliff Keen F5 Tornado eats a strike or a shove, it stays in place thanks to the durable triple strap closure. Adjusting the chin strap is really easy, and there's a padded layer on it, so the headgear doesn't hurt your neck as you fit it securely.
The F5 combines the best aspects of soft and hard shell headgear. Its hard shell has plenty of air holes for ventilation. It doesn't impede your hearing ability, but at the same time, it offers excellent protection from hard impacts. Because of the foam pads surrounding this hard shell, it has just enough "give" to not hurt you or your opponent. 
TMA Ear Guard
Size: One-size
Color: Black
Material: Neoprene
Features: Slim profile, EVA foam padding
Strengths: Velcro closure, soft and flexible for BJJ
Underneath this headgear's EVA foam padded sides is a hard shell designed to take constant bumps and grinding pressure. The TMA ear guard is optimized for BJJ with its low profile and soft exterior. A velcro strap on the forehead provides a snug fit and prevents the guard from slipping or getting loose during a sparring session.
There is a chin strap underneath, with an adjustable nylon strap that's padded to better spread out the pressure it applies on your neck. All anchor points on the neoprene sleeve are triple-stitched, so even if one layer comes off, the headguard will keep holding. Each ear cup has 3 holes cut into it for ventilation. 
Great Call Athletics Youth Wrestling Headgear
Size: Youth
Color: Black
 Material: Neoprene
Features: Foam padding, vent holes
Strengths: Easy to adjust, comfortable fit
Putting this headgear on and removing it is super quick since there are just 2 straps, and both are secure with velcro. The exterior sleeve is made from neoprene, while the ear cup is hard plastic with foam padding around it. Triple vent holes in each ear cup provide airflow.
These vent holes also ensure you don't go deaf after wearing your earguards. Double-reinforced stitching on the edges gives this ear guard tremendous strength, so it won't fall apart even if your opponent yanks on it. Not that there's much of a surface to yank on, considering how low it sits. 
Roar Wrestling Ear Guard
Size: One-size
Color: 9 patterns
Material: Neoprene
Features: R-Lock closure
 Strengths: Ideal for submission grappling and MMA
Like the Great Call Athletics model we saw earlier, this is a soft ear guard, which means no external hard shell exists. Instead, you've got a neoprene sleeve with EVA foam padding in each ear cup. Unlike a hybrid design, there is no plastic cup either; you just have the foam.
Thankfully, the lack of any hard shell doesn't hurt too much while wrestling because Roar uses a shock-absorbing gel layer in addition to the foam. Once the ear guard is secured properly, it protects your ears and the sides of your head from grinding against the mat or the opponent's limbs. This ear guard is also pretty good for ground-based submission grappling, such as BJJ, where you want something soft with a low profile. 
Matman Wrestling Ultra Soft Ear Guard
Size: Adult
Color: Black
Material: Neoprene, plastic
Features: Adjustable strap
Strengths: Combines hard plastic insert with foam exterior
With 3 adjustment secure mounting points, this Matman ear guard guarantees a perfect fit and never slips out of position, no matter how hard you train or spar. There's an overhead hook and loop strap, an under-the-chin nylon strap, and a third strap behind the head. All three straps are padded and have reinforced stitching.
This is a hybrid ear guard, which means it has a soft and elastic neoprene exterior sleeve with hard plastic inserts around the ears that are padded with foam for shock dampening. The ear cups aren't as large as what you'd get on pure wrestling headgear, but this is a benefit if you're going for BJJ. In jiu-jitsu, you want soft and low-profile ear guards that are flexible over ones that provide maximum impact protection. 
MOSLA Wrestling Headgear
Size: Adult
Color: Black
Material: Neoprene
Features: Ergonomic ear space, hook and loop fastener
Strengths: Low profile, doesn't rub against ears
Another hybrid ear guard with a soft exterior and hard plastic insert, but MOSLA has used a few tricks to make it more comfortable for people with large ears. While the ear cups aren't particularly big, they are ergonomically shaped to conform to the outline of a typical human ear. This helps maximize comfort without increasing size.
You'll also notice that MOSLA ear guards don't have as much padding on the exterior of the hard plastic inserts. This slims the overall profile and reduces the chances of your ear guard getting tangled up in your opponent's clothes while rolling on a mat. 
Gelozid Adjustable BJJ Ear Guard
Size: S, L
Color: Black
Material: Polyester, silicone padding
Features: Adjustable chin strap, Velcro
Strengths: Easy to adjust, secure fit
Most ear guards in this price range have a tough nylon strap with a thin foam insert on top. Most of the time, this insert is way too thin to provide a comfortable fit and digs into your chin, causing severe discomfort after just a few minutes. However, Gelozid changed things by redesigning the entire strap and lining the entire length with silicone.
This way, the strap doesn't need any extra foam pads, and you get an ear guard that's more comfortable despite having a thinner profile underneath the chin. The ear cups are specially designed for men to prevent cauliflower ears. This ear guard will fit perfectly if you have a head circumference of 19.7" to 22". 
Adidas Ear Guard
Size: One-size
Color: 14 patterns
Material: Plastic
Features: Hardshell
Strengths: Lightweight, good impact protection
It's not the most comfortable ear guard you can get, and it will start digging into the side of your head after you take a few bumps on the mat. However, it's insanely light and uses an injection-molded plastic ear cup that's covered in foam to deliver unprecedented levels of protection from hard impacts. Any time you go for a double-leg takedown and bump the side of your head into your opponent's body, this ear guard will ensure you don't feel a thing.
If you're in a choke or headlock, you can rest assured that your ears will never be hurt. The straps can get quite tight on your skin, but at least you can put the thing on within seconds since there's no velcro to adjust. The ear cups have plenty of airflow and don't impede your hearing one bit. 
ASICS Unisex Gel Wrestling Ear Guard
Size: One-size
Color: Black, red, royal blue
Material: Polyester, gel padding
Features: Lace-up closure
Strengths: Affordable, lightweight, good protection
It's one of the few wrestling earguards that doesn't hinder you at all in BJJ. Normally, a hard shell wrestling ear guard that's designed to maximize protection will be a detriment against chokes and submissions in BJJ. However, the ASICS Unisex Gel headgear has an extremely low profile and somewhat soft exterior thanks to its gel padding, preventing it from getting stuck. 
ASICS Youth Gel Ear Guard
Size: Youth
Color: Black, red, royal blue
Material: Polyester, gel padding
Features: Lace-up closure
Strengths: Perfect size for teens and women
If you want an ear guard for kids, the ASICS Youth Gel is certainly worth looking at because it will perfectly fit heads with a circumference of up to 21". This is a hybrid ear guard that uses a soft gel padded exterior in combination with a hard plastic inner cup. Each plastic ear cup has 3 inlet points for air to keep your ears cool and sweat-free.
The straps are made from reinforced nylon and can be easily adjusted. You get a cushioning pad for the chin strap that prevents it from digging into your neck. Adjustment is done through a hook-and-loop system (velcro). 
Matman Wrestling Triforce Head Guard
Size: Adult
Color: Black, black/ white
Material: Plastic, foam padding
Features: Twin head strap, adjustable chin strap
Strengths: Combination of hard shell and foam padding
If you have abnormally large ears and want an ear guard that provides the maximum amount of internal cushioning, check out this Matman model. The hard plastic outer shell is bonded to a soft foam base pad that comfortably sits on the side of your head without digging into the skin. Both head straps on top are secured with a connecting strap that prevents them from slipping and blocking your eyes.
Plenty of ventilation cuts in the plastic shell allow sweat to evaporate freely. These ventilation cuts also improve your situational awareness, especially when compared to the soft ones with 3 tiny holes in each ear cup. The chin strap is made from reinforced nylon and feels quite comfortable thanks to a generously sized foam pad in the middle. 
Cliff Keen EF66 Fusion Headgear
Size: One-size
Color: 17 patterns
Material: Plastic, foam
Features: Velcro closure, padded chin
Strengths: Good ventilation, soft feel
Made from an easy-to-clean plastic material, the Cliff Keen EF66 Fusion is perfect for daily wrestling training at the gym. It is light, durable, and easy to put on or take off. Plus, there's more than enough foam padding to make this viable in competitive matches.
With 5 ventilation holes on either ear cup, the EF66 Fusion keeps your head cool under stress. It lets you hear your surroundings with added clarity. The top strap is a single piece and uses a velcro closure system. It's secured to the ear cups with a wide slit to prevent the strap from rotating into your forehead. 
Gold BJJ Headgear
Size: One-size
Color: Black
 Material: Polyester, foam
Features: Reinforced chin strap, double stitching
Strengths: Free mouthguard, lightweight, good airflow
Most BJJ ear guards just make do with a forehead strap and don't use a top strap. This means the forehead section can slip downward and block your vision if you ever get into a choke hold or submission. With the Gold BJJ headgear, you don't have to worry about something like that.
Its top strap is angled from reinforced nylon, so it won't move around while grappling. Both the chin and forehead straps are secured with velcro. Gold BJJ provides a free mouthguard with each piece of headgear you purchase to sweeten the deal even further. 
Matman Wrestling The Medalist Headgear
Size: One-size
Color: White
Material: Neoprene, plastic insert
Features: Quad strap, hard shell
Strengths: Stays in place, good impact absorption
The closed cell foam padding underneath is visible through the exterior neoprene sleeve. You can see little bulges sticking out from each ear cup, designed for maximum impact protection on hard surfaces. The head straps up top are connected, so they don't slide forward as you grapple.
Underneath is a reinforced nylon chin strap with velcro closure and silicone padding for comfort. Each ear cup has several holes for ventilation; these are located along the edges to maximize sweat dissipation from all angles. Medalist ear guards are optimized for fighters with large heads. 
Ring To Cage Deluxe Ear Guard 2.0
Size: One-size
Color: Black with red accents
Material: Polyester
Features: EVA foam padding, Velcro closure
 Strengths: Low profile and soft nature make it good for MMA
Like the Gold BJJ headgear, this has a top strap to prevent shifting along the vertical axis. You can grapple confidently, knowing your headgear will never get in the way. The chin and forehead straps are adjustable, with velcro closures.
There is just enough padding on the side to protect your ears from holds and keep them from grinding against the mat. But this is relatively thin padding optimized for jiu-jitsu rather than wrestling. The good news is that this padding extends around the side of your head instead of just covering the ears. 
Conclusion
Wrestling ear guards and BJJ ear guards are built differently; the former is designed to protect from hard impacts, while the latter is supposed to be slim and flexible. In wrestling, you're constantly getting slapped on the sides of your head by your opponent as he goes for a snap down. And when you shoot for a double leg takedown, one side of your head is smashing into your opponent's legs.
You need a hardened earguard for wrestling because the impacts are tougher. In BJJ, you want a flexible and soft, low-profile ear guard. Because you are constantly grinding up against your opponent in close quarters, and the ear guard shouldn't get tangled up (plus, there aren't as many hard impacts).
If you found this article useful, you may want to save this pin below to your Combat Sports board.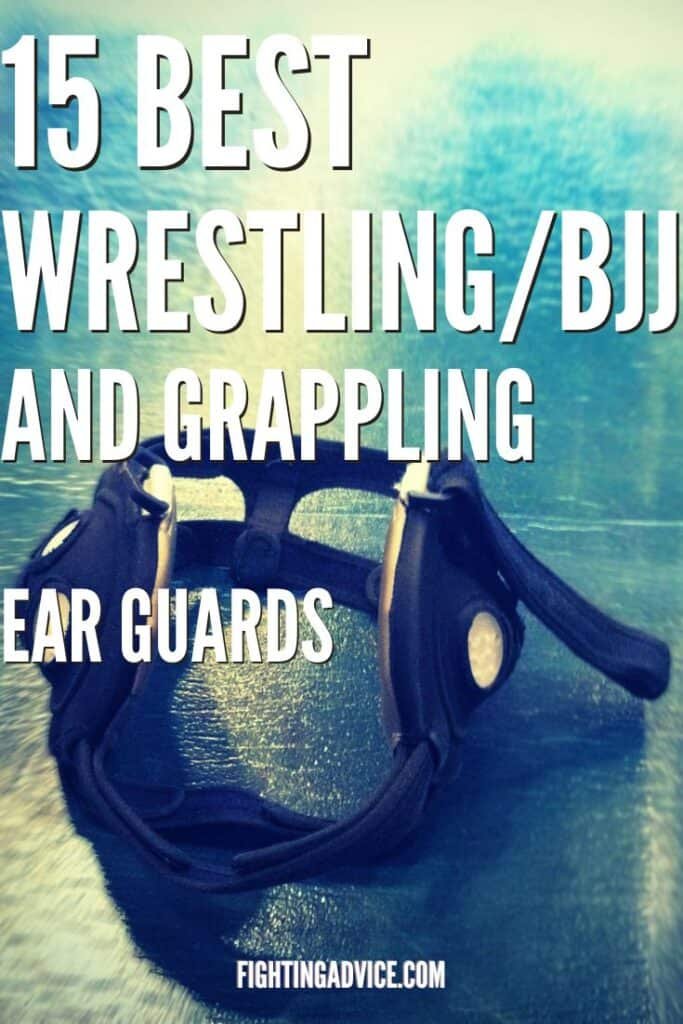 Last update on 2023-12-01 / Affiliate links / Images from Amazon Product Advertising API