Wrestling singlets are one-piece uniforms made of microfibers such as nylon and lycra, designed to balance strength and flexibility perfectly. While choosing a singlet, you must ensure it's the correct size. You don't want one that's too tight or it will restrict your movement.
Conversely, a singlet that's too loose will provide your opponent with more ways to grab onto you and become a disadvantage on the mat. You must also select between High Cut, FILA Cut, and Low Cut. To simplify your life, here are my picks for the best wrestling singlets for adults and youth. 
Nike Boy's Grappler Elite Wrestling Singlet
Size: Large
Color: Red
Material: 88% polyester, 12% spandex
Features: Full mesh back and lower leg panels, flat seams
Strengths: Easy to get in and out of, neck and arm openings are soft for comfort
Made from an 88-12 polyester/ spandex mix, the Nike Boy's Grappler singlet is perfectly sized for young adults in the 150 to 160lb weight range. It's tough, has mesh panels on the back and lower legs to improve sweat dissipation, and uses flat seams for added wearer comfort. The basic red color and high cut make this perfect for school or state-level competitions. 
Adidas Men's Solid Singlet
Size: Youth XS to 3XL
Color: Navy, red, hunter, black, royal
Material: Nylon, lycra
Features: Pull-on closure, broad shoulder straps
Strengths: Sublimated fabric, flexible and sweat-wicking
Adidas is a company that knows how to make performance sportswear, and this men's singlet is a nice example of that. It's basic yet contains everything a wrestler needs- good flexibility, wicks moisture away from the body, and flat seams that don't rub against your skin as you roll. The combination of nylon and lycra makes this singlet very tough (it can withstand stretching in both horizontal and vertical directions). 
ASICS Men's Snap Down Wrestling Singlet
Size: 4XS to 2XL
Color: 6 unique patterns
Material: 84% polyester, 16% spandex
Features: Anti-odor design, rib at leg opening, flatlock seams
Strengths: Comfortable and flexible, high level of compression reduces muscular fatigue
A high-cut singlet made from polyester and spandex mix delivers the best of both worlds. You get an incredibly light and breathable singlet with tons of flexibility, so you can easily set up takedowns and holds. But it's also rugged and tough; it won't tear when you're being pulled or tossed on your back. 
Gymskop Men's Wrestling Singlet
Size: Medium to 2XL
Color: 10 different patterns
Material: 88% polyester, 12% spandex
Features: Low cut, slim fit, flat seams
Strengths: Grants an exceptional range of mobility, breathes really well
This singlet has a silky smooth feel, so you can slide around on the mat all day without it getting snagged or wrinkled. And when the time comes to wash your dirty singlet, you don't have to do it by hand because it's also machine washable. The Gymskop singlet features a low cut, ideal for both Greco-Roman and Freestyle. 
4 Time All American Wrestling Singlet
Size: 3XS to 4XL
Color: Red, teal, black, navy
Material: Lycra 
Features: Moisture-wicking fabric, 4-way stretching
Strengths: Reinforced leg trim makes sure the singlet moves in sync with you
It's cheap but made from 100% pure Lycra for the ideal combination of flexibility and breathability while also being strong enough to withstand forces exerted during an amateur wrestling match. And it comes in all sizes, from 3XS for 40 to 40lb kids to 3XL for adult males between 250 and 280 lbs. Wide shoulder straps provide exceptional support for the entire body, and the elastic lining on the hem keeps this singlet from slipping during a match. 
Matman Bruiser Wrestling Singlet
Size: 4XS to 3XL 
Color: Black, royal, red
Material: Lycra
Features: Matman moisture release tech, vented side panels
Strengths: Grippy elastic fabric never slips or slides no matter how hard you move
Another highly versatile wrestling singlet that comes in sizes suitable for the smallest of kids and largest of adults. It features a tall cut, so plenty of fabric around your upper chest and sides protects the skin as you roll around on the mat. The side panels have mesh-like construction to improve breathability and cool your body's core. 
Roar Athletic Wrestling Singlet For Men And Youth
Size: Youth Small to Adult Extra-Large
Color: Black, blue, red
Material: Lycra
Features: Evaptech moisture-wicking fabric, elastic liners on leg holes
Strengths: Reasonably priced for what is an exceptionally durable product
Ideal for adult and youth wrestlers, the Roar Athletic wrestling singlet is essential for anybody serious about this sport. It's cheap yet tough and easy to maintain, thanks to the sublimated dye and flatlock seams. Made from Lycra, this singlet works well for both casual training and sparring. 
Anthem Athletics Helo-X Men's Wrestling Singlet
Size: XXS to XXL
Color: 7 unique patterns
Material: Lycra
Features: Flatlock stitches, fully sublimated logos, performance v-neck
Strengths: Breathable panels, high compression for optimal blood flow and support
If you want a singlet that protects your upper body while also acting like a compression sleeve for your lower body, check out the Anthem Athletics Helo-X. Its unique V-shaped neck makes it stand out from the rest of the crowd, and the side panels feature special inserts to improve ventilation. The logos will never crack or peel because they are fully sublimated and guaranteed to last forever. 
Sandbank Men's Sports Wrestling Singlets
Size: S to XL
Color: 9 unique patterns
Material: Polyester
Features: Flatlock seams
Strengths: Breathable fabric, reinforced stitching
It's available in various sizes and color patterns. It is made from a polyester fabric blend that maintains its integrity no matter how you pull it. The fabric is also quite comfortable, with a silky finish, and has flatlock stitching. Flatlock seams are more comfortable on your skin and a lot tougher than regular seams. 
KO Sports Gear Wrestling Kit
Size: Youth S to Adult 3XL
Color: Release the Beast, USA pattern
Material: Polyester and elastane
Features: 4-way stretching fabric
Strengths: Shrink-resistant and wrinkle-free fabric, moisture-wicking design
This is the only item on my list to be an entire kit; it contains 3 items- a hooded sweatshirt, singlet, and fight shorts. You can wear the shorts and sweatshirt on your way to training or as you're walking out to the ring with the singlet underneath. All logos and graphics are sublimated, so they won't crack, peel, or wash away. 
Cliff Keen, The Patriot USA Singlet
Size: 3XS to 2XL
Color: Black
Material: Lycra
Features: Pull-on closure, sublimated US flag graphics
Strengths: Striking looks, durable construction, comfortable fit
This is a very powerful-looking singlet with a distressed USA flag on the right thigh and a unique black background that gives a sense of wear and tear. It's intended for the highest level of competition. It is made from pure Lycra with reinforced stitches that can easily support your body weight several times over. The thighs and abs act like compression sleeves, supporting your joints and muscles as you wrestle. 
Matman Wrestling Singlet
Size: 4XS to 3XL
Color: Royal blue, red
Material: 82% nylon, 18% spandex
Features: High cut, pull-on closure, sublimated logos
Strengths: Elastic, breathable, and 4-way stretchable for maximum durability
Matman Wrestling has incorporated some truly amazing features into this singlet, like the elastic stitching combined with flat seams. This gives the seams great strength and enough flexibility to move with your body under stress. Then, you have the side panels with moisture-wicking fabric that pulls sweat away from your core and lower back, helping you stay cool throughout the match.  
Elite Sports Men's Wrestling Singlets
Size: Small to 2XL
Color: Black, blue, green, navy, red
Material: 85% polyester, 15% spandex
Features: Flatlock seams, high compression bottom
Strengths: Antibacterial fabric with high durability and sweat-wicking abilities
Because it has a higher percentage of spandex in the fabric than most other singlets, this Elite Sports singlet is flexible enough to give you an unrestricted range of motion. It uses polyester as a base, which is well known for being good at wicking moisture away from the body. The bottom part of this singlet presses onto your thighs like a compression short, providing support and preventing it from riding up your leg during matches. 
TRI-TITANS Wrestling Singlet
Size: XS to XL
Color: Samurai art
Material: 86% polyester/ lycra, 14% spandex
Features: Flatlock seams, double stitching
Strengths: Perfect for wrestling training, can even be used for weightlifting
The fully-body samurai artwork on the front of this singlet stands out. It draws attention almost immediately as you enter a gym. But it's not all show, as this is a Japanese-style singlet designed to withstand powerful moves from you and your opponent. You don't have to worry about that beautiful artwork fading either since it's fully sublimated and etched permanently into the fabric. 
Great Call Athletics Wrestling Singlet
Size: 4XS to 3XL
Color: Black
Material: 82% polyester, 18% spandex
Features: Machine wash, pull-on closure
Strengths: Ideal combination of strength and flexibility, comfortable on your skin
The cuts and seams are structured in such a way as to perfectly match the contours of a wrestler's body. Unlike cheap singlets with almost transparent and super thin fabric, Great Call Athletics uses a thick polyester + spandex blend that's rugged and durable. This thickness doesn't mean it's heavy; the singlet is quite light and has excellent moisture-wicking ability. 
Conclusion
Always get a wrestling singlet that conforms to your body size and shape without feeling too restrictive; it should have good sweat-wicking abilities, too, so your body doesn't overheat. A mix of nylon, elastane, and lycra is common for this purpose. Flatlock seams provide excellent strength without rubbing against your skin.
Your chosen cut is a personal preference; the high cut is the most common in international competition. It comes up to your armpit and just above your chest line. FILA cut is about midway to the armpit; the low cut is like wearing a pair of trunks with suspenders.
If you found this article useful, you may want to save this pin below to your Combat Sports board.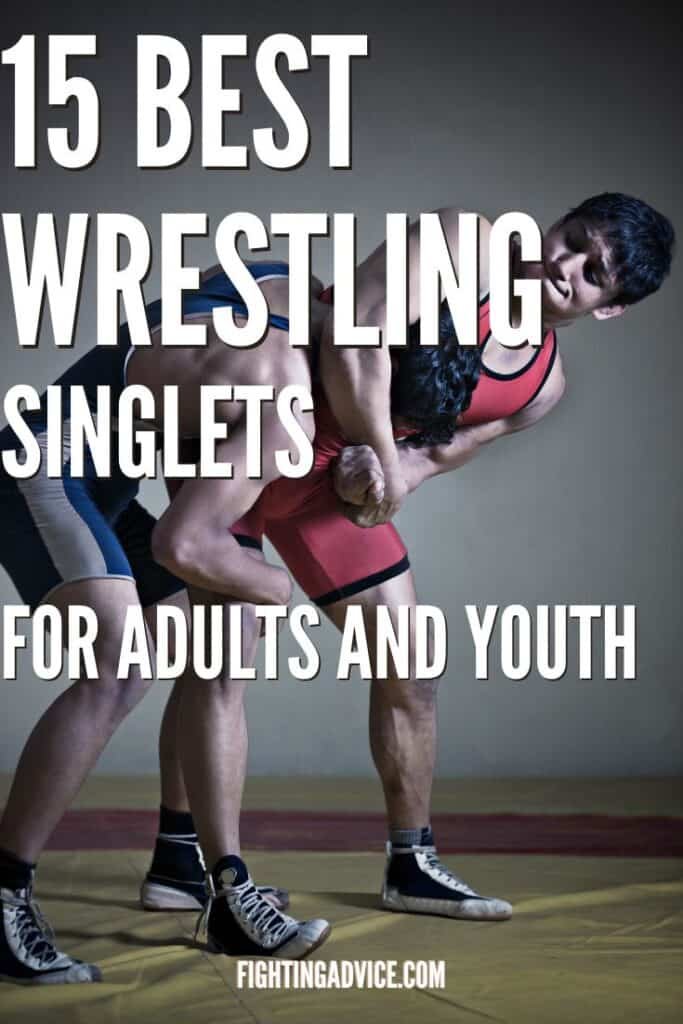 Last update on 2023-12-01 / Affiliate links / Images from Amazon Product Advertising API