If you go to a fighting gym, you need to carry your personal gear with you. This includes clothes, your GI, rash guard, shorts, shoes, gloves, shin pads, etc. You also need a gear bag to put all this stuff in; otherwise, it will be unorganized, and you'll look uncool (nobody wants to look uncool).
So, here are the best MMA and boxing gear bags. Every decent gear bag needs to have mesh pouches for your wet equipment and ventilation panels to keep the inside dry. It should also have good straps that are tough and comfortable to hold.
Hayabusa Ryoko Mesh Gear Bag
Size: Regular
Color: Black/ grey
Material: Nylon, polyester
Features: Tear-resistant mesh, dual water bottle carry
Strengths: Wet and dry gear separation, lots of ventilation
Hayabusa made the Ryoko an all-in-one gym bag that will last several years despite being used regularly to carry a full complement of training gear. The little things stand out and make this bag feel special, like the dual water bottle pockets- because one isn't enough for intense training. Then you have the tear-resistant mesh, which is much more resilient than ordinary mesh found on most other bags.
The quality of the zippers and stitching also tells you that this bag is made with care by people who know their stuff. The front pockets are designed specifically for wet gear, so your Gi or rash guard in the main compartment doesn't have to get drenched in sweat before sparring.
Fairtex Gym Bag For Muay Thai And Boxing
Size: Large
Color: Black
Material: Canvas
Features: Adjustable strap, metal carabiner, mesh side pocket
Strengths: Canvas fabric is extremely strong and has a large underpocket
It's expensive but well worth the money if you're a hardcore MMA or boxing enthusiast and hit the gym regularly. Because the bag is made from canvas, it's heavier than what you're used to, but that added weight brings more strength and a bag that will last several years with no issues. The main compartment can comfortably accommodate a pair of boxing gloves, MMA gloves, your Gi, wraps, straps, bands, etc.
Meister Vented Convertible Duffel
Size: Regular
Color: Red, black/ electric green, green, pink
Material: Polyester-nylon
Features: Convertible design, mesh panels
Strengths: Breathable design keeps your gym gear dry
It's called a convertible duffel bag because you can switch between regular hand carry and backpack mode anytime. This bag also works well as an airplane carry-on. 
The shoulder straps are hidden in special pockets and can be pulled out within seconds; they are adjustable and attach to the bottom of the bag with metal carabiners. A breathable mesh panel is installed on both sides, so air flows in and out, keeping your kit dry and stink-free.
RDX Kit Bag
Size: Regular
Color: Red
Material: Nylon
Features: Double zipper side pocket, mesh glove compartment
Strengths: Padded carrying handle has velcro, removable shoulder strap
Whether you're a kickboxer, wrestler, or BJJ practitioner, this bag will serve you well and carry every item you could possibly need while training. It is similar to the Meister convertible duffel in that it can switch between backpack mode and regular mode on the fly.
So, if you ever go hiking, you can carry all your supplies and outdoor kit inside this bag just as you would your gym clothes and supplements.
Superare Carico Gear Bag
Size: One-size
Color: Black
Material: 500D tarpaulin PVC
Features: Waterproof fabric, internal mesh pouches
Strengths: Plenty of space for your GI, gloves, shoes, etc.
Available in 3 unique styles, the Superare gear bag is extremely expensive and quite rarely (get it?) seen in a gym. That's because most people just look at it and can't seem to understand why it costs so much more than other bags. Well, for starters, the bag is made from 500D tarpaulin PVC, which is the same stuff they use to make army tents and roofs of truck beds.
It's incredibly strong and completely waterproof. You could fill this bag up with all your training gear and toss it into a pool, and not a single piece of kit would have a drop of water on it. The stitching and seams are immaculate, and there are plenty of compartments for items like your Gi, gloves, shoes, etc.
Elite Sports Jiu Jitsu Duffel Backpack
Size: Regular
Color: Black
Material: Nylon, mesh
Features: Ventilation panels, expandable bottom section
Strengths: Large enough to carry gym clothes, wraps, gloves, drinks, etc.
While the Meister is a convertible, this one is extendable. You can easily switch between compact and full-size mode; just unzip the bottom compartment, and it will drop down. You can use the lower compartment to store light stuff- things like straps, bands, wraps, mouthguards, bandages, etc.
There are three side pouches on the exterior and two mesh panels on the main compartment to aid with ventilation. The main flap is large and secured with two heavy-duty zippers, so you can easily store all your essential gear in just the main compartment. Side pockets can hold your earbuds, chargers, and other peripheral items.
Beast Power Gear Gym Duffle Bag
Size: Regular
Color: Red camo, grey camo
Material: Cordura, matt nylon
Features: Reinforced grip pad, dedicated shoe compartment
Strengths: Fabric is waterproof and tear-resistant, has separate wet gear mesh pocket
It has plenty of mesh side pouches for accessories and wet items (like towels) and a large central compartment that is supported by reinforced carry straps on either side. You also get a dedicated shoe compartment on one end and a water bottle holder on the side. There aren't a ton of internal pouches, but the main compartment is more than enough for all you need in a MMA gym.
Victory Martial Arts Breathable Duffel Bag
Size: XL
Color: Black
Material: Cordura
Features: Reinforced waterproof bottom pad, adjustable shoulder strap
Strengths: Strap can be removed, double zippers for the main compartment
They say it's built to last, and I trust the manufacturer because this bag is made out of Cordura. It's a type of nylon often found in military and law enforcement gear. Cordura is waterproof, self-extinguishing, and extremely strong.
If it can withstand the requirements of the military, it will surely hold up in your gym. And since this synthetic fiber is so light, the bag comes in under 3 lbs. The bottom has a hardened waterproof panel with 5 feet that keeps it raised above the ground.
Ring To Cage Mesh Gear Bag
Size: One-size
Color: Black
Material: Nylon, synthetic leather
Features: Padded carry handle, detachable and adjustable straps
Strengths: Mesh panels keep gym apparel dry and odor-free
There's mesh on this bag's panel, corner, strap, and side. There is so much mesh that you could build a fishing net out of it. What all this mesh does is create a very well-ventilated container for all your sweaty MMA and boxing gear.
The drier you keep them, the less they're going to smell. Besides, moisture accumulating in your gloves can cause the padding to rot, becoming a breeding ground for bacteria and mold. The top has a full-length flap, so you can easily access all your gear in one motion.
Elite Sports MMA Duffel Bag
Size: Large
Color: Grey, black
Material: Cordura, mesh
Features: Removable shoulder strap, mesh pouches, and side panels
Strengths: Shoe compartment is easy to access, good weight distribution on straps
The shoe compartment in this bag has a full-size mesh panel with double zippers that run the full diameter of the bag. This means you can easily access your shoes within seconds of laying the bag down, and they won't stink because of how much air is circulating through the chamber.
The water-resistant lining between compartments prevents sweat and microbes from being transferred between items that are stored in different parts of the bag.
Notorious Combat Backpack
Size: Large
Color: Black/ red
Material: Nylon
Features: Dedicated wet compartment, twin openings for the main compartment
Strengths: Internal zippered pockets on flaps, rugged mesh, thermally insulated pocket
Notorious Combat designed this gear bag for MMA and wrestling students. Still, it can also be used for every other combat discipline. At the end of the day, it's an excellent gear bag, and you can put whatever you want inside it. The main compartment will comfortably accommodate a pair of gloves, wrist wrap, finger tape, your Gi, headgear, and other essential items.
Next to the main compartment, there's a flap that comes down to reveal the shoe compartment. All of these compartments are lined with waterproof layers to prevent moisture transfer. The bag's exterior has mesh ventilation panels, so you can train all day without worrying about your kit smelling bad.
Elite Sports Warrior Series Gym Backpack
Size: Large
Color: Black
Material: Cordura
Features: Mesh ventilation pocket, hidden double carry straps
Strengths: Easily washable, water-repellant Cordura lining
It's compact and light, with plenty of space for core items such as sparring uniforms and PPE. The side pouches can be used to carry your belts, straps, wraps, and whatnot. Being made from Cordura, this bag is waterproof.
There are ventilation panels made from mesh to draw out the moisture from your gear and keep them dry. And a separate shoe compartment comes in handy if you want to pack a pair for your cardio workout.
Meister Classic Mesh Duffel Gym Bag
Size: Classic
Color: Black
Material: Polyester
Features: Double-layered chainmail-style polyester mesh
Strengths: Ample pockets and pouches for small valuables
You can get this in two sizes- Classic and Large. I recommend going with classic unless you are packing enough kit for both you and your gym buddies simultaneously. The large size is colossal and overkill for most martial artists.
The main compartment alone will hold everything in one place, but you should definitely compartmentalize your stuff. It will help you find your stuff quicker, and you won't have to toss out everything just to grab a mouthguard that's sitting at the bottom of the gear pile.
Gold BJJ Duffel Bag
Size: Large
Color: Black, grey
Material: Nylon
Features: PVC-coated polyester flaps, removable strap
Strengths: Gi pocket, belt pouch, mesh pocket organizers
It is one of the few bags with a dedicated GI pocket, which is also waterproof. You don't have to store your GI, sweaty towel, and gloves in the same place. You can separate them into different parts of the bag.
The main chamber will easily accommodate a rash guard, Gi, pair of MMA gloves, belt, wraps, straps, and water bottle. You can use one of the many internal pouches for your valuables and accessories.
MMA Gear Bag
Size: Regular
Color: Black, grey, red
Material: Nylon, mesh
Features: Dedicated shoe compartment, waterproof panels
Strengths: Extremely spacious, can accommodate a day's worth of supplies
It's a little heavier but incredibly sturdy and has enough internal volume to fit supplements for 5 Mister Olympias. Of course, you're not going to be interested in all those "supplements" that professional bodybuilders take and just want space for your Gi, gloves, headgear, etc. The bag will fit all that and a pair of shoes in the dedicated shoe compartment.
The bag looks rather inconspicuous and doesn't attract much attention like other gear bags. The phrase "martial arts" is inscribed in Japanese on the side pouch, which looks pretty cool.
Conclusion
You can get away with a smaller bag, depending on how much gear you carry. Or if you're the type who treats the MMA gym like a 2nd home, you might bring some extra stuff. T-shirts, electrolytes, bands, wraps, etc.
No matter how much or how little you bring, a decent gear bag will help you carry it in an efficient and organized manner. I also recommend some gym bag deodorizer and no-stink pouches (you can stick those pouches in your gloves).
If you found this article useful, you may want to save this pin below to your Combat Sports board.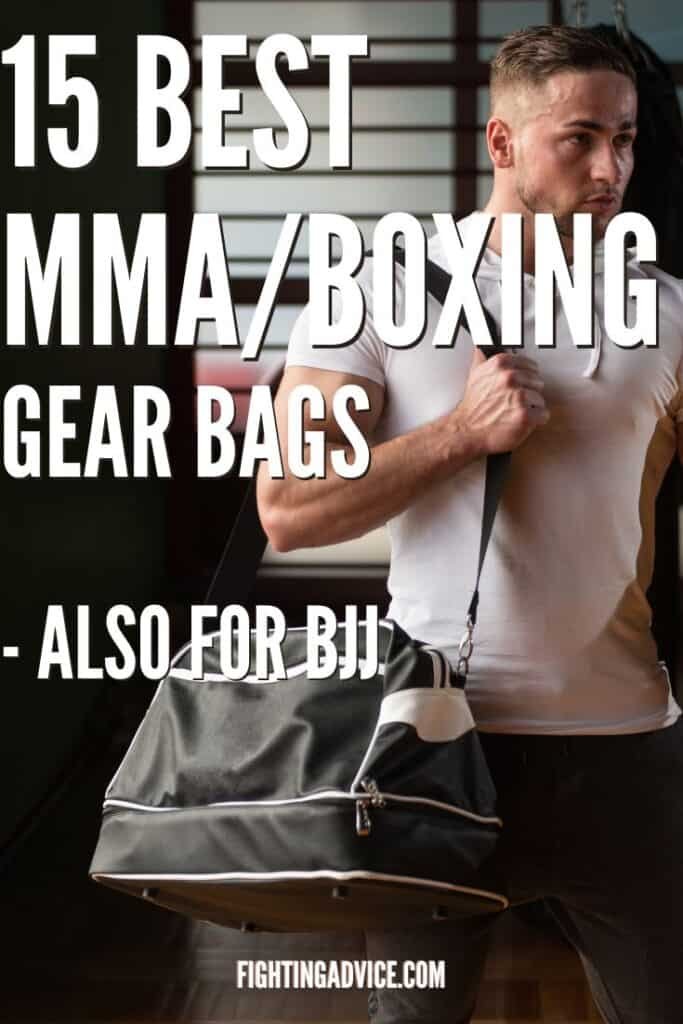 Last update on 2023-12-04 / Affiliate links / Images from Amazon Product Advertising API