Getting the right Muay Thai pads can differ between hating and loving training. A good pad has to be made from quality leather, and if it's made from faux leather, it better be Syntex or something similar. There should be multilayer foam padding, dense and light foam, to balance shock absorption and comfort.
Look for pads with nylon stitching on the shell; this prevents them from falling apart as they eat heavy blows each day. Here are the best Muay Thai pads to make your task of choosing a pad much easier. Some are lighter and designed for short punches/ kicks. In contrast, others are heavier and designed for full-power combos from larger fighters. 
Fairtex Curved Muay Thai Pads
Size: Small, standard, extra long, extra thick
Color: Black, white
Material: Cowhide leather
Features: Twin support straps, reinforced stitching
Strengths: Lots of padding, retains its shape over a long time
Being curved gives these pads an advantage when it comes to absorbing kicks. They come in various sizes, so you can get one based on your needs, whether you want a power or precision pad. The shell is made from genuine cowhide leather and secured with nylon laces + reinforced stitches. There is no extra padding on the rear, but the forearm straps are padded. 
Hayabusa PTS 3 Thai Pads
Size: Small
Color: Black
Material: Faux leather, foam
Features: Crack-resistant shell, 5-layer foam padding
Strengths: Contoured face redirects kick force toward the center
Hayabusa is all about cutting-edge technology that's proven in the ring. These PTS 3 pads were designed in collaboration with professional Muay Thai fighters to deliver a product you can be proud of owning. There is an internal "spine" for added support, combined with 5 layers of foam padding for consistent performance, even against the heaviest hitters. 
Venum Giant Kick Pads Pair
Size: Large
Color: Black/ black, black/ white
Material: Faux leather
Features: Non-absorbent construction
Strengths: Faux leather is of good quality, stitching is very tough
If you want one of the thickest pairs of Muay Thai kick pads, look no further because each one of these has 4 inches of padding. And on top of that dense, multilayered foam + gel, there's a crack-resistant Skintex leather shell. Yes, it's synthetic leather, but it is of the highest quality and more than suitable for years of abuse at the Muay Thai gym. 
YOKKAO Kicking Pads
Size: Standard
Color: 8 unique patterns
Material: Cowhide leather
Features: Conjoined twin straps with built-in padding
Strengths: Made from premium materials, easy to get on and off
A very heavy-duty Muay Thai pad with conjoined forearm straps and extra padding on the rear to tank heavy kicks from large fighters. The inside is coated with a non-slip material, and the outer shell is made from 100% genuine leather, held together with reinforced seams. Industrial grade rivets hold the top grip to the pad, so it will never become loose no matter who's kicking the pad. 
Venum Skintex Leather Light Kick Pad
Size: Small
Color: Black/ ice, matte black
Material: Skintex leather
Features: Leather velcro straps with metal clasps
Strengths: Secure closure system and lots of padding
You might think it's expensive for a synthetic leather pad, but the construction is of really high quality. Only the best Skintex leather has been used, combined with premium shock-absorbing gel that delivers consistent feedback on every strike. It won't sag, crack, or dent- no matter how often and how hard you strike it.  
RDX Muay Thai Pads
Size: One-size
Color: Black, blue, red, white
Material: Maya hide leather
Features: Nylon lacing, triple-layer stitching
Strengths: 3-layer padding with a gel layer at the back
Unlike some of the other kickboxing and Muay Thai pads, this one has a very natural curve that lends itself well to a wide range of striking techniques. You can punch, elbow, roundhouse, straight kick, jab, etc., at any power or speed level that feels comfortable to you. Because these pads are quite tall, they can be used to simulate most parts of the upper body (including the head). 
Fairtex KPLC5 Muay Thai Pads
Size: Standard
Color: Black, gold
Material: 100% genuine leather
Features: Adjustable velcro straps with metal clasps
Strengths: Hard grip at the top, curved face to help fighters improve accuracy
Fairtex is the gold standard for Muay Thai gear, and the KPCL5 series is perfect for trainees new to the sport. It's lightweight and easy to get on your arms for some quick sparring sessions. The foam padding is more than adequate, even for heavy strikers who like to put their full body weight behind every kick. 
Everlast Thai Pad
Size: One-size
Color: Black
Material: Synthetic leather
Features: Single wide-body strap with velcro closure, hard top grip
Strengths: Multi-purpose, can be used for Muay Thai, kickboxing, and boxing
This has a single forearm strap, but it's wide, so you get almost the same support as twin straps (there's also a copious amount of padding). It is filled with dense microfiber and foam stuffing, similar to what you get in a quality heavy bag. The flat front face and tall profile make this ideal for training punches, elbows, and kicks. It is sold as a single pad, so be sure to order two.
Fairtex Thai Superior KPLS2 Pads
Size: Standard
Color: Black/ red
Material: Cowhide leather
Features: Laced nylon stitching, soft multilayer foam padding
Strengths: Has an ergonomic shape with good weight balance
These are slightly larger than the KPCL5 pads but use the same cowhide leather shell and laced nylon stitches. Resulting in an undeniably rugged construction that will hold up to the test of time, whether you're practicing top-level Muay Thai strikes or kickboxing. The curved face is good for your shins if you're the one striking, as it impacts right in the middle for perfect force distribution. 
Contender Fight Sports Muay Thai Pads
Size: Standard
Color: Black
Material: Vinyl
Features: Hook and loop closure
Strengths: Can take kicks and punches all day, every day, for years
It's cheap but has everything you want from a good Muay Thai pad- the adjustable velcro straps, nylon laced shell, riveted top handle, etc. And while the shell is synthetic leather, you can't expect genuine cowhide at this price point. The foam padding is of high quality, it's dense, and retains its shape well; moisture absorption is nil, so you don't have to worry about the pad rotting away.  
Combat Sports Muay Thai Pads
Size: One-size
Color: Blue
Material: Leather
Features: 4" thick multi-layer padding, shock-absorbing air bladder
Strengths: Lightweight foam makes this perfect for training basic techniques
These are some of the cheapest genuine leather Muay Thai pads you can buy, and they measure 16" x 8" x 4", which is right in the middle. Four inches of padding is more than enough for most Muay Thai fighters; it will protect your shins and the forearms of whoever is holding the pads. The seams are hidden well, so they won't rub against the skin on your legs as you strike these pads (plus the edges are rounded). 
Fighting Sports Tri-Tech Elite
Size: Standard
Color: Black
Material: Leather
Features: Twin hook and loop straps
Strengths: Uses three different types of foam for a balance of protection and durability
Tri-Tech means these pads use three different types of foam: a comfort layer, a shock-absorbing layer, and a protection layer at the very rear. The strike face has this subtle curve with rounded edges that keep your shin nice and safe while striking. The forearm straps use velcro and metal loops for a closure system that is guaranteed to stay in place even if your body gets thrown back. 
Revgear Assassin Thai Leather Pads
Size: Standard
Color: Black and gold
Material: Leather
Features: Riveted top grip, hook and loop closure
Strengths: Bonus padding for forearm, reinforced stitching with nylon laces
Possibly the single most desirable item on my list, Revgear Assassin pads were designed by none other than Muay Thai legend Mark Dellagrotte. They have a thick external shell made of premium leather that wraps all the way around to the back, secured in place by two thick velcro straps and a riveted handle. The black and gold color scheme makes these pads stand out from the rest, and you get extra padding for your forearms to shrug off even the heaviest of kicks. 
Combat Corner Pro Muay Thai Pads
Size: Medium
Color: Black and red
Material: Leather
Features: Adjustable hook and loop forearm straps
Strengths: Genuine leather construction, dense yet light foam filling
It's not as overbuilt as the Revgear Assassin but more than adequate for the average Muay Thai fighter/ trainee. There is no bonus forearm padding on the rear, but that also makes it much easier and quicker to slip these pads on and off while training at the gym. The shell is made from genuine leather and held in place by thick nylon laces. 
Ring to Cage Ultimate MiM Curved Pads
Size: Medium
Color: Black and green
Material: Leather, neoprene
Features: Machine injection molded foam
Strengths: Holds in place really well, has extra padding near the elbow
If you want all the padding in the world, grab yourself a pair of these- Ring to Cage Muay Thai pads have foam, gel, air, and everything in between. These are extremely thick and heavy but also super comfortable to hold and protect the shins of your fighters really well. The foam padding is machine-injected, so it will never deform or shift around, no matter how hard you strike it. 
Conclusion
A curved pad is better for taking kicks as it directs the force toward the middle, which is easier for your forearms to handle. If you are more interested in a pad for punching and elbows, a flat one will serve you well. Thicker pads are heavier but also easier on your arms if you hold them. They are also better at tanking long-kick combos.
If you get a long pad, you can use it to train kicks to the head as it will go up higher. Shorter ones are ideal for precision training. Pads with foam on the straps feel a bit more cumbersome to put on and take off, but they provide superior comfort while you're training.
If you found this article useful, you may want to save this pin below to your Combat Sports board.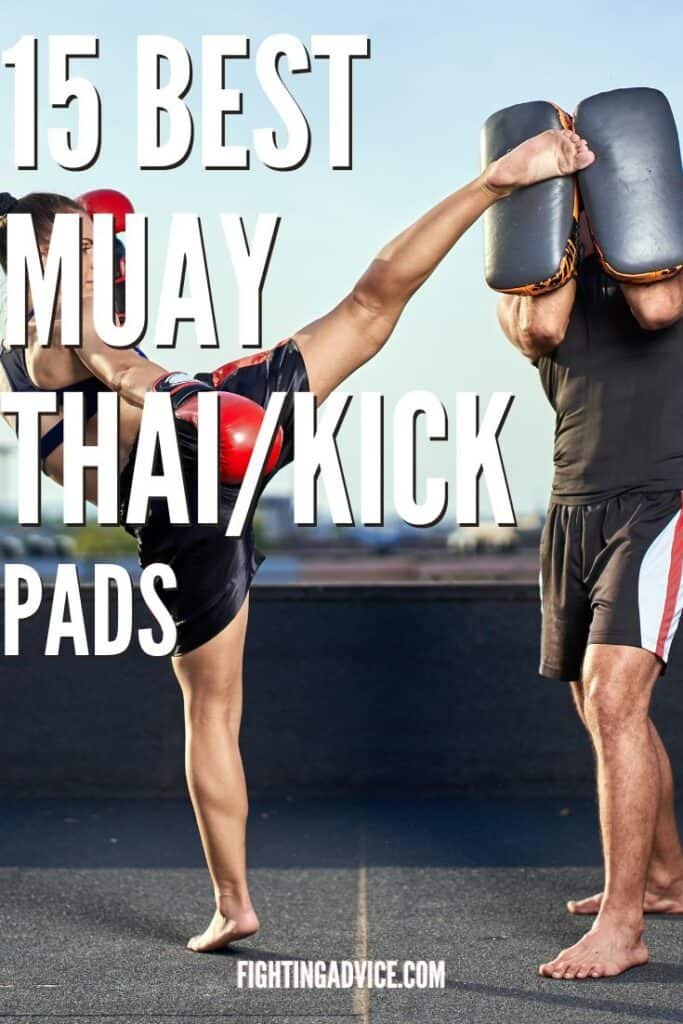 Last update on 2023-11-30 / Affiliate links / Images from Amazon Product Advertising API