While not mandatory, using ankle supports in Muay Thai will improve the longevity of a fighter and make sure that they don't sprain an ankle from overextension. Finding good ankle support isn't hard, provided you know what to look for. Your primary goal is to keep the muscles and ligaments compacted together and provide some padding for vulnerable areas like the instep.
Today, I shall look at the best Muay Thai ankle support. These are also called ankle protectors or ankle sleeves. If you live in a cold climate, the ankle support doubles up as a warmer and thermally insulates your foot from the mat.
Hayabusa 2.0 Ankle Support
· Size: S, M, L, and XL
· Color: Dark grey
· Material: Polyester blend
· Features: Anti-fraying stitched edges
· Strengths: Slim and light, comfortable, durable
This is essentially a compression-support sleeve that's optimized for combat sports. It has no foam or gel padding, but the cloth is of decent thickness and breathes well. Made from a polyester blend, these ankle supports can take years of pounding on full-power bags.
The sleeves are quite elastic; they easily slide up your leg and contract to provide a good fit. The medium size should work well if you are between 5'8" and 5'10". For 5'11" and higher, I suggest the large size or even the X-large (if you have thicker legs).
Sanabul Battle Forged Gel Ankle Guard
· Size: S/M, L/XL
· Color: Black with white accents
· Material: Polyester
· Features: Gel padding
· Strengths: Comfortable fit, superior protection
In terms of compression, these ankle supports aren't particularly good. They sit on top of your ankles rather than compressing the joint and insole. However, what this does well is protect from blunt force trauma every time you kick a bag or your sparring partner wearing shin guards.
The Sanabul Battle Forged Guard has gel-infused padding- both on the ankle and the instep area. This protects the top of your foot, the ankle joint, and the lower shin. Think of this as offensive gear rather than protective; it's built to help you hit harder without injuring your ankle.
Combat Sports Muay Thai Ankle Support
· Size: One-size
· Color: Grey, black, blue, purple, red, and white
· Material: Polyester
· Features: Unisex, breathable fiber
· Strengths: Versatile, slim, good compression
While these are a bit thicker, they are still very comfortable and can be worn underneath shin guards. I do not like "one-size-fits-all" products, but Combat Sports uses a nice polyester blend with much-stretching potential. It can get tight for those over 6', but if you use it in short bursts (remove after a few sets), you'll be fine.
One gripe I have with this ankle support is that its tag is on the inside, making you feel itchy after a while. Otherwise, the compression is good. It prevents your ankle from rolling or overextending when you throw kicks.
Fairtex AS1 Ankle Support
· Size: One-size
· Color: Pink, black/ blue, black/ red, green
· Material: Poly-cotton
· Features: Scratch and tear-resistant
· Strengths: Fits under shin guard, provides extra foot traction
Fairtex knows their Muay Thai gear, and the AS1 ankle support is a good example of how to do it right. No excessive padding or tags that scratch against your feet, material that's thin but provides adequate compression, and good breathability. The AS1 does all of this at a relatively good price.
It's made from a poly-cotton blend for strength and is extremely light. Despite having narrow cuffs and very little stitching on the edges, it holds onto your legs and doesn't come undone while training. You can comfortably wear these under shin guards.
Venum Kontact Ankle Support
· Size: One-size
· Color: Red, black, blue, white, and yellow
· Material: Cotton
· Features: Stretchable, easy wash
· Strengths: Looks unique, comfortable, complete ankle protection
Despite being a Venum product, this ankle support doesn't have 20 tattoos of dragons and skulls on it; I'm disappointed. But if you care less about that sort of stuff and just want a well-made compression sleeve to protect your ankle, I suggest you buy this product. It's not particularly expensive and comes in 5 different colors.
I could do without the one-size-fits-all thing, but I guess it's Venum's way of making this a cheaper and more mass-marketable product. The material is a cotton blend that protects against daily abuse. You can kick a heavy bag for several sets and not break a sweat because the cotton will suck it all up and throw it back into the air.
Sanabul Essential Striking Gel Ankle Guard
· Size: S/M, L/XL
· Color: Black, green, orange, pink, red
· Material: Polyester blend
· Features: Gel padding
· Strengths: Good compression, multi-use for kickboxing, MMA, and Muay Thai
Sanabul is a veteran at making gel-infused combat gear, whether it's boxing gloves or Muay Thai ankle supports. The Essential Striking Gel support is cheap yet provides more protection than ankle wraps, which cost much more. Unlike the Battle Forged Gel guards, this does provide some compression to prevent your ankle from rolling.
But it is better at being a guard rather than a compression sleeve due to the heavy fabric and gel padding. Think of it as an offensive tool designed to help you strike with maximum force, using the gel pads as a shield. It also works if you're recovering from an ankle injury and need something to act as a cushion against the blows while training.
Meister Muay Thai Ankle Wraps
· Size: One-size
· Color: Youth black
· Material: Poly-spandex
· Features: Multi-use, machine washable
· Strengths: Versatile, durable, affordable
If you want ankle support for kids and women, this one from Meister is a perfect fit. It is ideal for feet sizes 5 to 9 in women and kids. The sleeve is made from a polyester-spandex blend and provides adequate compression.
There are ankle supports out there with much more compression for light bag work and sparring, mostly for beginners who don't throw powerful kicks all the time and just want to focus on technique.
WYOX Ankle Wraps
· Size: S/M, L/XL
· Color: Black, blue, green, gray, pink, red
· Material: Nylon cotton blend
· Features: Ergonomic fit, hand and machine washable
· Strengths: Supports core muscle and ligament groups in the ankle
WYOX ankle wraps have tall cuffs to prevent them from sliding around on your leg. Even if you have really smooth legs, these are designed to stick in place and protect your ankle from unintended injuries. There's no padding; these are basic compression socks/ wraps.
The wraps are made from latex-infused nylon and cotton. Because of the material choice, these have excellent moisture-wicking capacity to keep your feet dry and enormous tensile strength, so they won't tear even after years of hard kicks. The wraps provide ample compression to key ligaments and joints around the ankle.
Geyoga Compression Ankle Sleeve
· Size: L
· Color: Black and blue
· Material: Polyester-spandex
· Features: High elasticity, breathable
· Strengths: Simple but effective design, sleek looks, soft fabric
Geyoga isn't a brand many of you have heard about. Still, this ankle sleeve is pretty robust and definitely worth checking out if you're on a budget. It's light and strong, with plenty of elasticity to compress your ankle joint and insole. The poly-spandex blend makes these supports quite breathable and easy to wash.
You can wear these under shin guards and shoes if you want; they are relatively slim and don't move around much. The Geyoga compression sleeves only come in two sizes, S/M for women and L/XL for men. This is the L size; it should fit men of average build pretty comfortably.
ISH Sports Ankle Support
· Size: One-size
· Color: Black
· Material: Cotton
· Features: Unisex, multi-sport
· Strengths: Warm and comfy, good compression
It's one of the cheapest ankle supports you can buy. This pair from ISH Sports is lightweight and good at sucking up impact. It uses a poly-cotton blend to provide a good combination of elasticity, tensile strength, and moisture-wicking capacity.
Edges are stitched to prevent fraying and hold the sleeve together even under intense load, like what you'd get from a full-power spinning backkick. The insole part is soft and doesn't dig into your feet, while the sides and top press into your ankle joint to prevent it from rolling.
NATIONMAN Muay Thai Ankle Support
· Size: Large
· Color: Black with white accent
· Material: Poly-spandex
· Features: High elasticity
· Strengths: Comfortable fit, slim profile, easily washable
The NATIONMAN ankle support is suitable for men with feet sizes between 7 and 14; it's a one-size sleeve made from a polyester-spandex blend. While highly elastic, it doesn't deform or tear under stress. This pair can be used for bag work, sparring, or exercising.
Suppose you're recovering from a rolled ankle. In that case, the NATIONMAN sleeves will help you get through training sessions while protecting your injured ankle and avoiding future incidents. This product breathes well, is easy to wash, and is relatively affordable, considering its build quality.
Prime Sports MMA Ankle Support
· Size: Large
· Color: Black with red accent
· Material: Cotton
· Features: Ergonomic design
· Strengths: Great compression around the ankle and insole
Useful for kickboxing, Muay Thai, and taekwondo- any martial art/ combat sport in which you can roll your ankle while kicking. Prime sports MMA ankle supports are compact and lightweight, yet very elastic and fit even around large legs. These are cheap, look good with the black-red color scheme, and can be used for several months of intense training.
Any time they get dirty, you can toss them into the washing machine (hand washing works, too), and they will come out like new. The material does not shrink after washing, and they have a rather small wear-in period. These supports are built from a cotton blend, making them nice and comfy.
World MMA Gear Muay Thai Ankle Support
· Size: One-size
· Color: Red
· Material: Cotton
· Features: Shock dampening
· Strengths: Good compression, durable fabric
You get more compression and ankle protection than the cheap stuff you can buy at your local Walmart. And it looks slick with the all-red/ all-blue theme. The stitching provides white accents on the edges and holds together very well.
Suppose you want a lightweight, breathable support that protects your ankle from hyperextension. In that case, you can't go wrong with this one. It's slim enough to fit under a shin guard and is made from cotton.
MRX Muay Thai Ankle Support
· Size: S, M, L, XL, XXL
· Color: White, black, pink
· Material: Cotton blend
· Features: Multi-use, machine washable
· Strengths: Cheap, easy to put on and remove
Simple, versatile, and cheap- the MRX Muay Thai ankle support does it all. Sure, it's not the strongest ankle support out there, but you could do a lot worse for the price. These ankle supports come in 5 different sizes, ranging from medium to XXL.
You can use them for any combat sport involving kicking; you can even use them for exercises like weightlifting. As long as you're concerned with keeping your ankles safe and the skin on your shin free of sores, these cheap wraps will serve you well.
Pheonix Fight Gear Ankle Support
· Size: Small
· Color: Black
· Material: Polyester, nylon, cotton
· Features: Joint support
· Strengths: Helps with ankle protection and recovery
Pheonix Fight Gear has created an ankle support that is flexible and strong by using a blend of polyester, nylon, and cotton. It provides good compression on your foot arch's instep, ankle joint, and sides. All the key muscle groups, blood vessels, and ligaments are well protected.
These sleeves also keep your feet warm during practice. Especially if you live in a cold place. They will fit underneath shin guards and can be used for combat sports other than Muay Thai, such as kickboxing and karate.
Conclusion
The job of ankle support isn't to protect your joint from the impact of a kick. If you throw a roundhouse with any bit of power, you will feel it on your ankles. However, an ankle support will remove a bag's abrasive effect on your skin.
Often, you'll see fighters with sores and rashes on their skin around the ankle and shin. If you wear an ankle support, the cloth will act as a separation layer, preventing your skin from rubbing against the leather bag directly. Ankle supports also provide a nice friction base for shin guards, preventing them from slipping around.
If you found this article useful, you may want to save this pin below to your Combat Sports board.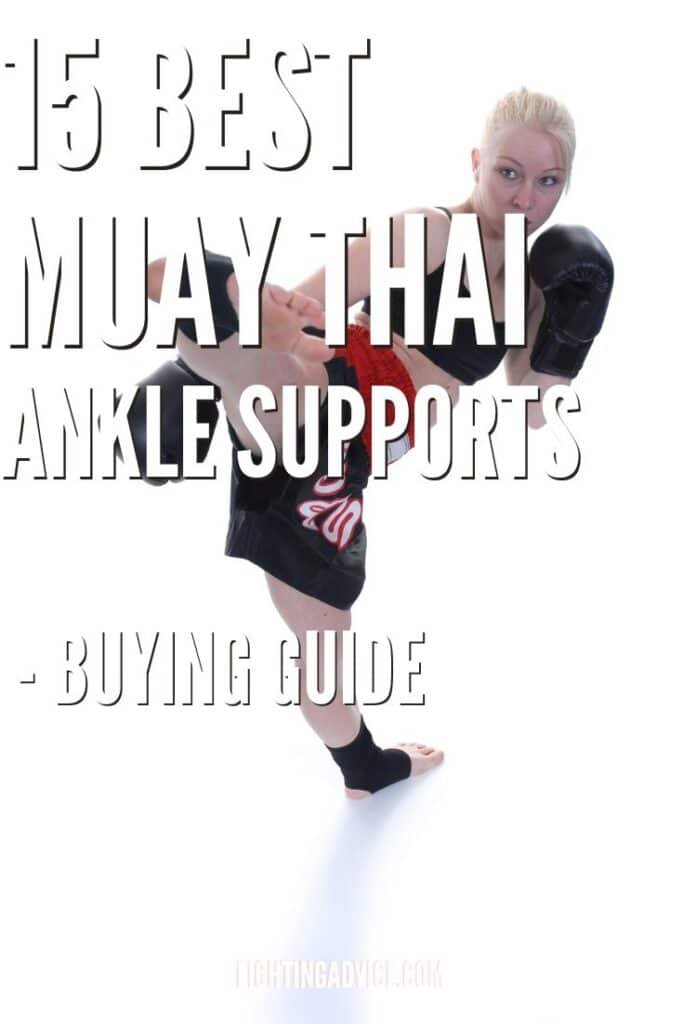 Last update on 2023-12-01 / Affiliate links / Images from Amazon Product Advertising API