The boxing world of constant head punches is adorned with various footwork movements to create the sport into beautiful art. Just as you need quality gloves, helmets, and groin protectors, you also need quality boxing shoes. Boxer shoes are designed for extreme durability against sharp boxing movements and are considered an essential slice of every boxer's uniform. If you are an uninformed beginner eager to train and looking to buy your first pair of shoes, this list will help you choose the best.
TITLE BOXING Speed-Flex Encore Mid Boxing Shoes 
Sizes: 1-13
Colors: Black, red-black, white, black-white, and red
Made of: Gum rubber, synthetic leather, and nylon filling
Features: Water-resistant, Sweat-free mesh
Traits: Comfortable, lightweight, durable, long-lasting, movement-free
Title Boxing introduces its Speed-Flex Encore Mid Boxing Shoes with a modern style, affordable prices, and great for beginners. You can order them from $49.99 to $54.99, depending on your desired sizes and colors.
The available sizes are from 1 to 13, and the colors offered are black, red-black, white, black-white, and red. Mid-top shoes are made from multiple components, such as a gum rubber sole that is designed so you can move faster. The soles are bouncy and firm on the ground but not sticky.
The upper part is made of full synthetic leather with a nylon filling of a tight weave. They don't use leather because of its weight and water-absorbing properties. They consist of thermoplastic materials that are lightweight to wear and do not retain sweat that could slow you down, which translates into foot speed and more fluid movements.
Water resistance is also helped by the mesh on the shoe, which makes you sweat less and serves as ventilation. Speed-Flex boasts durability, longevity, and stability. Shoes are brilliantly designed to provide you with top performance, foot comfort, fast movements, and top service because TITLE production does its job highly professionally, whether you are a pro or an amateur.
Ringside Diablo Wrestling Boxing Shoes
Ringside Diablo Wrestling Boxing Shoes
The Ringside Diablo Boxing Shoes are contemporary in style and usher in a new generation of high...
These sport-specific shoes have a patent leather vinyl finish and a low-top ankle for ease of...
Made with a breathable nylon mesh pattern and a non-slip rubber sole for added comfort and safety...
Please see size chart with foot measurements to help determine sizing - (Women size 7 = Men size 5)...
Sizes: 1-13
Colors: White, black, blue, and red
Made of: Patent leather vinyl, rubber sole
Features: Non-slip sole, traditional laces, mesh pattern
Traits: Durable, perfect fit, movement-free, and comfortable
Because of Ringside's reputation built over the years, it provides the reliable quality and service demanded from its product. You can order this new generation and high-performance footwear for $62.99 to $79.99, depending on the color and size of your choice.
In the range of sizes, you have numbers from 1 to 13, and the available colors are white, black, blue, and red. They are made of patent leather vinyl, non-slip rubber soles, and a breathable nylon mesh pattern for less sweat and more movement.
They use low-top ankles for ankle support and greater fluidity when moving. They are great for moving on rubber floors, rings, and cement floors so you can train in them outside too. They are comfortable, easy to wear, and play a crucial role in improving your footwork.
They use long traditional laces that are adjustable and guarantee a perfect fit. They have a little more space in the width, which will not hinder your movement. Shoes are durable and, well-priced, easy to dry, so you can use them often if you train hard and long.
We all know how hard it is to find good shoes for women, but Ringside has also taken care of that because they have a women's design of these shoes in pink.
FISTRAGE Boxing Shoes
FISTRAGE Boxing Shoes
These FISTRAGE High Top Boxing Shoes Master Sports Boots deliver agile performance manufactured with...
Reinforced heel cushioning adds stability and will help the wearer have a more assured footing, and...
Best of all the features is the open mesh that provides an abundance of breath ability and...
PU Sole in the FISTRAGE High Top Boxing Shoes Master Sports helps you to move freely around the ring...
Cowhide Leather with Breathable Mesh Synthetic PU Sole Open Mesh Upper - Provides excellent comfort...
Size: 5-12
Colors: BLack-red
Made of: Cowhide genuine leather, PU, and rubber
Features: Open mesh, traditional laces
Traits: Perfect and safe fit, comfortable, durable, and long-lasting
Fistrage Boxing Shoes are a great product for beginners to help you improve your footwork agility and movements. Both men and women can use them. You can order these shoes for $46.99 in all-black with a red sole. You can choose between low-top and high-top in sizes 5-12.
They are made of Cowhide genuine leather, which is durable and long-lasting. PU sole that allows you to move freely and uses a significant amount of traction and firm grip, which reduces the chance of slips and stumbles. Eliminates the possibility of injuries like joint sprains and strains.
The outer sole is made of rubber. The gum rubber is cozy, strong, and light, making it perfect for a secure grip indoors. Ringside says, and they are telling the truth, that the best feature of this product is the open mesh that gives your feet the ability to breathe and high ventilation for dry and cold feet, so you won't have to worry about sweaty feet.
Therefore, your feet will be in a healthier environment. For a firm ankle grip and perfect fit, they use traditional laces. The shoes are aesthetically pleasing, comfortable to wear, of durable materials, and affordable.
Adidas Unisex-Adult Hog 3 Boxing Shoe
Adidas Unisex-Adult Hog 3 Boxing Shoe
Boxing shoes built for agility in the ring
WEIGHT: 10.7 ounces
BREATHABLE SUPPORT: Breathable mesh upper with inner reinforcements provide support with every step
THIN CUSHIONING: Thin EVA midsole keeps your foot close to the canvas for responsive footwork
PROTECTIVE TOE CAP: Abrasion-resistant toe cap protects the forefoot for added longevity
Size: 4-14.5 for men, 5-15.5 for women
Colors: royal blue-white-collegiate red, white-shadow navy-sky rush, shadow navy-white-green, white-black-solar red, black-grey-solar red, white-grey-solar green, white-grey-signal green, and legacy blue-sky tint
Made of: EVA foam, rubber sole, and 100% Textile Synthetics
Features: Mid-cut, EVA sock liner, ventilation
Traits: Durable, long-lasting, superior stability, and sweat-free
In its line of Box Hog models, Adidas offers the third innovative shoe for a high-quality training experience. You can order them from $67.35 to $99.99, depending on the size you choose, and they are available for both men and women.
The sizes in the selection are from 4 to 14.5 for men and 5 to 15.5 for women. They are available in seven different colors; royal blue-white-collegiate red, white-shadow navy-sky rush, shadow navy-white-green, white-black-solar red, black-grey-solar red, white-grey-solar green, white-grey-signal green, and legacy blue-sky tint.
These modern shoes come with a mid-cut, inside reinforcement, and a rubber sole for extra foot stability. They are easy to move in. The midsole is made of thin EVA foam, giving you a bouncy effect, and a textile-covered EVA sock liner for inner softness and comfort.
The complex composition of all these materials makes the shoes durable and guarantees long life. They are made of stronger and better mesh material and synthetic suede overlays than previous Adidas shoes, which plays a role in even higher ventilation for much less sweating on the feet. Whether you're a beginner still training on the gym floor or a competitor moving around the ring, these stylish shoes are a hit.
ASHION Men's Boxing Shoes
ASHION Men's Boxing Shoes
Excellent Traction - Boxer shoes feature a one-piece flat rubber sole, reticular structure of the...
Lightweight Zero Drop Sole - Flat sole improve the control of feet on the ground. Suitable for...
Breathable Shoes - Mesh take over 2/3 of the upper, maintain heat dissipation to the feet throughout...
Stability Protect - The boxing shoes are built with durable leather and mesh panels at the Ankle for...
You Need Fitting Wrestling Shoes - ASIN wrestlers shoes essential choice for indoor sports, Such as...
Size: 8.5-12
Colors: Red, blue, white, and black
Made of: Leather upholstery, rubber sole, mesh panels
Features: Lace-up closure, high ventilation, ankle-safety
Traits: Comfortable, perfect fit, lightweight, durable, and long-lasting
ASHION shoes are phenomenal for boxers who train and wrestle simultaneously because they are intended for both purposes. You can order them for $65.99 in red, blue, white, and black at an affordable price. Available sizes are from 8.5 to 12.
They are made of super durable leather upholstery and mesh panels that take over 2/3 of the surface. Panels are used for high ventilation that enables a breathable training experience and heat removal during long training sessions, and they are light to wear.
ASHION shoes use a professional scale-type anti-slip rubber sole with powerful traction for explosive power and a powerful grip for high stability that will make you float like a butterfly. They play an important role in preserving the ankle with equal stress on the heels and stable support that eliminates the possibility of injury and keeps your ankles safe while fighting.
These Boxing-Wrestlers' shoes are a must-have for indoor activities, including fitness, boxing, cross-training, and lifting. They are made of durable materials resistant to wear and tear, guaranteeing that these beauties will serve you for a long time. They use thin lace-up, which makes for an excellent fit, and the ratings on the sales pages tell you exactly what kind of product it is.
Venum Contender Boxing Shoes
Venum Contender Boxing Shoes
Mid-cut design for dynamic lateral support
Rubber outsole for grip, durability and stability,
Comfort optimized by the anatomical insole,
Glued insole to prevent the risk of slipping,
Mesh honeycomb on upper,
Size: 4-14
Colors: Black-white
Made of: Rubber, meshable materials 
Features: "honeycomb" mesh, and lace-up closure
Traits: Long-lasting, durable, super-stability, and sweat-free
Of course, as one of the world's leading brands of martial arts equipment for all purposes, Venum offers quality boxing shoes for amateurs and professionals. Venum Contender boxing shoes can be ordered for $84.52 to $99.99, depending on the desired sizes, and are offered from 4 to 14.
The shoes come in black with white accessories and a logo. They use a Mid-cut design for dynamic lateral support and are ideal for beginner training of low or moderate intensity. They use rubber soles and outsoles for superior control and support.
For complete connection with the work surface, they have anatomical glued insoles for maximum stability and fluidity when moving without the possibility of slipping. They also use the upper feature "honeycomb" mesh that allows your foot to breathe while eliminating high temperatures and providing comfort so you can completely relax and concentrate on training.
Made of high-quality materials, they promise long-term use, and when you use them up after a long time, you will, without a doubt, order identical ones. They are lightweight to wear and specially designed based on feedback from professional fighters to provide you with the quality experience that the Venum brand is known for.
RIVAL Boxing RSX-Guerrero Deluxe Mid-Top Boxing Boots
Size: 6-13
Colors: Black, gold, silver, white gold, and red-black
Made of: PU leather, rubber
Features: Ventilation mesh, ribbon laces, carbon heel cap
Traits: Stable, safe, comfortable, sweat-free, long-lasting
If some people were as reliable as Rival's combat gear, the world would be a much better place. We've seen how they make their gloves, and now you will see what a masterpiece they make out of boxing shoes.
RIVAL RSX-GUERRERO DELUXE BOXING BOOTS can be ordered for a fair price of $94.95 in black, gold, silver, white gold, and red-black colors, available in sizes 6 to 13. This nice-looking design is made of high-quality PU leather created for training or competitions and is relatively lightweight.
The mid-top has excellent ankle support that provides a great fit with a thin ribbon lace-up closure, and when you tie your shoes tightly, you eliminate any threat of injury. Additionally, the Guerrero Deluxe has better interior fitting for maximum comfort and ventilation mesh on both sides, so say goodbye to sweaty feet and hello to extended training sessions.
Rival has updated the sole of this boot with a new rubber compound for better grip and durability and includes an inner steel shaft for better performance and longevity. It has a carbon-textured heel cap with reinforced construction that guarantees stability, good support, and relief during sharp movements.
Core Boxing Shoes
Core Boxing Shoes
🥊 LIGHTWEIGHT & HIGH PERFORMANCE: These mens boxing shoes is lightweight that provide...
🥊 PREMIUM CONSTRUCTION: Core Boxing Shoe features a lightweight, comfortable textile lining,...
🥊 SUPERIOR TRACTION: The full-length rubber outsole offers good anti-skid performance, maximum...
🥊 COMFORTABLE AND FIT: The ergonomic design of the boxing shoe will offer perfect fit and feel...
🥊 PERFECTLY PROTECT YOUR ANKLES: These ringside boxing shoes for men provide a secure fit with a...
Size: 7-12.5 for men and 8.5-14 for women
Color: Black
Made of: PU leather, and rubber
Features: high flexible collar, lace-up closure, mesh materials
Traits: Comfortable, sweat-free, durable, superior fit
Regardless of whether you have yet to start boxing or want to take your training to a new level, Core boxing shoes will make you feel like a champion the moment you put them on. They are intended for women and men and can be yours for $89.90, available in black.
You can choose sizes 7 to 12.5 for men and 8.5 to 14 for women. These lightweight shoes are comfortable PU leather with a super durable rubber sole that provides solid traction in all directions and performance against slipping, with maximum grip, strength, and stability.
It contains a soft inner textile lining for the comfort of your feet. The ergonomic design with lace-up closure will give you the impression that these shoes are part of your body due to the perfect fit and stable base for an excellent feeling on training surfaces.
The mid-top is the best addition to this product because the high and flexible collar gives phenomenal support to your ankles during exercise, reducing the risk of knee and foot ailments and leaving no possibility of the feet slipping in the shoes. The complete shoe consists of sweat-free mesh material that keeps your feet cool and dry during training.
Rival Boxing RSX-Future Youth Lo-Top Shoes
Rival Boxing RSX-Future Youth Lo-Top Shoes
Made from high-quality, breathable mesh and TPU materials
Reinforced toe and heel caps for added stability and durability
Unique rubber outsole offers just the right grip maximum control of your movements
Steel shaft inserts provide unmatched strength and performance from the midsole
Lo-top design is slightly higher on the ankle than a traditional running shoe make them ultra-stable...
Size: 4 and 5
Color: Black with white trim, red soles, and laces
Made of: TPU materials, EVA foam
Features: Breathable mesh, Lo-top design, and lace-up closure
Traits: Durable, ultra-resistant, sweat-free, superior safety for kids
A rival brand must occupy at least two places on each list with its prestigious and high-quality products. These futuristic boxing shoes are intended for your little ones who want to do aggressive sports. You can order them for the affordable $49.95 in black with white trim, red soles, and laces.
Designed from durable TPU materials that release heat, they contain breathable mesh to keep your child's feet cool and dry while training. The distinct rubber sole and ultra-resistant outsole provide the ideal grip for optimum control of your movements on the canvas, and the steel shaft insert supplies the molded EVA midsole with unrivaled strength and performance.
These boots feature reinforced toe and heel caps for added stability and durability. They use a Lo-top design reaching above the ankles, and with a tight lace-up closure, they provide a perfect fit and ultra-security for the ankles.
These boxing boots feature premium components, a fashionable appearance that young boxers will adore, and a comfortable fit at an excellent price. Remember not to be stingy when it comes to buying quality equipment for kids who want to train.
Knockout Fight Gear Boxing Shoes
Knockout Fight Gear Boxing Shoes
BREATHABILITY: The boxing n boots are Made with Patent leather and micro mesh for maximum...
GRIP and COMFORT: Full length double lasted mid-sole provides forefoot, heel and ankle support that...
LIGHTWEIGHT and DESIGN STABILITY: Knockout boxing shoes for men and women made up of purified...
COMPONENTS: These lightweight boxing shoes re made up of synthetic leather with a masterful...
ENDURING: Keeping in mind the long-lasting sessions, their durable rubber outsole which supply...
Size: 1-13 for men, 1-11.5 for women
Colors: White, black, red, and blue
Made of: Purified synthetic leather, rubber, and nylon mesh
Features: Reinforced stitching, micro mesh, velcro safe strap
Traits. Long-lasting, breathable, comfortable ankle support
Last but not least are boxing shoes for men and women from Knockout's production. You can order these lightweight shoes for $44.99, which, considering the quality of the product, is a bargain offer. They offer sizes from 1 to 11.5 for women and 1 to 13 for men.
As for the colors, you can choose between red, blue, white and black. The components of these attractive shoes are purified synthetic leather with a quality interweave of brilliant double nylon mesh. Reinforced stitching on the outside and inside will ensure that your shoes live a long life.
They use micro mesh on the tongue, toes, and sides of the shoe for a high level of ventilation, allowing your skin to breathe and your feet to be comfortable. With forefoot, heel, and ankle support from a full-length double-lasted rubber mid-sole, you can battle in greater comfort and with a better foothold and giving heels extra support.
The grip around the ankles is supportive and firm, so you don't have to worry about potential injury during training. They use traditional laces with a velcro hook, which will prevent them from loosening and falling off, thus providing stability to the shoe on your feet without unnecessary movement.
If you found this article useful, you may want to save this pin below to your Combat Sports board.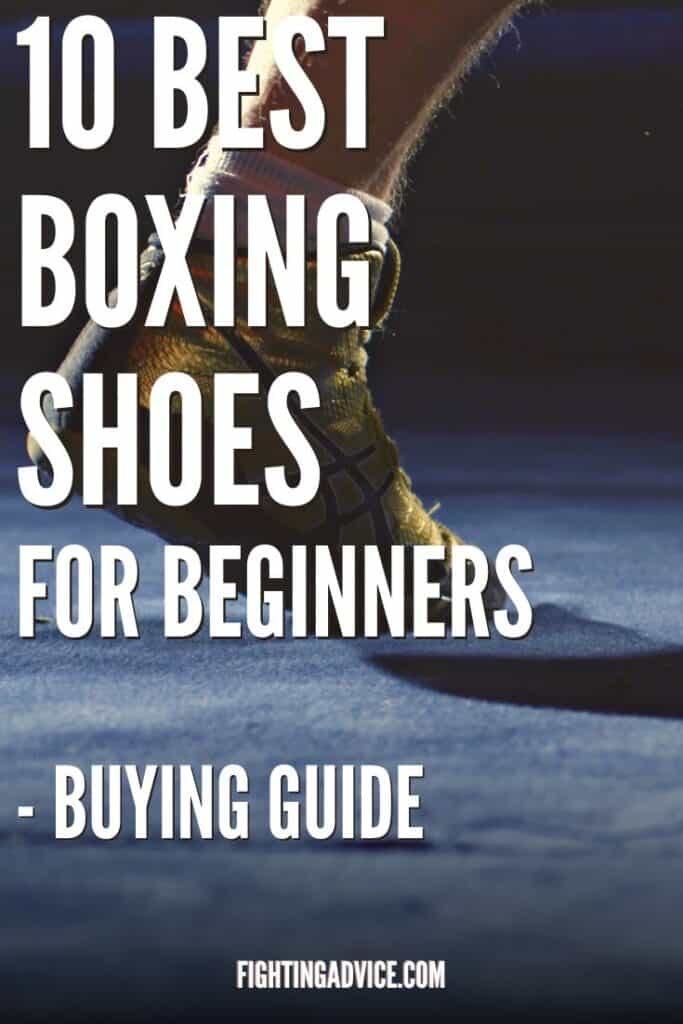 Last update on 2023-12-04 / Affiliate links / Images from Amazon Product Advertising API